Feature: Cool stuff
Cool stuff
SR [Finished chest measurement for sweaters] = the smallest chest measurement to the largest chest measurement we could find in the book. There may be only one pattern with the smallest or largest size, but it's in there. Books are softcover unless noted otherwise. All prices USD unless noted.
When you click on an Amazon affiliate link below and make a purchase, you're supporting Knitty. We thank you!
Jump to... Spinning | Other Crafty Things

Surprise reviews! (October 2019)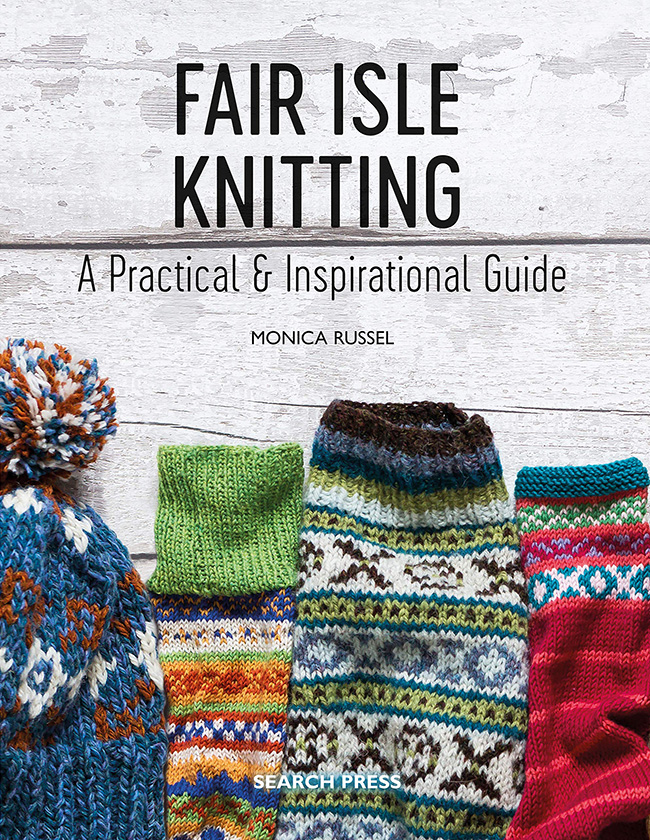 Fair Isle Knitting: Practical & Inspirational Guide
by Monica Russell
Search Press
$24.95
SR= 32-46"
Buy now at Amazon

Starting with the very basics of Fair Isle knitting, history, supplies and techniques, this is a great book to ease a knitter new to Fair Isle knitting into the fold.
The illustrations, charts and photos are large; it's easy to see what's going on when techniques are demonstrated, and to read charts without recopying.
A knitter is lured into Fair Isle by starting with Fair Isle border motifs, before tackling all over motifs, and then Fair Isle animal motifs. Each motif has a short explanation, a full color chart and at least one color variation and a knitted swatch. There are 14 patterns evenly split between each style of motif. There are sweaters for adults and children, hats, pillows, throws, a shawl and a dress. I really appreciate that they are for not only a variety of levels and time commitments, from a pillow to a dress, but that Ms. Russell explores different weight yarns and non-traditional colors. There's nothing too wild, but I'd happily knit a worsted weight project shot through with lime and orange.
Monica Russell's tone is light and friendly, encouraging knitters to try a little, Fair Isle, to mix motifs and boarders how they want to and just to enjoy the process and creativity of Fair Isle knitting.
JM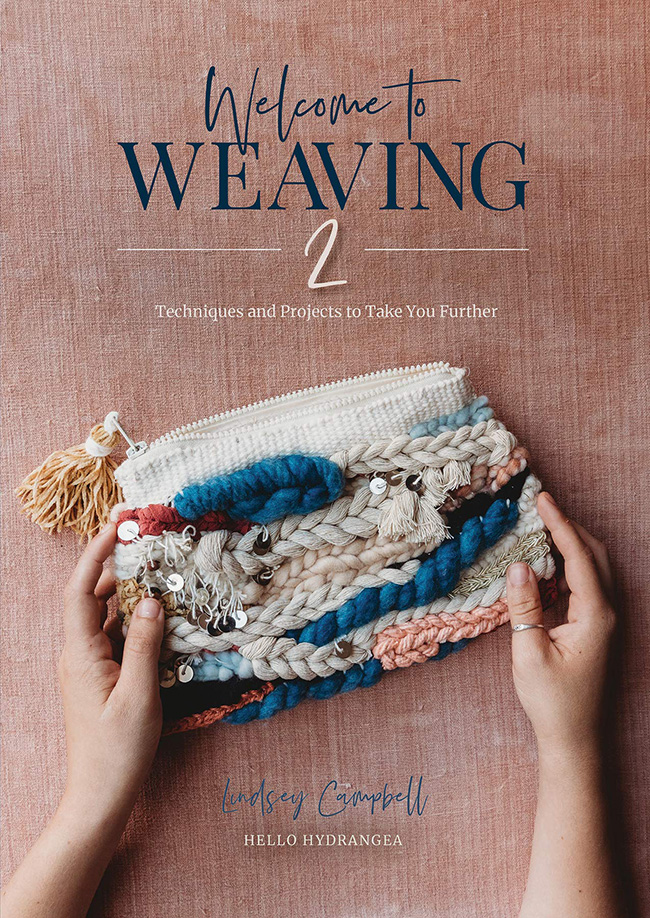 Welcome to Weaving 2: Techniques and Projects to Take You Further
by Lindsey Campbell
Schiffer Books
$24.99, hardcover
Buy now at Amazon
Frame (rather than pictoral) tapestry weaving projects are showing no signs of slacking in popularity. It's fantastic to have a next-step book. More traditional styles of weaving have a whole host of books that take weavers through the very first steps to breaking out of plain weave to advanced techniques. This wave of weaving, bold wall hangings and accessories, that are usually pretty quick to weave, has not been offered anything but beginner books, until now.
Welcome to Weaving 2 picks up right after a basic beginning book, the point where a weaver wants more than plain weave and sumac. There are refreshers for beginning weaves, focusing on those that are the foundation to other textural weaves. There are directions to make your own frame loom of any size, instructions on warping to get the density that you want, and loom modifications to make weaving faster.
This book is mostly packed full of very interesting weaves drawn from a variety of cultures, pile weave, looped knots, twinning, supplementary wefts, deflected double weave, knit weave, a selection big enough to fill your projects with creative texture. Each technique is given a difficulty, a page number to a specific project in the book, and many have advanced tips.
A weaver can use this book to learn new weaves and then freestyle their own wall hangings or practice by following the book. There are six wall-hanging-style tapestries that will take you through every new weave in the book. There are six projects that show a weaver that there is free-form weaving beyond wall hangings. There is a rug, a zipper pouch, a vest, a bag, and woven patches for mending clothing.
The design of the book is very open, and wonderfully photo heavy. The directions are clear and short, allowing the photos to visually teach skills.
This is a book for a frame weaver ready to start thinking more about the creativity and design that this form is capable of; it is a fantastic springboard to weavings that are anything but basic.

JM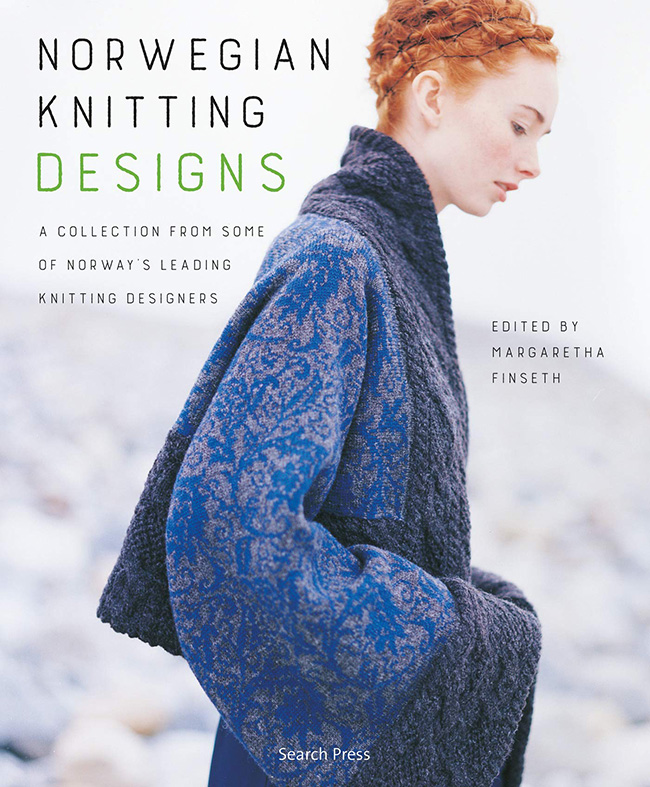 Norweigan Knitting Designs: A Collection from Some of Norway's Leading Knitting Designers (Reprint)
by Margarethe Finseth
Search Press
$24.95
SR=39-50"
Buy now at Amazon
This book is a reprint of a book originally published in North America in 2002, and in Norway in 1999. I remember when it came out – I was working at Interweave Press and all worked ceased as we passed the book around oohing and ahhing.
I had the same reaction revisiting this reprint. Even though it's 20 years old, I would still knit and gleefully wear most of the patterns in the book.
12 Norwegian designers use traditional Scandinavian motifs and techniques but create garments that are determinately modern. They play with layering, shape, color and overall feeling.
The designs are amazing, but not for beginners. The charts are complex, and there is tricky knitting to create such unique garments.
JM

Knitting + crochet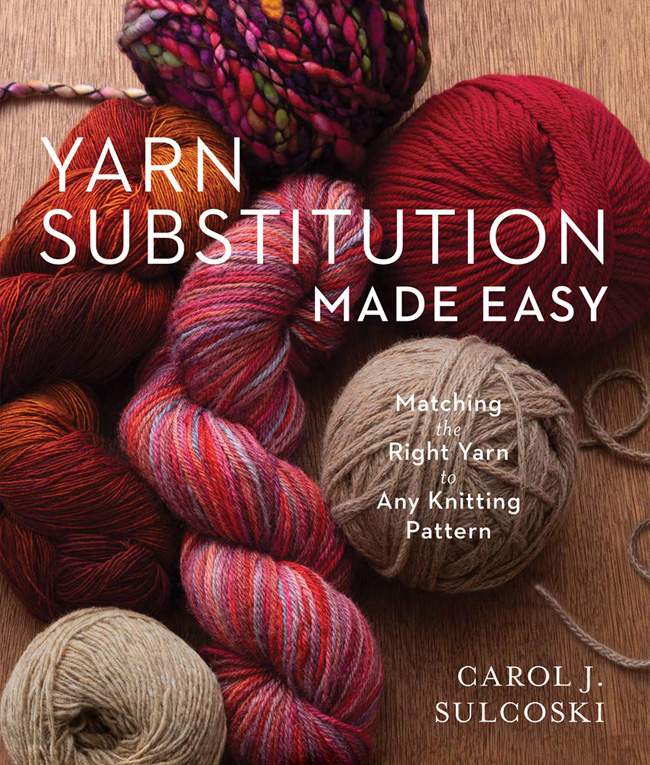 Yarn Substitution Made Easy: Matching the Right Yarn to Any Knitting Pattern
by Carol J. Sulcoski
Lark Books
$19.95
SR= 38-54"
Buy now at Amazon

Substituting yarns can be stressful for some knitters; the amount of variables can be overwhelming. This book is like having an excellent teacher waiting for you on your bookshelf. Conveniently, Carol is an excellent teacher and has been teaching a yarn substituting class for years.
This book is an great explanation of what to think about when substituting yarn. The process of substituting a yarn is broken down into four major categories, Fiber, Yarn Construction (plies, etc), Visual Effects (color in relation to dyed yarn – Carol's written a couple of books on this too), and Yarn classification (this includes gauge). Each one of these topics is explained in relation to getting a yarn substitute that works for your pattern.
Ten knitting patterns round out the book. These aren't here just to be cute (though they are). Each pattern is a lesson in how yarn substitutions can be good, not so good or just meh, complete with swatches and detailed explanations.
If you are a knitter interested in getting better at making yarn substitutions, or just interested in yarn, this book will help you see all the possibilities and keep you from making some not-so-great choices.

JM

Traditional Danish Sweaters: 200 Stars and Other Classic Motifs from Historic Sweaters
by Vivian Høxbro
Trafalgar Square
$31.95, hardcover
SR=38-41"
Buy now at Amazon
Has Vivian Hoxboro started doing knitting tours based on this book yet? I would love to go on one.  This book is packed with history, photographs and patterns with the type of detail that can only come when the author has a great passion for what they are writing about.
This book is based on the Danish night sweater. A night sweater is part of women's traditional dress from the 1800s. It was usually single color with all over texture patterns like stars. Here's an example of the kind of wonderful historic detail this book goes into. I just, kind of, described a night sweater in a sentence, Vivian explains what a night sweater is, and its historical construction over six pages! That doesn't include the history.
The first 50 pages of the book are devoted to the history of Danish knitting, and the night sweater in particular. There is information beyond knitting, on dyeing, embellishing. It is clear that Vivian spent a lot of time traveling and studying Danish knitting in museum, and this section is full of historic photographs and photographs of sweaters from the 1800s. I would snatch up this book just for this section.
There is a section on knitting techniques used in night sweaters with clear step-by-step photography. It includes an amazing section of 200 pattern motifs taken directly from historic sweaters. Stars and variations on stars are the most used motif. This section is amazing in the amount of research and work to put it together and as a general knitting stitch dictionary.
There are 10 sweaters and a shawl designed by Vivian based on traditional night sweaters, but made wearable for today. A night sweater is one of those shapes that are simultaneously modern and timeless, boxy with extra room with sleeves that can be short or long. The only sour note in this book for me is that the sweaters are written for one size only, without direction to change size other than changing needle size.
The book finished with directions to design your own night sweater using all of the copious information in the book.  The entire sweater is your canvas since the design is not impeded with much shaping.
The passion, the history, the motifs, designs, and glorious visuals make this book an instant classic.

JM

Timeless Noro Knit Blankets: 25 Colorful and Cozy Throws
Sixth & Spring
$19.95
Buy now at Amazon
This just in time for cozy couch time, a book that gathers some of the most popular blanket and throw patterns from Noro Magazine plus a few new patterns.

Ranging in size from a lap blanket to almost bed sized, these colorful patterns make the most of Noro's unique approach to color. There are subtle, quietly colored blankets, and riotously colored throws. The styles of patterns, entrelac, mitered scalloped lace, direction-changing patterns and just joining strips of knitting make the long runs of color shift and wiggle. I never get bored when I knit with any Noro yarn.
One of the reasons I got obsessed about color in spinning is because of Noro yarn. For a long while, I recreated different Noro color effects in my living room at my wheel. As a spinne,r I am always happy to have another Noro pattern book on my shelf. I think they have some of the best patterns that can be used for handspun yarn.

JM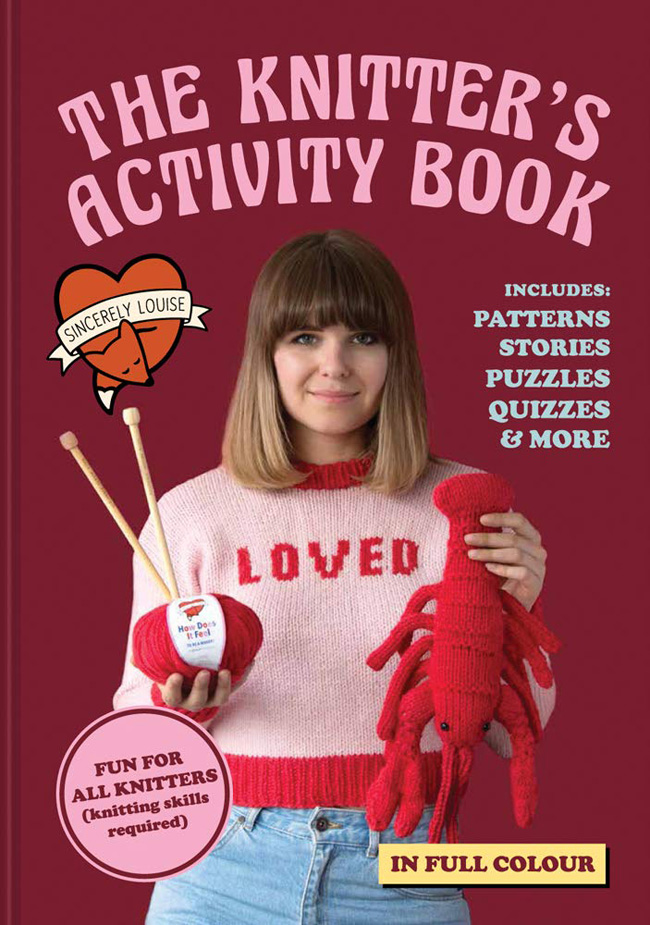 The Knitters Activity Book
by Sincerely Louise
Collins & Brown
$16.95, hardcover
Buy now at Amazon
I wish this delightful book was a quarterly magazine; I would so enjoy finding the patterns, techniques, wit and downright silliness in my mailbox several times a year. The cover made me smile and set me up to really enjoy this book. It features a knitted lobster, but not to be dismissed as entirely frivolous because it's a really well-done knitted lobster. The author also wrote the book Faux Taxidermy Knits, so she knows her way around expertly knitted animals (and crustaceans).
This book is packed with fun. It has a pub quiz, a seek-and-find puzzle, word search, crossword, Knitter's Bingo, and even a flow chart that answers the question "Should I Knit Today?"
There is a story about Lola the Polar Bear who travels the world meeting interesting animals. The story is set up like a kid's storybook with knitted animals as the stars. Of course, there are patterns to knit each of the animals.
There are 20 patterns in the book total, all animal-based: the animals from Lola's story, several taxidermy projects, a Crocodile Rug, Swan Door Stop, Lobster Dinner, Lion Mug Rug, and my favorite, Triceratops Slippers.

Like the badge on the front suggests, this book is Fun for All Knitters.

JM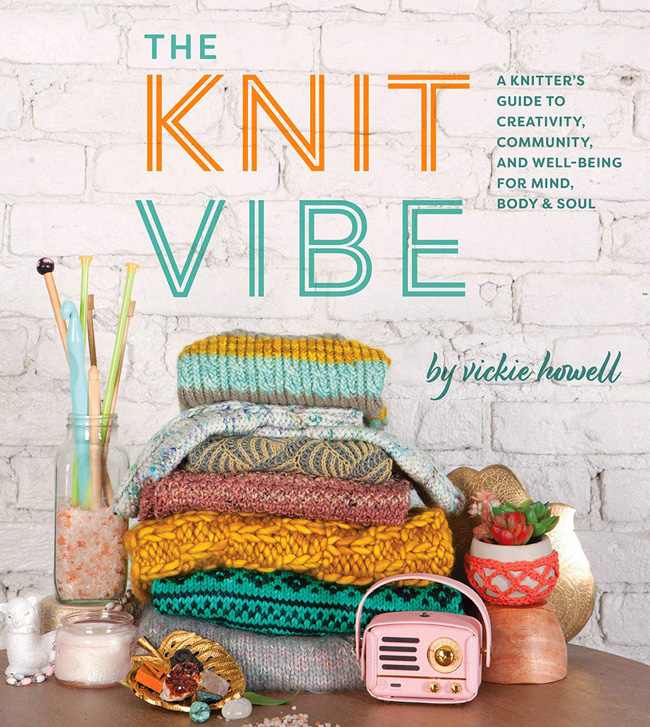 The Knit Vibe: A Knitter's Guide to Creativity, Community, and Well-being for the Mind, Body & Soul
by Vickie Howell
Abrams
$29.99, hardcover
Buy now at Amazon
Title is a salute to the yarn craft world that Vickie Howell has called home for almost two decades. Vickie has always had her finger on the pulse of the important and entertaining goings-on in the yarn world. This book is excellent snapshot of what knitters and crocheters are excited about today.
Vickie has always been about celebrating the light and joy in the fiber world and this book digs deeply into that. She interviews knitting and crochet celebrities, designers and icons – Bristol Ivy, London Kaye, Nicky Epstein, Trisha Malcolm, and Kaffe Fassett.
She digs into body and soul care, yoga, core strengthening, and a wonderful section that connects spirituality and craft in Catholicism, Judaism, Native American ritual, Paganism, astrology, and numerology. 
Community is explored in fun with Brini Maxwell and Josh Bennett at Club Cumming, in politics with The Welcome Home Project  and art with Diva Zappa, and many others.
Of course there are patterns! A section on Go-To patterns, those basics you always need, and a section of special accessory designs from designers like Nancy Marchant  and Tanis Gray.
This book is filled with what makes our knitting and crochet communities great.

JM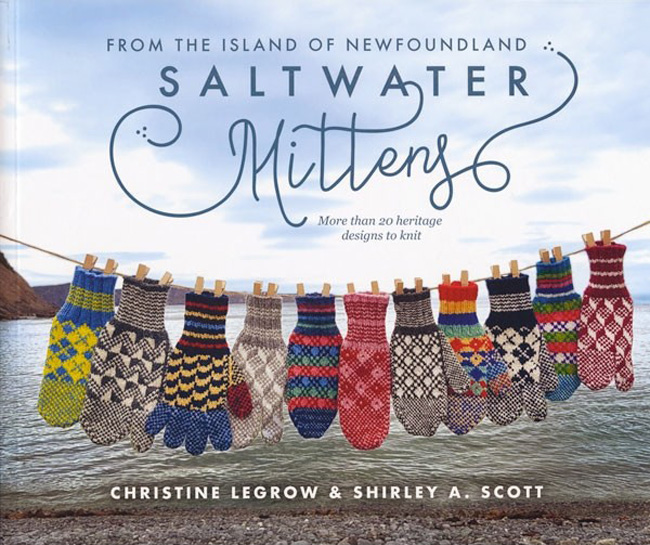 Saltwater Mittens from the Island of Newfoundland: More than 20 heritage designs to knit
by Christine LeGrow and Shirley A. Scott
Boulder Books
$29.95
Buy now at Amazon
This is really a charming book. It's a combination of history, folklore, terminology (both knitting and Newfoundland), and patterns. The patterns aren't exclusively for mittens but include gloves, trigger mitts, and wristers. Frankly, it could be of interest to non-knitters as well since it provides a great introduction to these distinctively Newfoundland style of mittens.
In addition to history and defining common terms, there are chapters discussing the type of yarn used (Briggs & Little) as well as a guide to choosing colors because there are no monochromatic mitts here. Instead, there are plenty of opportunities to practice your colorwork.
Each pattern includes a degree of difficulty from Easy Does It to Tangly to Over the Wharf. Each description of the level ends with "Remember to breathe." Like I said, it's a charming book.
The patterns are all charted so it's a good idea to read through all the instructions carefully before you begin (but maybe you already do that). In areas where design elements are up to your discretion, such as adding stripes to a cuff, the placement is left entirely up to you.
Sprinkled among the patterns are quotes and definitions of Newfoundland English such as the term "maid racket," which means courting. Good to know. Every yarn shop and most of the gift shops I visited in Newfoundland this summer had this book prominently displayed, and I was told two more editions were on their way. Clearly there's an appetite and appreciation for hardworking mitts. If you haven't checked this out yet, you should. It's a celebration of culture and color.
CBM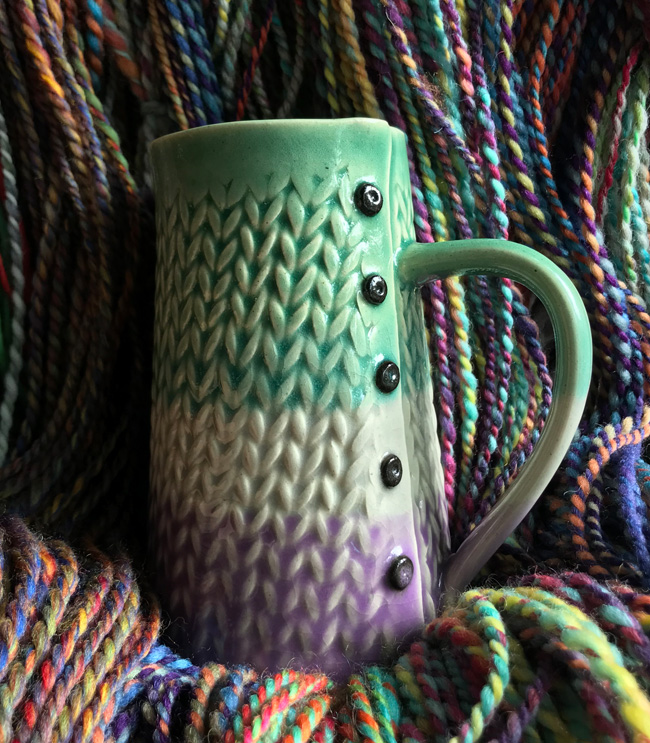 Three-Tone Knitted Mug 
by Creative with Clay
$58
Buy now at Creative with Clay
Twenty ounces of knitted bliss! My mornings are not the same without this handmade mug from Creative with Clay. I use it so often that I've considered traveling with it. This latest addition to Charan Sacher's collection of  fiber-inspired mugs is stockinette stitch in gradient colors.
I have collected several of his mugs over the past five years, or so and I've not had one break. There's been not one crack or chip and I'm not delicate with my mugs – they rattle together in the dishwasher, I am fumble-fingered,  especially before caffeine. They've even dropped on my wooden floor.
Colors are considered and nuanced, and the fade between the colors looks like my handdyed, handspun yarn knitted and brought to life in another medium.
JM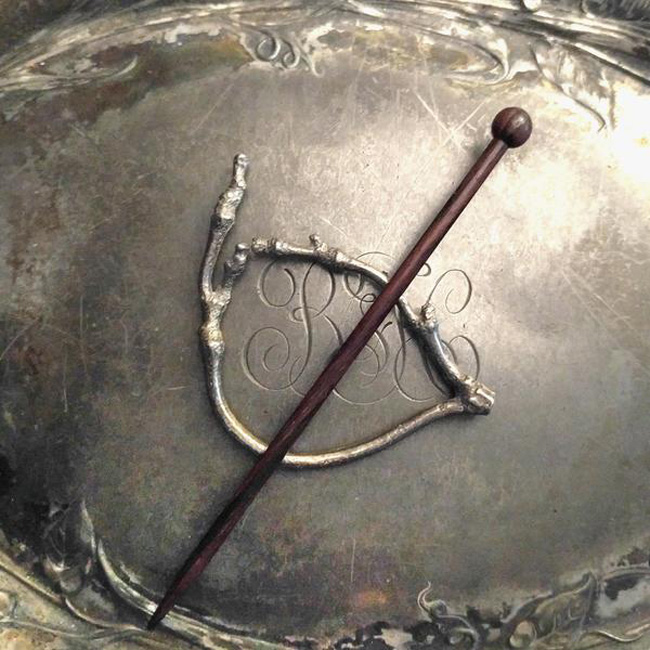 Twig Shawl Pin
Jūl
$32.50
Buy now at Jūl Designs
To my eye, this shawl pin is pretty perfect. The detail makes it look like I just scooped it up of the ground in the forest after frolicking with my elven friends.  It's nubbly, it's not round, or a set shape at all, it looks wonderfully organic. It's cast in white bronze from a twig. It's heavy enough for a shawl but not so heavy that it will pull it out of shape. Although it looks rough, it is absolutely snag-free smooth.

The pin is about 2" across and the stick is about 4.5" If you don't have a current shawl to use it with, it would look amazing holding up hair in a messy updo.
JM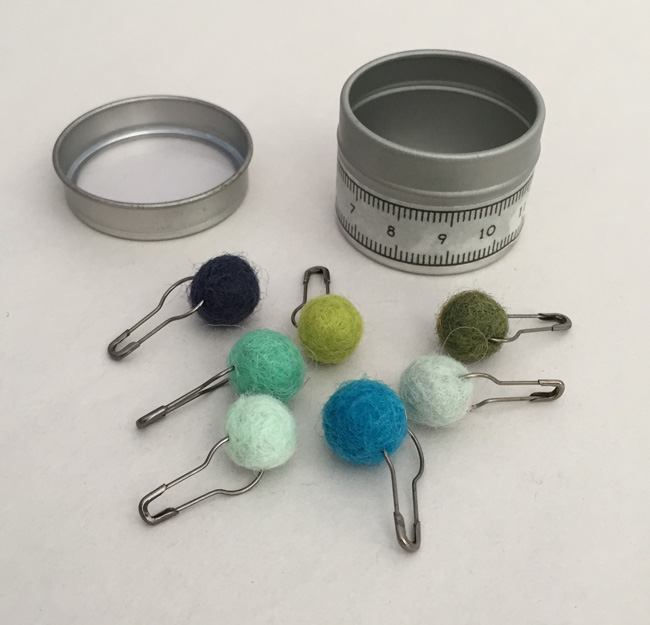 Colorful Pom Pom Stitch Markers
by Brooklyn Haberdashery
Shown in Cool Colors; available also in Warm Colors, and Assorted colors
$12 for 7 markers and a cute storage tin
Buy now at Brooklyn Haberdashery
These stitch markers throw a party on your knitting. They are small, about the size of my pinky fingernail, felted wool in bright colors. They come in assorted colors and fit a needle up to a US 10.5.
They are bright and fun, and constructed very well too. The Merino felt is firm, but light, and the marker portion is lockable.
I didn't realize something so simple could make me happy when I knit. I smile when I look at my knitting and hope more than usual that I don't lose these markers.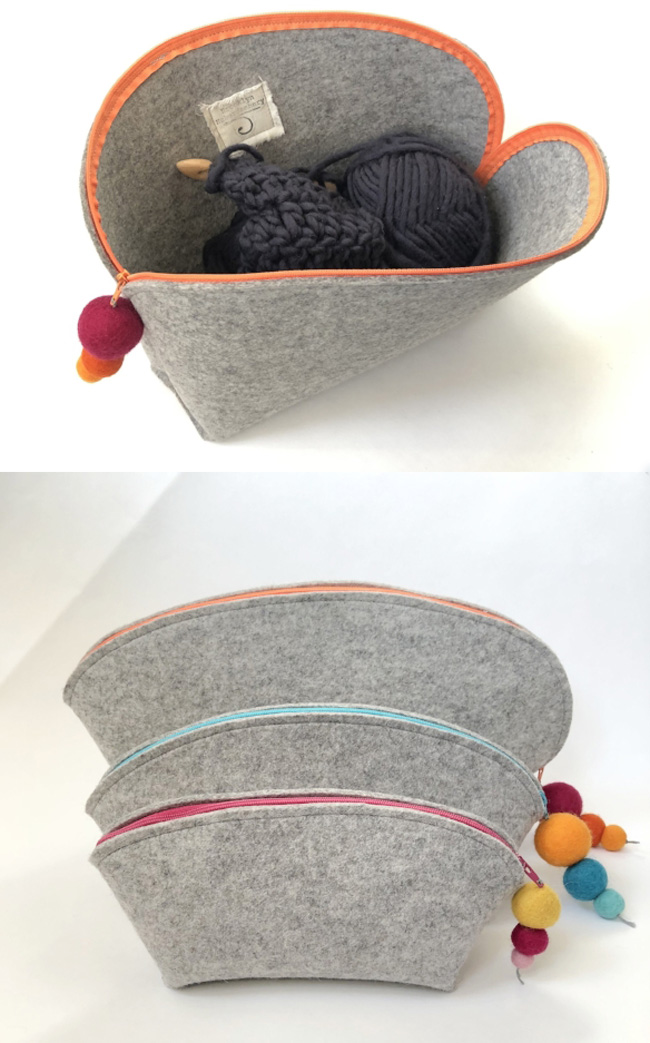 Brigid Wool Pom Pom Pouch
by Brooklyn Haberdashery
Small — 9"l x 4.25"h x 2"d, $35
Medium — 11"l x 5.5"h x 2"d, $45
Large — 14"l x 8.5"h x 3"d, $65
I still remember the first time I saw one of these pouches. I couldn't stop touching and petting it, the aesthetics and materials were so perfectly matched. The felt is so smooth and the splash of color of the zipper and the pom poms just perfect. I have the smallest size, which I use for notions. It's not quite big enough for a cake of sock yarn, but I have squished one in there.

The quality of all aspects of the pouch are incredible. The Merino wool felt used for the pouch is thick and smooth with no thin spots or blemishes, the zipper is sturdy, and the poms are adorable and made from the same thick felted wool as the pouch body.
I received this pouch free to review, but the quality is so good and the pouch is so pretty in its simplicity that I'm saving up for the medium size to be my permanent sock project bag.
JM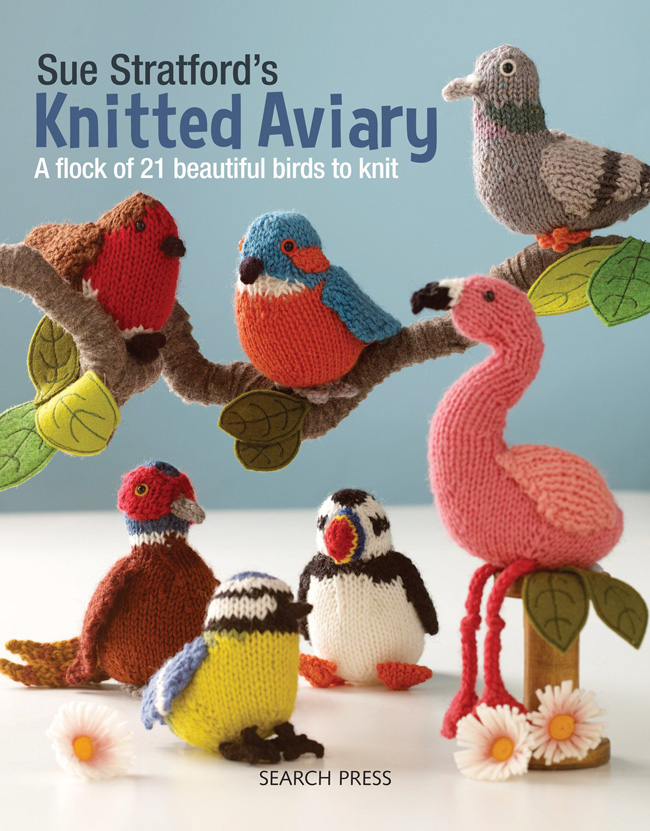 Sue Stratford's Knitted Aviary: A flock of 21 beautiful birds to knit
by Sue Stratford
Search Press
$19.95
Buy now at Amazon

I've been a fan of Sue for a while. Her work is witty, clever and charmingly detailed. Although similar to the ever-popular Amigurumi, Sue distinguishes herself by creating designs that lean towards realistic, while still being utterly adorable.
Part of this collection began as a self-published book funded through Kickstarter, and the concept was picked up by a publisher, allowing Sue to expand it with more birds, and add some great accessories and items around which you can create a display.
Although these projects aren't really for beginners there's a lot of good tutorial information to help with the trickier bits, and the patterns are clear and well-written.
Many of the display pieces aren't knit, but sewn or built from felt, providing a great way to get non knitters involved, too. I'm imagining that this could be the basic of some good collaborative projects for adults and kids. 
If you enjoy small and charming knits, you can't go wrong with any of Sue's books, and this latest book is another winner.
KA

Flyer Needles Sharp Set
by Hiya Hiya
Includes sizes US# 1, 1.5, 2 and 2.5/2.25, 2.5, 2.75 and 3mm and a custom brocade case
$98.00
Buy now via HiyaHiya

These types of needles are the latest innovation, and they're a fantastic addition to a sock knitter's toolkit.
You get three flexible DPNs per size, and theyre basically the shortest circular needles in the world. The tips themselves are about 3 inches long, the cord only 2. The point of the needle isn't to make a full circle with a single needle; they really are just DPNs with a bit of bend to them. It's sort of a hybrid of DPNs and the two-circulars method. You distribute the stitches across two needles and use a third to work around. If you're a DPN-knitter, you will, at some point, have ended up with your stitches on two needles, and quickly realized that you can't work that way – because the needles don't bend it's too hard to handle, and even if you did manage to knit across a needle, the angle at the breaks between needles is so extreme that you'd have a terrible laddering issue.
The flexible DPNs solve that handily! Because they bend, you can position the needles for comfort in holding and working, and you reduce the angles at the needle transition points, so there's no worry about laddering.
If you're a two circulars or magic loop knitter, the difference here is that there's less need to reposition the stitches or needles, and the setup is a bit smaller and more manageable.
Unlike 9" circumference tiny circular needles that are meant to be standalones, flexible DPNs support the smallest of rounds, right down to less than 10 stitches. You can start a sock toe or finish a hat top on Flyers.
Once again, Hiya Hiya has produced a beautifully packaged set of smartly designed needles. The Flyers 8-inch Sock Set includes sets of 3 needles in sizes US# 1, 1.5, 2 and 2.5/2.25, 2.5, 2.75 and 3mm – all the key ones for sock knitting. They're light, they're smooth, the cords and flexible but not too floppy, and they feature Hiya Hiya's well-loved sharp tip. If you like their other needles, you'll love these.
KA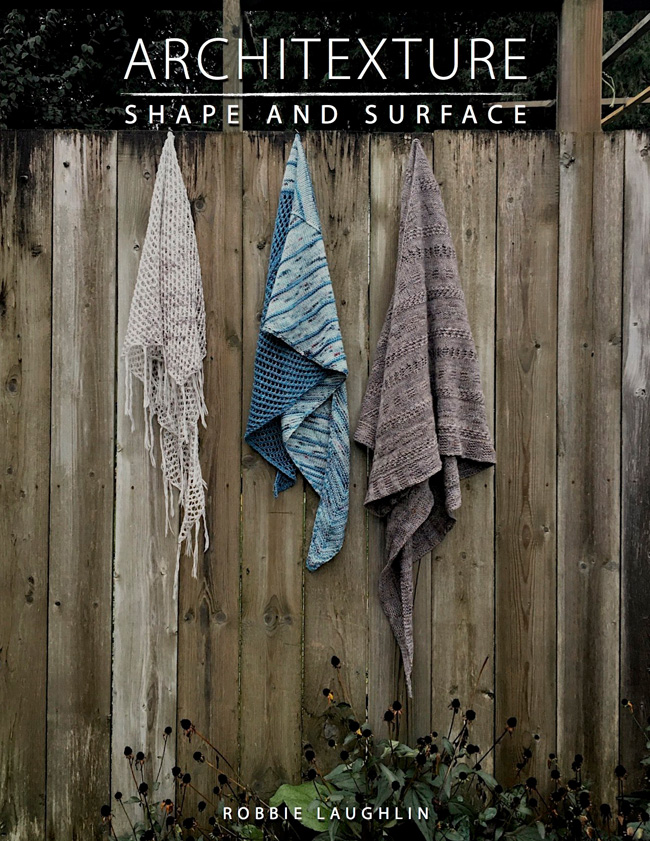 Architexture: Shape and Surface
by Robbie Laughlin
ebook $25.00
printed book: $35.00
One might be tempted to think there are plenty of shawl patterns out, or you might have a partner who thinks you already have enough shawls (the nerve!), but shawls are not only amazingly versatile, they're a great way to use those random "I just had to have it" skeins.
Entering the field is Architexture by Robbie Laughlin. This book feels like a labour of love on multiple fronts. From the fact that it is self-published ("It has been designed, knit and printed in Toronto; using exclusively Canadian sourced materials") to the featuring of small Canadian yarn producers, there is a deep commitment to the patterns and values contained within. Laughlin chose Canadian yarn companies who are actively working to lessen the environmental impact of their yarn production, and the patterns he's written showcase the uniqueness of these yarns beautifully. Whether it's the light and airy Mistake Shawl knit in Riverside Studios Merino Singles Lace or the Gatekeeper's Cabled Mitts in Julie Asselin's Nurtured, the patterns and yarns work together to offer something for almost every knitter. I ended up making the Mistake Shawl but used a heavier Lichen & Lace (also featured in this collection), and I loved the way it made a kind of fishing net fabric.
All of the patterns emphasize texture (just in case you missed that in the title), and in addition to five shawl patterns in a range of shapes and weights, there are a few scarves, a hat and mitten set, fingerless mitts, and a cowl. The instructions have either a chart or written-out pattern instructions, and most of the shawls have a schematic to help you when you block. There is a section in the back where details about each of the yarn producers is presented, just in case you're not lucky enough to live in Canada.
CBM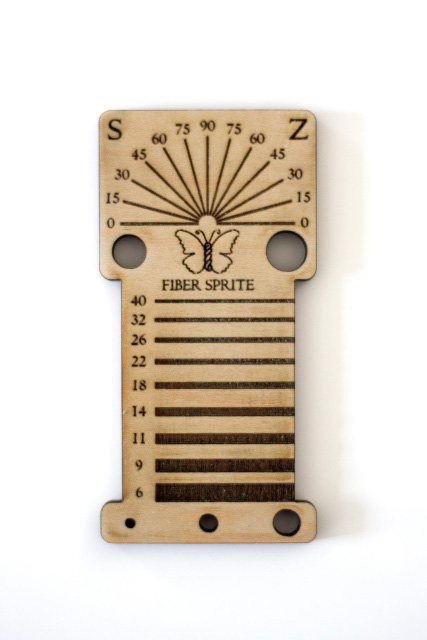 Spinner's Multitool
by Fiber Sprite
$15
Buy now at Fiber Sprite
Despite it's small size (2"x 4") this tool does a lot. It works as a spinner's control card, by laying yarn across the grooves to get close to a a wpi; as a traditional WPI tool, wrapping within the two inches allowed; as a twist-angle gauge; and as a diz with five holes to choose from.
It's fantastic to have all of those tools right at hand. I use some or all depending on my spinning mood that day. My students reached for this tool in my recent classes, again and again. I asked them why.
They really liked that the lasered grooves of the spinner's control card part went all the way off the edge. Instead of just laying their yarn one the top of the gauge, they made it turn the corner, wrapped it around the edge of the gauge. They said they felt more secure in their choice of WPI, especially if it was close between two numbers. Many of them liked it so much I noticed several people ordered one while we were in class.

JM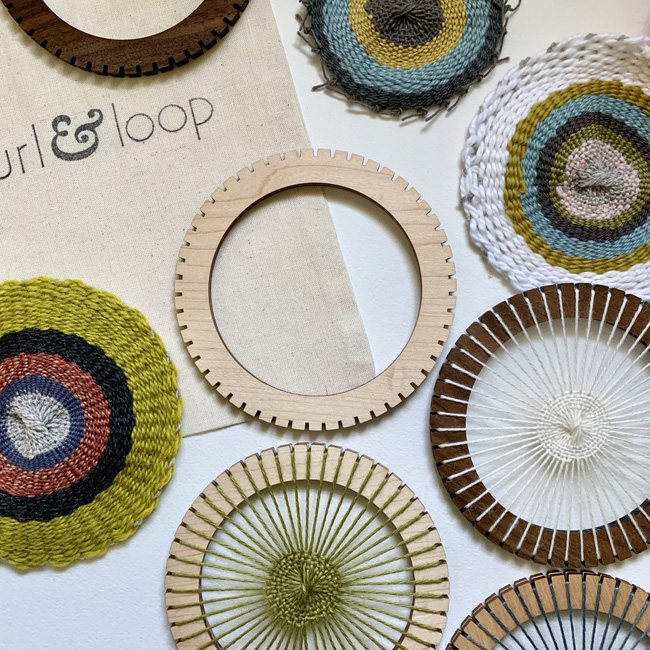 Circle Loom
by Purl & Loop
5.25" in diameter; .25" thick
$36
Buy now at Purl & Loop
Ready to take your small loom weaving in a different direction? The Circle Loom is so much fun. First you need to know that the Circle Loom is different than Purl & Loop's Round Looms, like their Earring or Ornament Kits. On the Circle Loom you can remove your circle of weaving to use it how you wish.
The Circle Loom is thick and sturdy. It has the order of threading numbers etched on the back, which for me, who forgets and also tends to lose direction, is great.
But it's the shape that gets me. I know squares and rectangles are easier to piece together and weave, but I am a woman that loves circles – my hair goes in circles and my body is round.
I used thicker yarn to weave and it went quickly, taking less than an episode of Granchester. Like all Purl & Loop looms, the quality is first-rate, sturdy, smooth and really easy to use.
Once I had one in my hands, the ideas started flowing. Sure, I put one under my mug. But I'd like to use one as a patch, or sew two (or more) onto a tunic or scarf as pockets. I definitely want to figure out how to connect them into a scarf, I'm thinking crochet, and I know there's a way to sew them into flowers.
JM