Feature: Knittyspin
INTRODUCTION
Knittyspin
Size Matters

Size does matter, when you're blending colors at least.
I've noticed in my color classes that sometimes the students who spin very fine don't get as big of a thrill out of mixing colors by plying or drafting together as students who spin bigger yarns.
Why? Because of the relation of optical blending and size.
Optical blending is the visual phenomena where your eye and brain try to make two colors that are next to each other into a new color. You can see it at work in pointillist paintings, and those big photos made up of other smaller photos – like at your kid's elementary school, everyone's individual school photo is used to build a photo of the school or school mascot.
Optical blending works best to make a new color when colors are small, tiny dots side by side rather than chunks of color. It's easier for your eyes and brain to mix colors when they are smaller spots.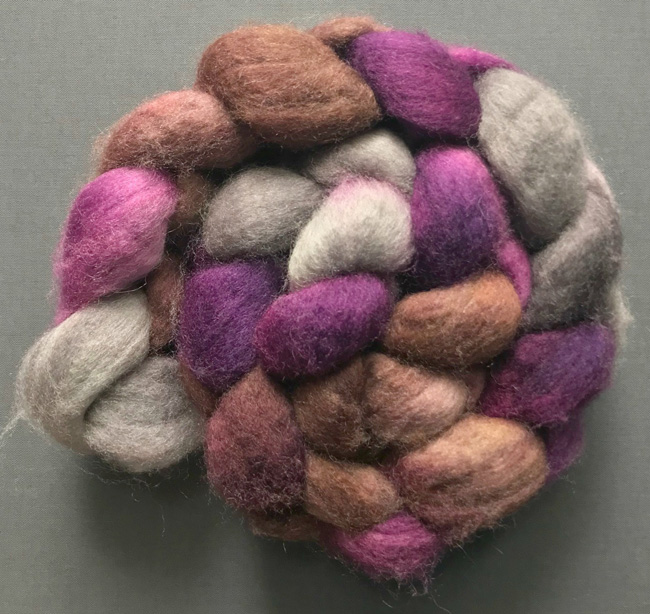 Cjkoho Designs: Anne Elliot on BFL
I tend to spin around worsted+ weight yarns, and I love the dots of color I get when drafting braids together or on themselves. It makes yarn that looks tweedy, rather than striped. Plying yarns together, where the colors don't match up, gives even bigger spots of color.
When I spin finer the color blend more together and it makes yarn that looks more heathered, it gives more of an appearance or cast of a new color.
I spun and knit some samples to prove it to myself, using Cjkoho Designs BFL in the color Anne Elliot, and spun and knit four 2-ply samples.
I spun DK and chunky weight yarns and plied them trying not to match.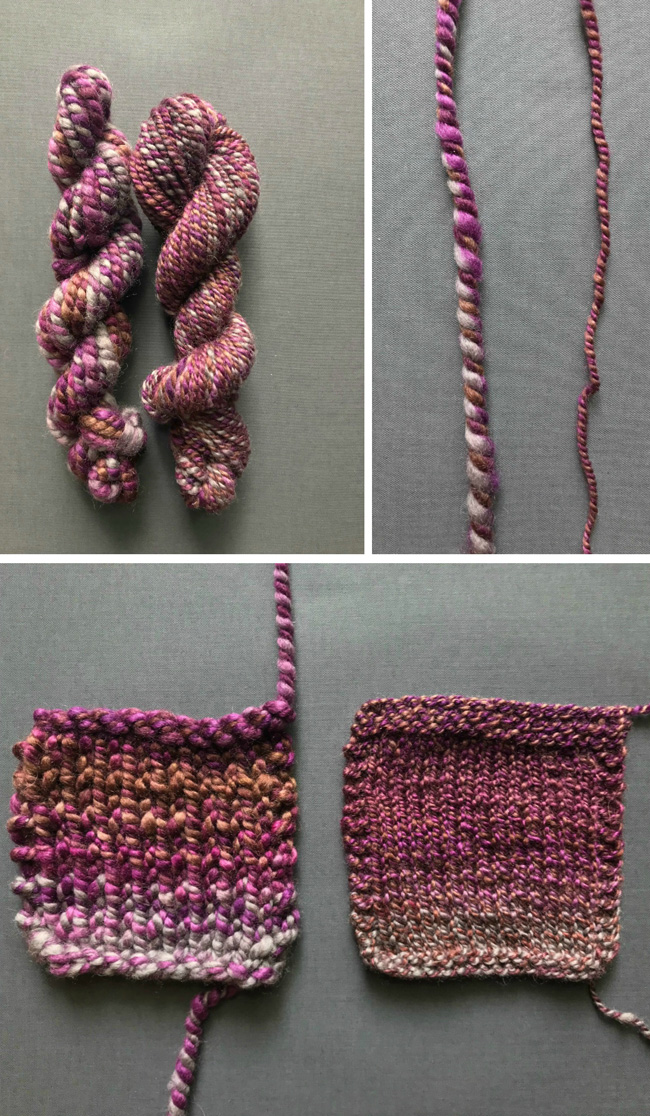 Plied yarns. Chunky left, DK right
Side by side, I can see exactly what a difference size makes, from skein to individual strand to knitted swatch. I like them both, but if I want more obvious colors and less blending in plied yarn, I will spin chunkier.
I spun DK and chunky yarns, drafting the fiber on itself, and then plying.


Drafted together yarns. Chunky left; DK right
This style of spinning (sometimes called Combo Drafting or Double Marl) blends the colors together more in general. I never tire of looking at the individual strands. To me the double marl, first in the single then in the ply, and how it flows randomly is gorgeous. In the finer yarn, it creates a cast of color.
Here are the four yarns side by side to get an overview feeling: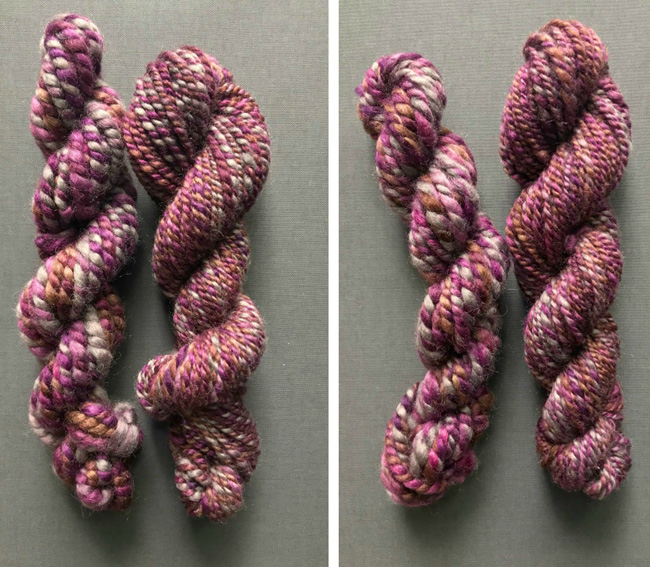 Chunky left, DK right
The difference in the chunky yarn isn't as apparent in the skein. In the finer yarn, the color is definitely blended.
Comparing both Chunky and DK gives me an even better feeling for the techniques working in the sizes.
Ply left, drafted together right
The drafted-together yarns are less bright in both sizes, and even more so in the finer yarn. The smaller dots of color swirl together visually.
Here are the four knitted swatches together. Ply is on the left, draft and ply on the right: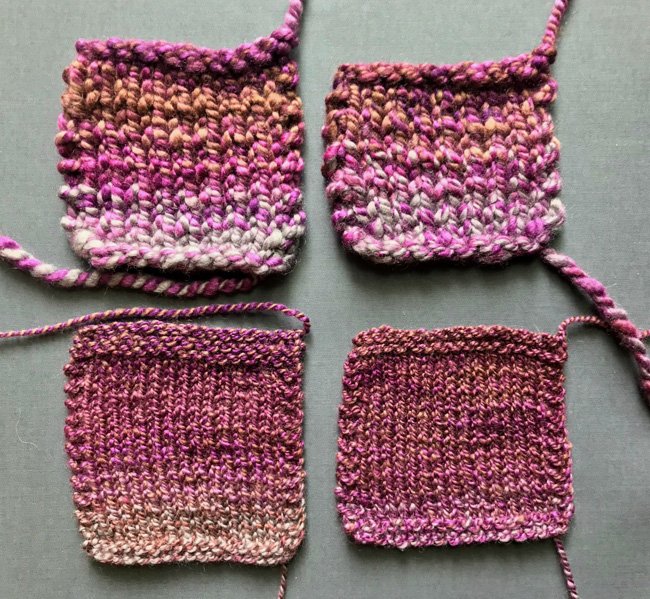 All four yarns swatched in stockinette stitch. Chunky on top, DK on the bottom, plied yarns on the left, drafted together yarns on the right.
This is where I get excited in my sampling – the moment when I take my samples to the medium I intend to use. The Chunky samples aren't really that much different. The plied sample is brighter than the drafted-together sample because the colors get to stand alone in bigger spots, rather than touching in both draft and ply.
The finer yarn swatches are fascinating to me. The ply sample on the left is lighter, and I can see more individual colors. But the drafted sample, while not as bright color-wise, seems to glow. To my eye it has more depth in color and is more interesting.
This colorway is lovely, but sedate, my favorite shades of dirt. I wanted to try the draft and ply, because it's what I do the most (and what folks get excited about in my classes) in a brighter color.
I chose Abstract Fiber in the color Deschutes on BFL/silk.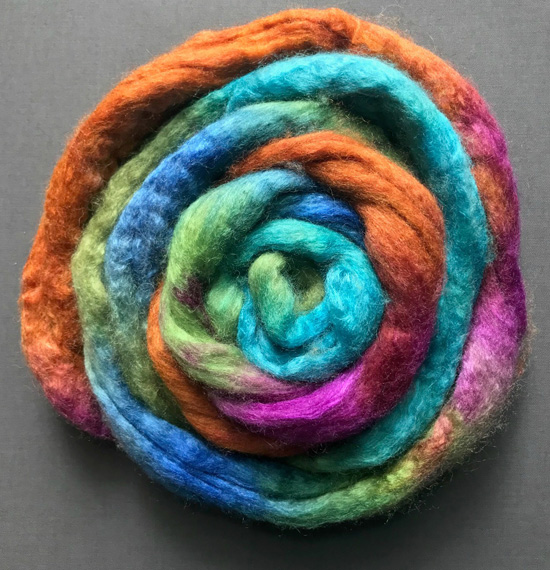 Abstract Fiber Bfl/silk, color: Deschutes.
In the skeins, yarns and swatches. I see can the difference in size a lot here.

Drafted-together yarns. Chunky left, DK right
The aqua color washes over everything in the finer yarn. I like it, but like the bigger pops of color in the chunky yarn. I hadn't realized how much aqua was in this colorway until I spun it.
So this is another fun and exciting experiment that tells me one more variable I can choose when spinning yarn for a project. It also gives me another answer to the question why my yarn and my spinning friends' yarns often look very different when we spin the same braids. In the words of one of my childhood heroes, Mr. Spock, "Fascinating".