DIRECTIONS
Note: An even gauge is critical. When you start working the pattern rows, you should see stacking and shifting of the colors within the first 6-8 rows, though it may take 12-14 rows to really see the pattern emerge. If the yarn is not patterning in a satisfactory way, try adjusting your needle size, or start again using 2 sts more or fewer.
Using backward loop method, CO the number of sts given for the yarn you are using:

• Koigu KPPPM: 58 sts
• Tempted Yarns Good Grrl: 54 sts
• Lorna's Laces Shepherd Sock: 66 sts
• Three Irish Girls Adorn: 68 sts
• Dashing Dachs Fingering Superwash Merino: 68 sts
• Blue Moon Socks That Rock Lightweight: 62 sts

P 2 rows.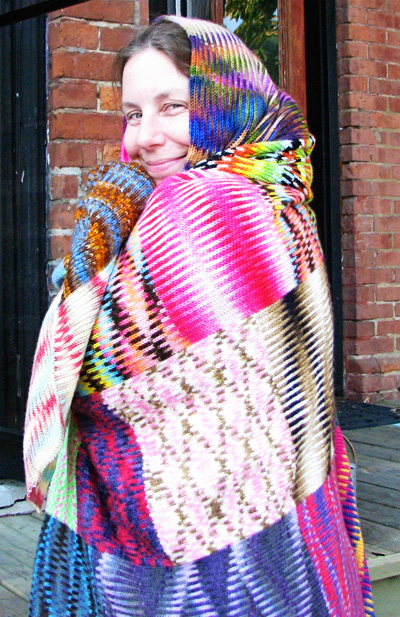 Version 2 shown at right

Begin Pattern:
Row 1 [RS]: Sl 1 purlwise with yarn held to back of work, [k1b, k1] to last st, k1.

Row 2 [WS]: Sl 1 purlwise with yarn held to front of work, [p1b, p1] to last st, p1.

Repeat these 2 rows, changing colors as desired.

To change colors, join new yarn using Russian join (see Pattern Notes). Color changes will not be noticeable in the finished piece.
Continue in pattern until piece measures 60 inches or desired length, ending with a WS row.

Loosely BO all sts; your BO edge should be as stretchy as the fabric itself. To achieve a loose enough BO edge, try using the sewn bind off (see Pattern Notes), or the new Jeny's Surprisingly Stretchy Bind Off.
If making an afghan of the same size as those shown, work 4 more strips in the same way.