Sandri lace shawl pattern, a free knitting pattern from Knitty.com. Free knitting pattern for a shawl in stockinette with a wide lace edge.
INTRODUCTION
Sandri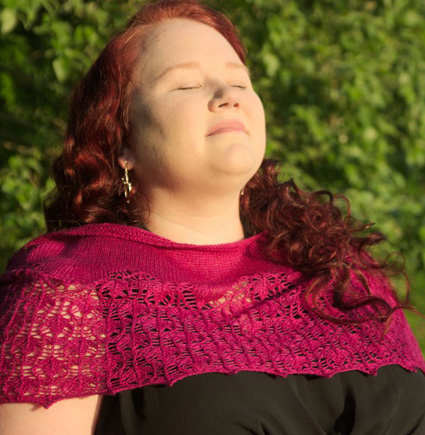 Sometimes knitwear comes into being all by itself. This time, one sleepless night I was pondering how various decreases, which are easy to knit on the right side of the work, could be knit on the wrong side. The next morning I let my imagination run free and let pencil and graph paper do the work for me – a beautiful lace pattern formed, which resembles rosebuds as well as candle flames.
Knitting the pattern isn't easy at first. First, a huge amount of stitches is cast on. Then the lace is knit on both right and wrong side of the work. The pattern's stitch count is changing all the time and it contains several different decreases on WS rows. In the end, there are short rows, which give the shawl its crescent shape. For comfort, I can say that knitting the pattern gets easier as one becomes more familiar with the WS decreases.
This knitwear is named after my mother-in-law. She is always able to support and encourage when I feel like the knitting is driving me crazy.

model: Susanna Häkkinen

photos: Stefan Becker
FINISHED MEASUREMENTS
Wingspan: 84.75 inches/215cm
Depth at center: 16.5 inches/42cm
MATERIALS
Yarn


BC Garn Silkbloom Extra Fino [55 % Merino wool, 45 % silk; 328 yd/300 m per 50 g skein]; color: Pink (iz 20); 2 skeins.
Note: The shawl used all but three yards of the yarn, so I strongly recommend buying a third skein to be sure. You can't (easily) adjust for a shorter yardage on the fly.

Recommended needle size
[always use a needle size that gives you the gauge listed below - every knitter's gauge is unique]


1 32 inch US #6/4 mm circular needle


1 US #9/5.5 mm straight/double-point needle (for binding off only)

Notions


yarn needle


rust-proof pins for blocking


stitch markers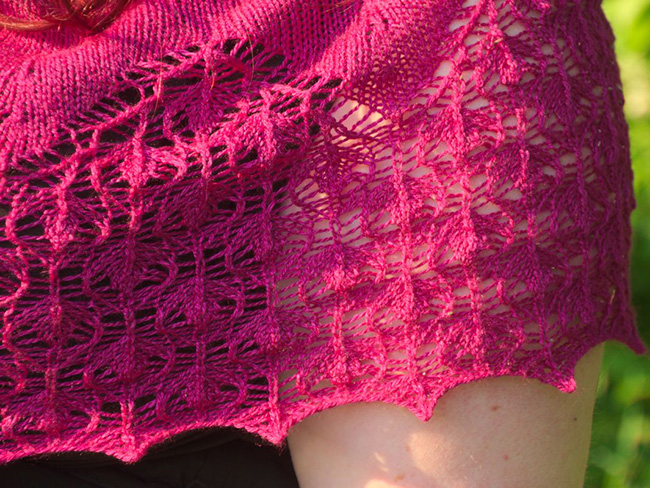 GAUGE
24 sts/25 rows = 4 inches in stockinette stitch
PATTERN NOTES
[Knitty's list of standard abbreviations and techniques can be found here.]
Note that there are two types of yo worked: a standard one that is to be worked as a stitch on the following row, and then a "yo to be dropped", marked on the chart with a solid black dot. Work the yo as indicated, but drop it on the following row – do NOT work it as a stitch.
CDDp: [Slip 1 knitwise] twice. Slip these 2 sts back to left needle with yarn in front of work, then insert right needle from left to right into their back loops and slip together to right needle. P1, and pass the 2 slipped sts over.
SSP: [Slip a stitch knitwise] twice. Slip both stitches back to left needle without twisting them. Purl them together through back loops by inserting right needle from left to right into backs of both stitches.
DIRECTIONS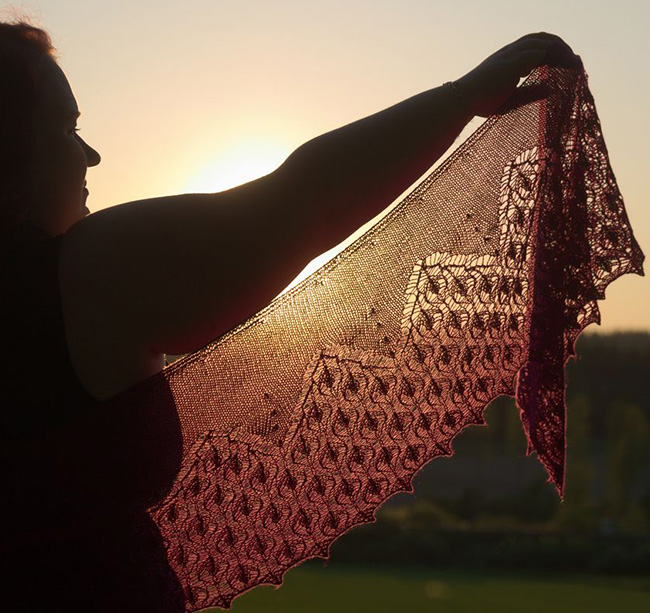 Loosely CO 545 sts.
Tip: Use stitch markers to help with counting, e.g. put a marker on the needle after every 100 sts cast on.
Lower Section
Row 1, start charts [RS]: Work Chart 1 row 1, working repeat 44 times across.
Work as set until Row 16 is complete, work Rows 1-16 again, and then work Rows 1-15 once more.
Next row [WS]: Work Chart 2 Row 16, working repeat 14 times across.
Work as set until Chart 2 is complete. 395 sts.
Upper Section
Row 1 [RS]: Knit.
Row 2 [WS]: K2, p until 15 sts rem, w&t.
Row 3 [RS]: K until 15 sts rem, w&t.
Row 4 [WS]: P to 15 sts before previous wrapped st, w&t.
Row 5 [RS]: K to 15 sts before previous wrapped st, w&t.
Repeat Rows 4-5 until there are 5 sts unwrapped in the center, ending with a RS row.
Next row [WS]: P to last 2 sts, working wrapped sts together with their wraps, k2.
Next row [RS]: K across, working wrapped sts together with their wraps.
Knit 3 rows.
Using larger needle in right hand to work sts, BO.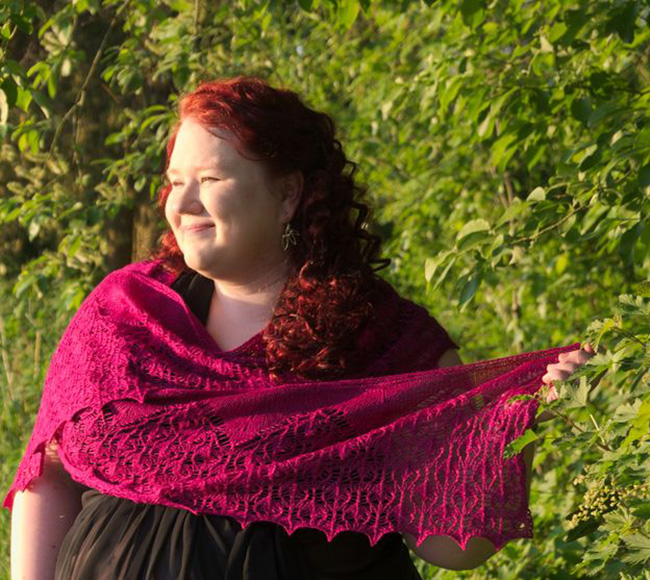 FINISHING
Block and weave in all ends.
ABOUT THE DESIGNER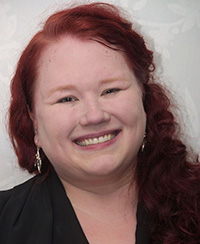 Christa Becker has been knitting since she was seven years old (blame her grandmother), but got really excited about it during high school. Her yearly wish-list for Santa Claus includes yarn, yarn, more yarn, and a few extra hours per day to knit it all. Her family already knows not to disturb her when counting stitches.
Christa's projects and designs can be found on Ravelry.
Pattern & images © 2016 Christa Becker. Contact Christa