learn to break the rules
I love to spin. I'm not even a fair-weather spinner; I will spin in the midst of the summer's onslaught of heat and humidity…conditions which make the individual fibers stray and stick. Plying for a smooth yarn can be a challenge in humid weather. Slightly underspun singles stick their heads up at irregular intervals giving the yarn a blurred appearance. It's usually during these moments when I'm looking for something to liven up my spinning…something that will allow me to work with the fiber instead of trying to wrestle it into a smooth strand as it protests. I want a satisfying mix of artistic expression and beautiful yarn.
There is so much more to spinning plied yarns than the traditional plying method. Singles can be manipulated so that the resulting yarn still bears the benefits of a plied yarn, but also enhances slubs, thin spots, haloed fibers and irregularities that can occur under less-than-perfect spinning conditions. These techniques will create wild, unexpected, and highly textured yarns. In fact, what is conventionally termed a defect now becomes the focal point of an artistic skein. With practice, you can repeat your results and create many skeins of a particular type of yarn. Work your yarn up into amazing textured garments or accessories like mittens and hats. Even single skeins can be used as button bands, cuffs, and hem or collar accents.
Before you break with convention, you must know what to keep and what to change. You need to know how to ply traditionally, and must ply well before moving onto these challenging techniques. If you skip the basics, your yarn quality will suffer, and the techniques will be frustrating. Know the rules, so you can break them effectively. A primer on traditional plying can be found here.
All the techniques in this article assume you are plying a normally spun single. Singles can be of any weight, and as even or uneven as you prefer. If you are a new spinner wondering what your first hanks of uneven singles are good for, dig them out. These plying techniques will highlight the beauty of even the most craptastic yarn. Any special requirements will be noted in the individual technique instructions.
Since these techniques can often result in a bulky yarn, you'll need to keep in mind the size of your wheel's orifice relative to the yarn you're spinning. Pay special attention while spinning knots. It's easy to spin a knot too large to fit through the orifice and wind onto the bobbin.
Inequality
Materials:


Regular single


Strong, lightweight thread

Simple, but effective. Ply a regular single with a very thin thread. The greater the disparity between the weights of these singles, the more dramatic the appearance. Be sure the thread you're using is strong enough to handle the plying process. Sewing or machine embroidery thread work well. A matching thread will blend in and create an invisible squiggle. A contrasting thread will add a bit of extra color to the textured yarn.
Lopsided
Materials:


Regular single


Thin novelty yarn (optional)

Lopsided plying involves spinning the singles together with uneven tension. You'll apply more tension to one single than you do to the other. This causes the singles to spin together at a different rate, resulting in more texture.
Use my plying hold (See this previous plying article for more details but let one single be free – it will pull up and form a ninety degree angle with your tensioned single. Use your pointer finger to guide the loose single as you spin. You can apply a little pressure if it's unruly. Adjust as necessary until you get a result you like.
The photo above shows what happens if you use this technique with singles of very different weights. I plied a rayon carrying weight yarn with a loosely spun, bulky weight wool single. The bottom three strands were spun with the bulky single held under no tension. Below is a detail of the lighter strand held under no tension.


Variations:
Use two different weights of singles.
Use one single, and one lightweight novelty yarn or thread.
Alternate the untensioned single as you ply.
Knots
Materials


Singles: due to the over twist used for plying, your singles will benefit from being very firmly spun.

Short draw is a good technique to use for a firm single.

These aren't complicated, but it takes a bit of fiddling to get them right. Keep practicing and you'll soon be whizzing.
You'll need to hold one single in each hand, as you'll be moving them independently of the other. Slow down the treadling, knots take time to form. If you treadle too quickly, you'll remove too much twist from your singles and they will break. Make sure the singles you use are very overspun, or this technique will be frustrating.
Hold one single taut. Move the other single from a normal plying position to a ninety degree angle and allow it to wind onto the taught single in the same spot, forming a small bump. This bump will anchor the single. Now continue to move the single towards the orifice, allowing it to wind on around the already plied yarn. Once you reach the top of the knot, wind a few turns in the same place to anchor, and continue winding the single around the knot until you reach the bottom. Again, anchor the single by allowing it wind around the taut single at the base of the knot. Anchoring prevents the knot single from sliding freely along the taut single.
If you experience problems with the single winding properly, adjust the tension. Try loosening your hold on the base single so it can spin a bit more freely. Use less tension on the wrapping single so that it can wrap on faster. Keep practicing, and you'll get the rhythm of this technique. It takes quite a bit of coordination between your hands and your feet.
Be aware that if you have a spinning wheel with a narrow orifice, you will need to keep your knots small so that they can fit through. Many fibers will compress, and you can use your orifice hook to help guide the knots through and onto the bobbin. Knots benefit from being hand wound onto your bobbin.

Variations:
Place several consecutive knots by alternating which single is being wrapped.
Use two different colored singles for contrasting knots.
Using these techniques in combination with each other and regular plying is great fun. You'll have lots of texture and variation along the skein. Embrace the unexpected and let the yarn whisper it's secrets to you. Your results will vary depending upon the characteristics of the singles you spin. I find that the unexpected often is the most satisfying part of spinning, and a perfect opportunity for further fiber education.
These pictures illustrate these techniques. You'll notice that I've further enhanced the artistic texture of these yarns by using different colors, different fibers, adding Angelina sparkle, novelty yarn and more. Let your creativity take you to new places in your spinning.
Purple Sparkles
This skein was created using the techniques in this article. I used hand dyed, medium fine, domestic wool in a variety of purple shades. I hand carded Angelina fiber into the dyed roving and spun this into the single at random intervals. A hot pink, rayon novelty yarn was used to ply.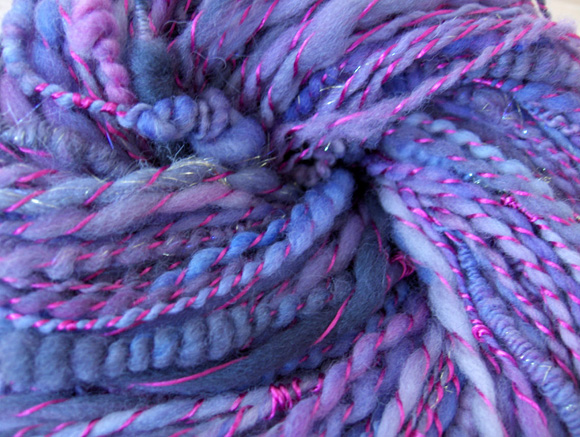 Treasure of Tortuga
A variety of colored, medium-fine wool roving was used to spin a multi-color single. Large slubs were intentionally placed into the single at random intervals. I also tied lengths of singles onto the yarn as I was spinning, before I plied. The textured singles were then plied together, incorporating knots and lopsided tension. The ends of the tied on singles were teased, so that they stick out of the yarn.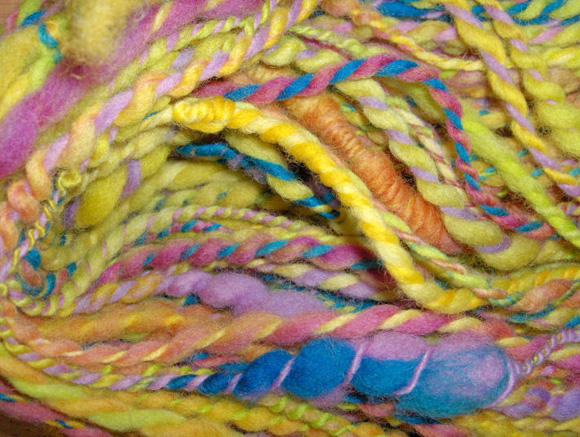 Ice Princess
I spun natural-colored merino wool roving into firm singles, with random sections of brightly colored roving incorporated. I also hand carded Angelina and short lengths of multicolored sewing threads into the natural colored wool and spun this in at intervals. The single was spun very unevenly, with large slubs and near laceweight thin lengths. Once spun, the single was plied with a multicolored, commercial lace weight yarn, with hand strung seed beads. As I plied I again used the lopsided plying technique and knots.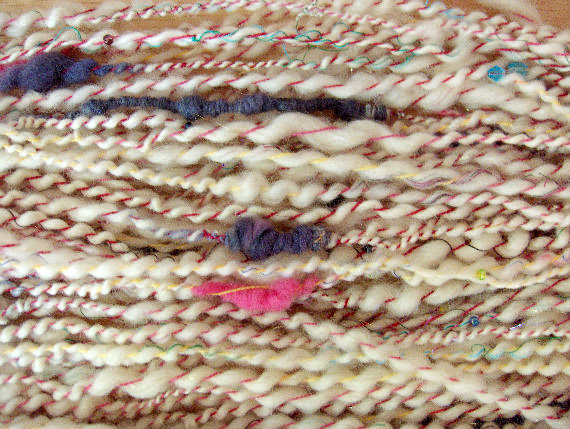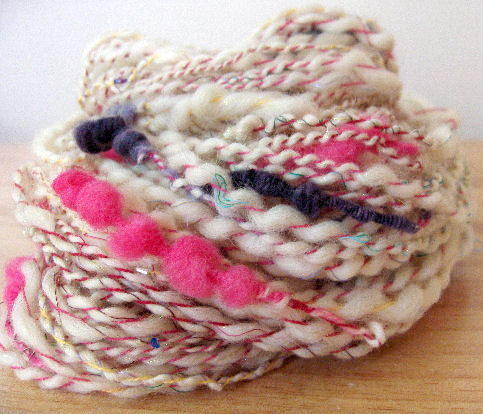 Wheel: Jensen Tina II which I hand finished in Cherry
Hand cards: Clemes & Clemes medium wool cloth
Fiber:
Purple Sparkles


Domestic wool (54 count) roving in hand dyed in shades of purple.


Plying thread: 100% rayon, fingering weight yarn like Henry's Attic Sierra.


Aurora Angelina Fiber

Treasure of Tortuga


Domestic wool (54 count) roving in hand dyed in bright, solid shades.
Ice Princess


Merino roving in natural cream shade


Aurora Angelina Fiber


KnitPicks Shimmer in Happy Dance (Lace weight yarn, color now discontinued. You could easily hand dye your own in deep rose, fuchsia and warm yellow.)


Bright, multicolored sewing thread such as Sulky.


Multicolored glass seed beads.