Feature: Cool stuff
Cool stuff
SR [Finished chest measurement for sweaters] = the smallest chest measurement to the largest chest measurement we could find in the book. There may be only one pattern with the smallest or largest size, but it's in there. Books are softcover unless noted otherwise. All prices USD unless noted.
When you click on an Amazon affiliate link below and make a purchase, you're supporting Knitty. We thank you!
Jump to... Other Crafty Things

Knitting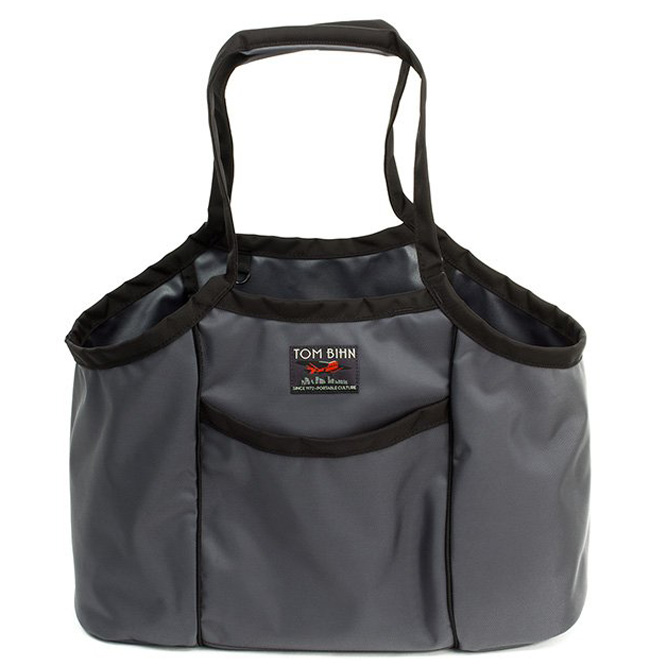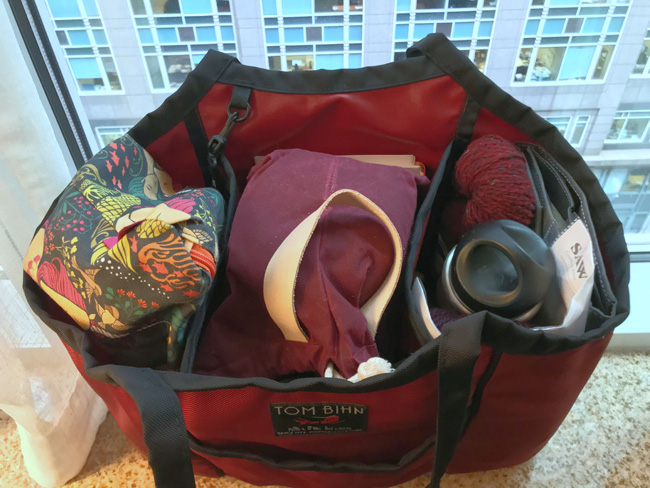 The Truck
by Tom Bihn
available in 11 colors
shown in Nebulous Grey [top], Mars Red [bottom]
$60
17.3" (w) x 12.5" (h) x 11.0" (d)

Buy now at Tom Bihn

When I first opened the Truck, I had no idea what I would use it for. Most knitters and craft folks don't pick an open-topped bag as their first choice to hold projects. Of course Tom Bihn already shut my mouth about that with the Swift.
It wasn't long before the bag was in regular rotation and I was wishing I had more than one. The Truck is an amazingly sturdy bag made of heavy duty ballistic nylon. It has a center square-ish section, with two smaller compartments on either side, and two outer pockets. That's it, so simple.
The handles are quite padded, so the bag is great for groceries. It's become my go-to bag for food when I car-travel to teach. I fill it with soup, fruit, a few dishes and utensils – all of the things that don't need to be in the cooler.  It can get quite heavy, but it never hurts my hands to carry. The straps are long enough for me to carry on my shoulder, but short enough that the bag doesn't drag when I carry it hanging down. That's a fine needle to thread with someone as short as I am.
I do use it for crafts too. It's big enough to use for a blanket project including most of the yarn. The fabric is stiff enough and the bottom broad enough that the bag stands up on its own, even when it's empty.
The thing I love using it for the most is for organizing a variety of crafting projects. On a road trip or just under my coffee table by my couch, it becomes a file cabinet for craft projects. On a trip over Christmas I filled it with five different project bags – a sweater in process, swatching for a sweater, a shawl, a little loom weaving project, an embroidery project, and a thermos of tea. I had a variety of projects (and tea) at hand in the car and it easily carried into the hotel. I have the variety I need to keep working on whatever is shiny to me at the moment, and my craft stuff doesn't sprawl all over the car or cabin.
Right now I've been trading it back and forth between groceries and crafts until I get a second one. I always keep it full of my stuff because my husband has been giving it the twinkly eye.
JM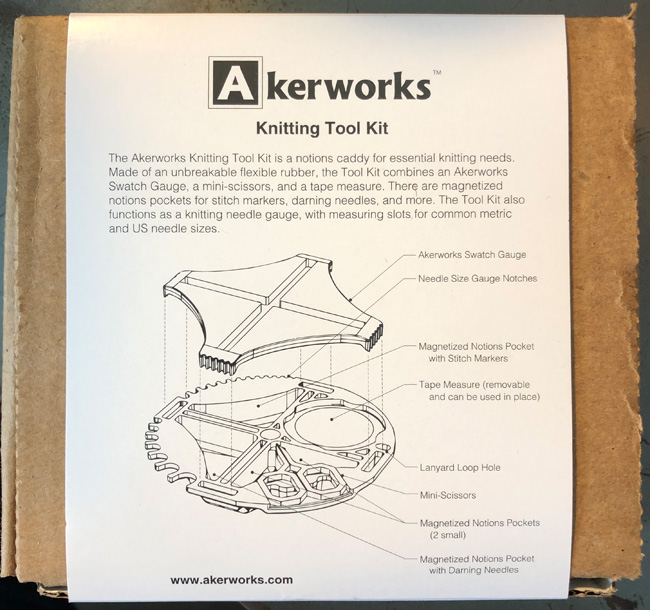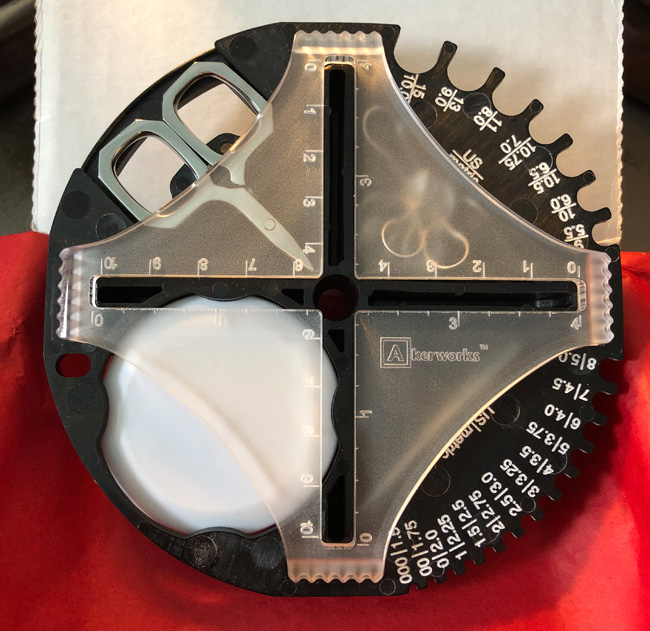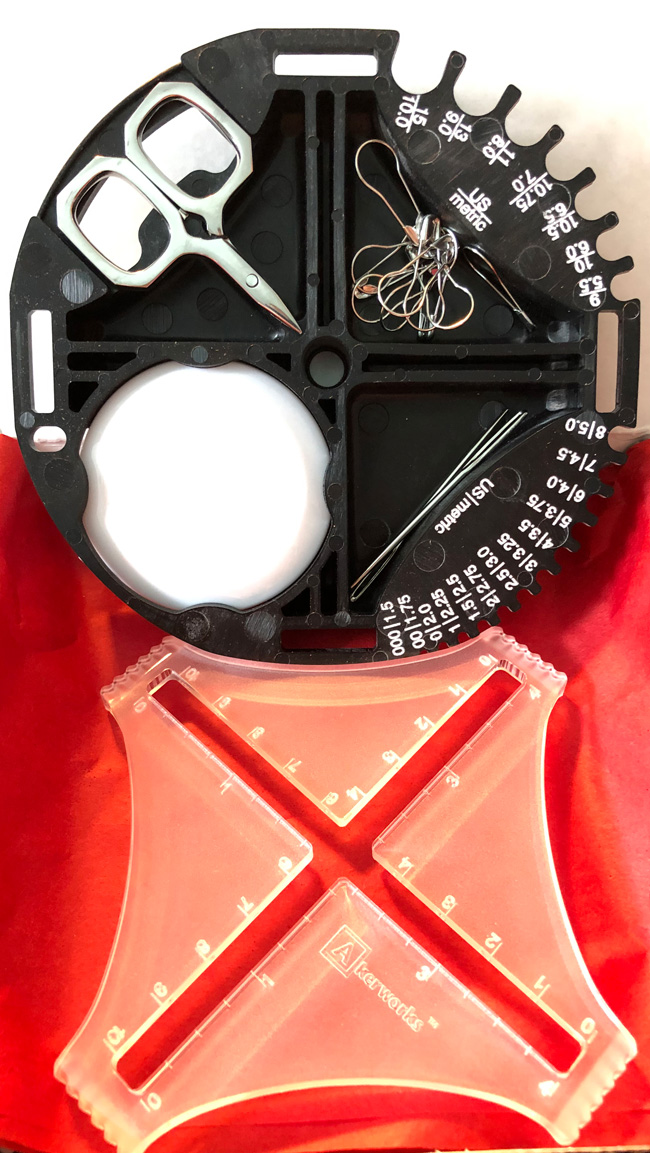 Knitting Tool Kit
by Akerworks
$38
Buy now at Akerworks
Every time I get something new from Akerworks, I think this is the best thing they've ever done. I'm always right in the moment, but then they top themselves.
This new Knitting Tool Kit is so genius it has knitters screaming like teeny boppers at the Beatles.
There have been knitting kits before, usually tools sealed in a small box or bag, but this one is entirely self contained in a black rubber case. It has an Akerworks Swatch Gauge (the best swatch gauge I've ever used), a pair of Little Gems mini-scissors, and a tape measure. There are magnetized notions compartments for stitch markers and darning needles. The Tool Kit case is a tool in itself. The notches all around the outside are a knitting needle gauge from 000/1.5mm to 15/10mm, and it all comes in one cosy and sturdy package.
Like all of Akerworks products, this is so well thought out and made. It has something that most multi knitting tools don't: substance. It feels like it will last for a long time. The rubber case is heavy yet flexible, the magnets strong enough that I can turn the open case upside down and shake it, and nothing moves.
It fits neatly into pockets and bags and doesn't come apart. I am embarrassed to say, but it speaks to the sturdiness of the kit; I put it in my back pants pocket and accidentally sat on it, but nothing broke and nothing popped free.
This is a unique and indispensible tool!
JM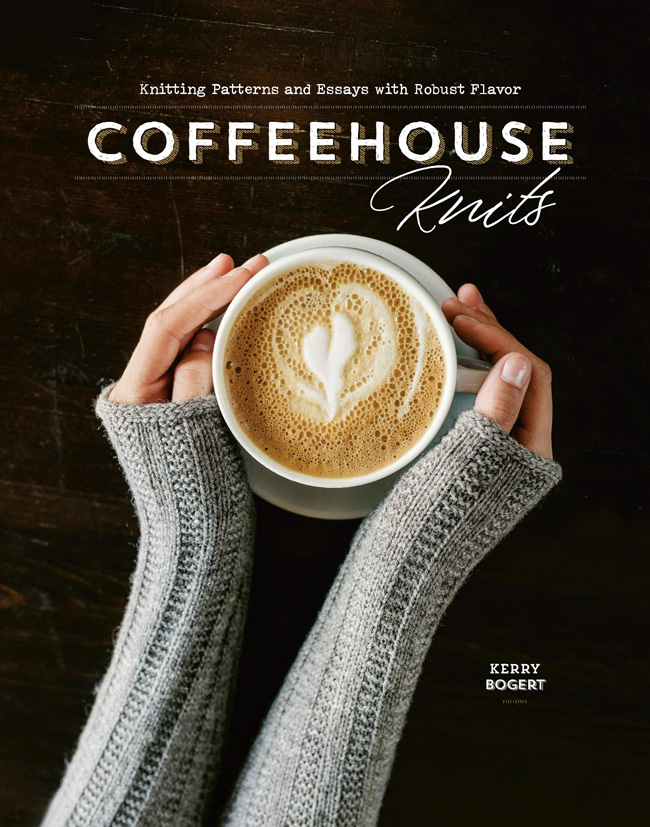 Coffeehouse Knits: Knitting Patterns and Essays with Robust Flavor
by Kerry Bogert
Interweave
$26.99
Buy now at Amazon
Coffeehouse Knits is a book that celebrates knitting in coffee shops with friends.
The patterns are all named after coffee drinks, and many are knit in shades of those same coffee drinks.  The patterns are interesting, but straightforward enough to knit while engaging in knit night chatter. There are 20 patterns, 7 sweaters, 6 scarves and cowls, 2 shawls and the rest are socks, hats and mitts. The feeling of the patterns is cozy, soft, and easy going, with many more patterns employing texture than colorwork.
The patterns I'd like to cozy up to are the Gingersnap Pullover, Dirty Chai Pullover and the Tasseography Cowl. The book is sprinkled with four charming essays all about knitting together, and community in coffee shops, livings rooms and online.
JM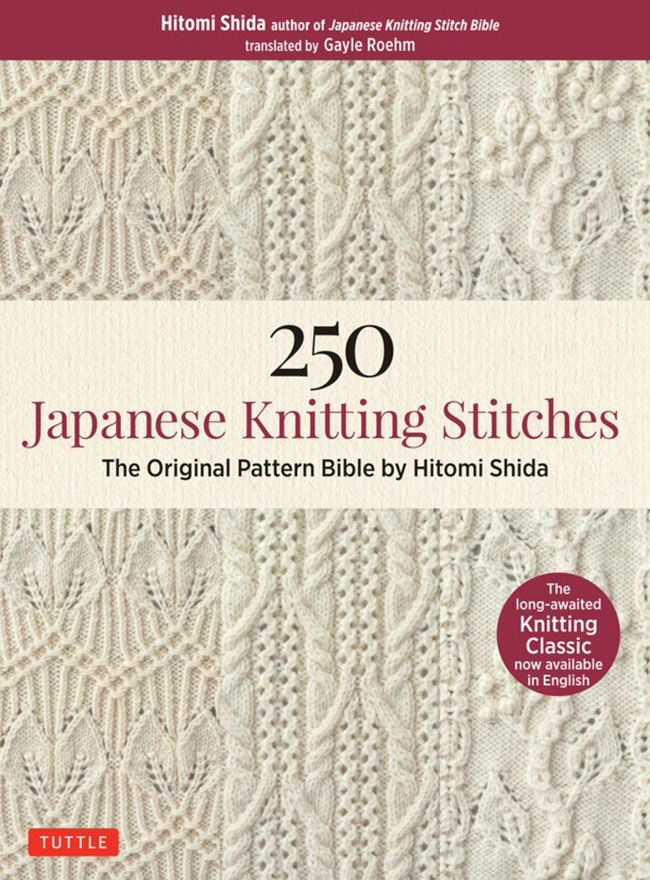 250 Japanese Knitting Stitches: The Original Pattern Bible by Hitomi Shida
by Hitomi Shida, Gayle Roehm (Translator)
Tuttle Publishing
$18.99
Buy now at Amazon
Have you had fun with the Japanese Knitting Stitch Bible since it came out? Ready to step up in complexity? This book combines stitch patterns to make big stitch patterns: 10 stitches x 40 rows, 20 stitches x 32 rows, 36 stitches  x 72 rows...you get the idea. These are not knit night, wine-drinking patterns. These are patterns that you enjoy in quiet or maybe with an audiobook. They take focus. That said, they are certainly worth it.
The patterns are full of glorious, toothy texture that flows from cable to twisted stitch to lace and bobble. There are six chapters with six distinct types of patterns:
Openwork Patterns – these are patterns with YOs, they could have other stitch patterns too, crossed stitches, bobbles, etc.
Overall Patterns – stitch patterns that either repeat a smaller motif or combine  two distinct motifs, both resulting in a swath of pattern.
Pattern Arrangements – the same stitch pattern arranged in two different ways.
Patterns with Crossing Stitches – cables and twisted stitch patterns.
Panel Patterns – these have between two and four stitch motifs arranged into a panel.
Edgings – yup, 29 of them.
Of course there's a guide to knitting symbols, a guide to unusual knitting symbols and a short intro on how to use the book, to help navigate incorporate these intricate patterns in your knitting.
The samples are shown in fine yarn, but I'm dying to try something bigger, to create a bold, remarkable fabric. This book will wake up your knitting imagination like a cymbal crash at the height of a symphony.
JM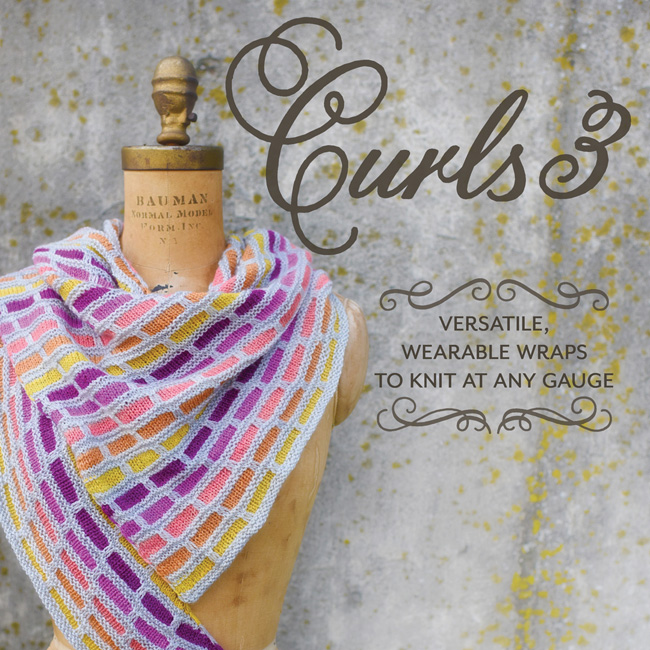 Curls 3: Versatile, Wearable Wraps to Knit at Any Gauge
by Hunter Hammersen
Pantsville Press
$21.95 ebook or paperback
Hunter Hammersen is back for a third time in this unique shawl series. Like the two volumes that came before this one, the patterns in Curls 3 can be knit at any size and any gauge. They can be made into a cowl, scarf or shawl that curls perfectly around your neck and shoulders; each pattern in the book is the product of the yarn chosen.
Hunter has an eye for yarn. She is masterful at pairing stitch patterns with a yarn to make it shine. She's felt the siren song of gradients and speckles, and the patterns show the unique color and pattern of the yarns perfectly.
The shawl on the cover, Cacoxenite, elicited an ooooh when I opened the mailing envelope. It's a really gorgeous way to use a gradient yarn or a gradient set. Another great gradient pattern that uses simple striping to more than simple effect is Kyanite, knit here in Miss Babs (those blues!).  I made more sounds when I found Merlinite, a tilting lace pattern that sets off Hedgehog Fibers' speckled yarn.
Each pattern is accompanied with a chart that lets you see the shape that your curl will be. If you are new or uncomfortable with charts, Hunter has a great "how to knit from charts" primer at the beginning of the book.
For those who geek out on the technicals of construction (or want to design your own curl) there is a great explanation of the architecture of Curls. If it's of no interest you can jump right into the patterns.
I love that this whole project started as a swatch and has developed into a sophisticated system to knit beautiful shawls.
JM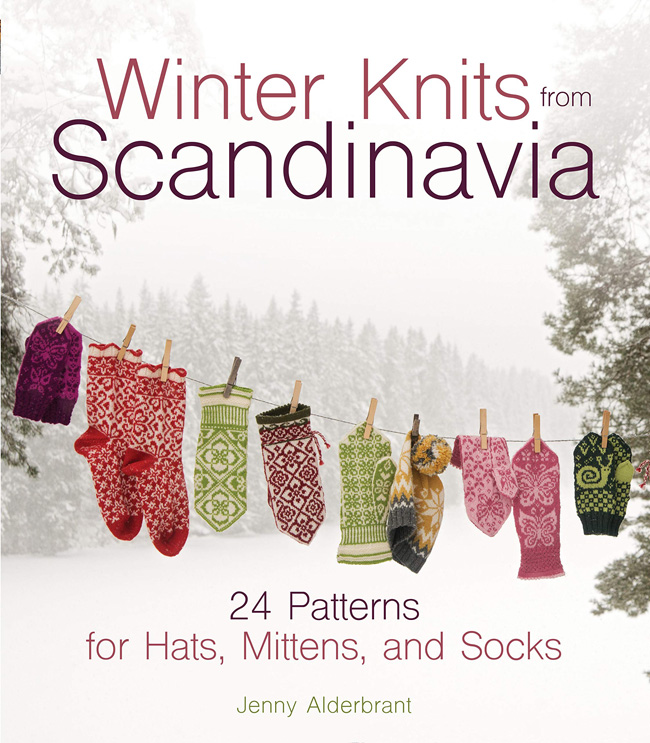 Winter Knits from Scandinavia: 24 Patterns for Hats, Mittens, and Socks
by Jenny Alderbrant
Trafalgar Square Books
$22.95, hardcover
Buy now from Amazon
Knitters who live where it's snowy and cold (there is still snow on the ground where I live) should be delighted by the patterns in this book. Based on traditional Scandinavian motifs, they are knit in bright and exciting colors and feature (surprise!) snails, foxes, butterflies and other creatures snuggled between the traditional motifs. It's such a great take on conventional Scandinavian knitting!
The patterns are easy to follow and the charts are large enough to knit straight from the book. They are all two-color knitting, out of fingering weight Swedish wool and written for only one size.
The photography is happy and cheerful and full of people frolicking in the snow, cozy in their knits. It made me smile just to flip through the book.
There is good information at the beginning of the book on two-color knitting, such as when to use duplicate stitch, and straight talk about how to hold your yarns for dominance in color. I rarely see this discussed in color knitting books.
I believe I'll be knitting from this book for next's winter's gifts.
JM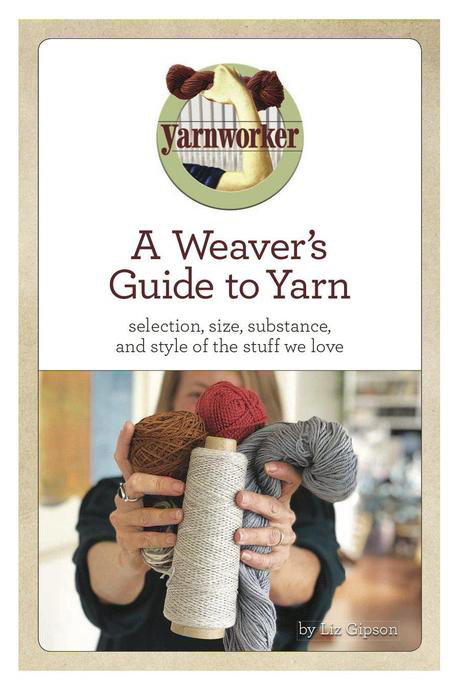 Weaver's Guide to Yarn: Selection, Size, Substance, and Style of the Stuff We Love
by Liz Gipson
Yarnworker
$14-$19
Buy now at Yarnworker
One of the stress-filled bumps in the road for new weavers is picking yarn for projects. This little book will answer all of your questions about weaving yarns. Written by rigid-heddle powerhouse Liz Gipson, it demystifies which yarns to use for weaving. Pulling together excellent information from her already published books and adding much more, A Weaver's Guide to Yarn will save newer weavers a whole lot of stress.
Liz outlines how yarn works in weaving, the make up and structure of yarn, explains terminology, and leads you to select the exact right yarn for your project. She does it all in such a friendly and clear way, you'll wonder what you were ever worried about.
The book is divided into five sections. Selection addresses the basics for choosing yarns for warp and weft, including substitutions. Size discusses a lot of terminology associated with weaving yarns. Substance is about the fibers in yarns wool and beyond including linen, hemp, silk , synthetic, blends. Style breaks down how yarns are made and how it affects your weaving. Shopping talks about where and how much you need.
This book was written for rigid-heddle weavers, but all new and newish weavers can benefit from this book. It's a fantastic overview of a complex subject.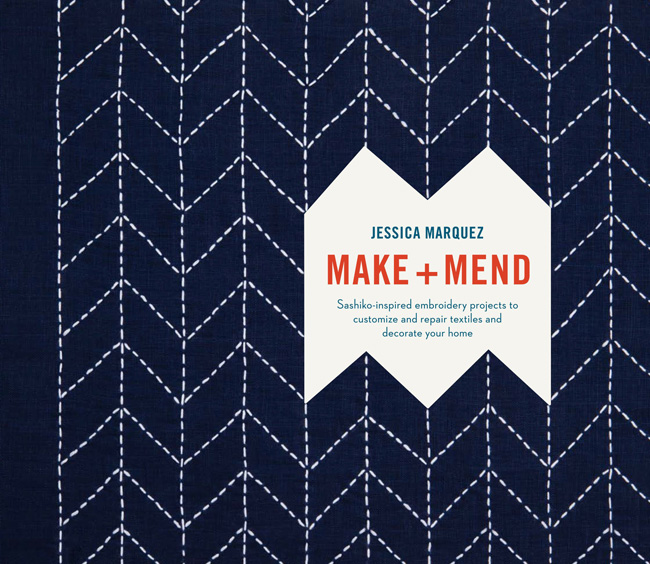 Make and Mend: Sashiko-Inspired Embroidery Projects to Customize and Repair Textiles and Decorate Your Home
by Jessica Marquez
Watson-Guptill
$18.99, hardcover
Buy now at Amazon
This is treasure box of a craft book. The size and the feel of it had me hooked before I opened it. It's designed with thought and beauty as well as functionality.

Make and Mend is a primer for sashiko stitching and visible mending. It teaches reuse and fabric frugality through example.
The book is divided into four parts. It begins with Getting Started, Jessica Marquez's views on sustainability, sashiko and boro. This meaty section has information and instruction on tools, types of stitches, transferring patterns and how to stitch. After reading through it, I felt confident to sit down and stitch. I felt even more confident to run out and buy all of the gorgeous tools and threads.

The second section is Make featuring eight projects with sashiko stitching, several utilizing boro-inspired layers and patching. The Sachet, Boro-Inspired Tote, Geometric Starry Scarf, and Patchwork Table Linens, all had me digging in my bag of torn linen clothing for scraps and patches.

The third section Mend gives the basics of mending and patching clothes with sashiko-style running stitches to add life to beloved clothing. Jessica ads her own inspiring twist to mending and patching, by using layers and complex stitches like her Patched Jeans with Layered Sashiko, lining frayed collars and cuffs, using appliqué and reverse appliqué, and this short-legged woman's favorite – using sashiko sitches to hem pants.
The book finishes with a stitch pattern dictionary/ directory and resource guide.
This small book packs a big instructional punch; all of the instructions are clear with lots of accompanying photos. The projects are explicitly set up, but Jessica encourages readers often to go their own way, and use the stitch dictionary in the back.
Make and Mend is an excellent book whether you are just starting visible mending or sashiko, or if you need some new ideas for your stitching.
JM