Plait, a free knitting pattern from Knitty.com. Free knitting pattern for a thickly cabled knitted stole.
INTRODUCTION
Plait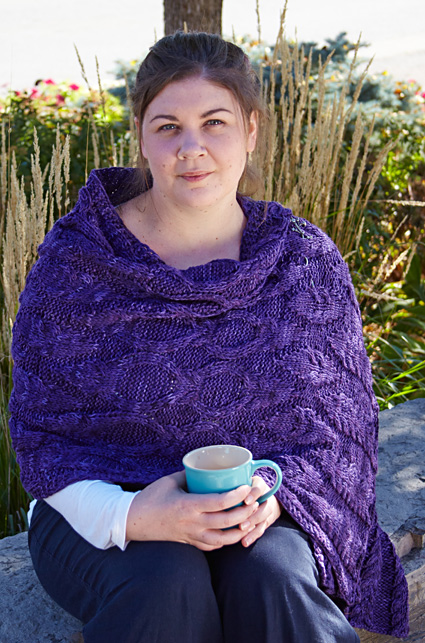 I love the look of oversized and large motifs in knitting. For the past few years, some of my favorite accessory patterns have been those featuring lace and cable patterns worked in chunky and bulky yarns. Recently I've been experimenting with knitting using multiple strands of yarn. Stitches look different worked in two strands of lighter yarn versus a single strand of a heavier yarn. This is also a great technique to overcome pooling that sometimes happens when using handpainted yarn.

Plait Stole is worked using two strands of DK weight yarn (although it can be worked using bulky weight yarn that knits up to the same gauge). The lush fabric produced by the double strands, along with the large motifs, create a lighter than expected blanket wrap of stylish warmth. Worked in a bright colour, the cables and motifs are an eye-catching statement piece and would look great worn belted over a coat.
Worked from the bottom up, this stole begins and ends with columns of dense cables. The motifs that run the length of the stole alternate between the cabled diamonds and the figure eights.

model: Jen Plaskett

photos: Shawn Miller
FINISHED MEASUREMENTS
Width: 24.25[31.75] inches/ 61.60[80.65] cm
Length: 52[74] inches/ 132[188] cm
MATERIALS
Yarn


Indigodragonfly 'DK Matter' [100% superwash merino; 280 yd/256 m per 3.53 oz/100 g skein]; color: Muppet Battlestar Galactickle; 7[14] skeins, held double

Recommended needle size
[always use a needle size that gives you the gauge listed below - every knitter's gauge is unique]


US #10.75/7mm circular needle, 24-32 inch/60-80cm long

Notions


4[5] stitch markers


cable needle


yarn needle

blocking wires, mats and pins (see Finishing instructions)
GAUGE
14 sts/19 rows = 4 inches/10 cm in Stockinette stitch
15 sts/21.5 rows = 4 inches/10 cm in Chart B
PATTERN NOTES
[Knitty's list of standard abbreviations and techniques can be found here.]
CO using a stretchy cast on like the Knit Cast-On or the Twisted German Cast On
Two excellent BO choices are Jeny's Surprisingly Stretchy Bind-Off or the Knit Lace Bind-Off.
C4L: Slip next 2 sts to cable needle and hold in front of work; k2, then k2 from cable needle.
C4R: Slip next 2 sts to cable needle and hold in back of work; k2, then k2 from cable needle.
M1: To make it easy to incorporate the stitches into the pattern, we recommend the backwards loop (e-wrap) make 1.
p2tog tbl: purl 2 sts together through back of the loop
Sl2-p1-psso: slip 2 st as if to p2tog tbl, p1, then pass the slipped stitches over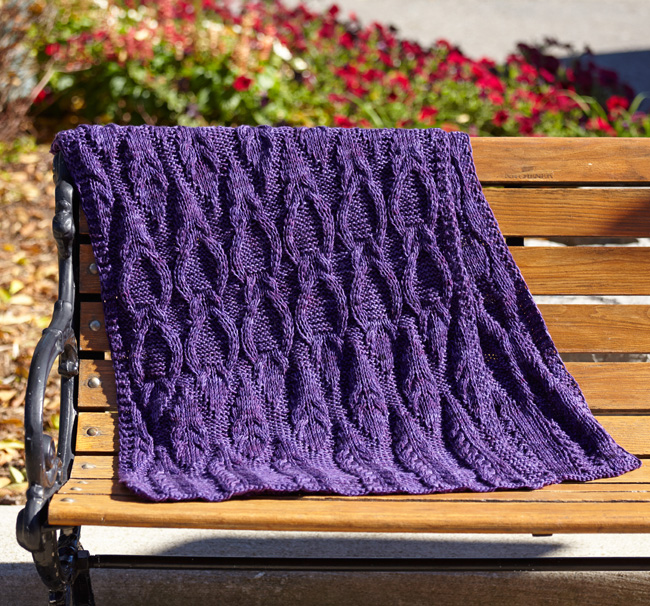 DIRECTIONS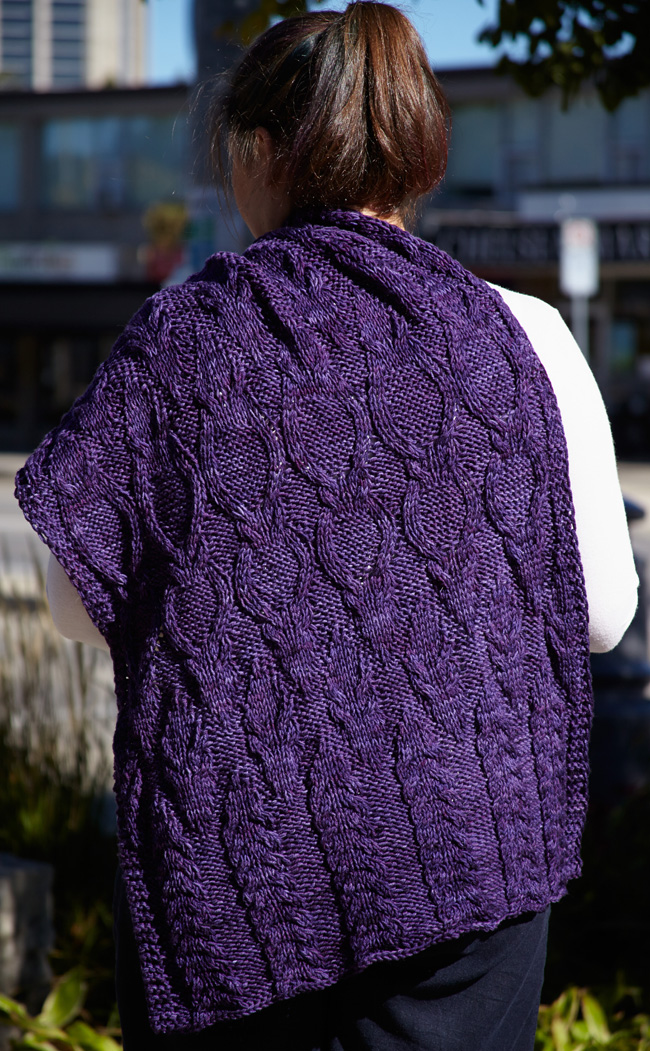 First Border
CO 91[119] using a stretchy CO method (see Pattern Notes).
Work Chart A across, working repeat 3[4] times. Place markers to divide up repeats if you wish.
Work as set until you have completed Chart A 9 times in total. [36 rows]
Body
Work Chart B, working repeat 3[4] times.
Work as set until you have completed 3[5] full repeats, and rows 1-26 once more. 242[362] rows
Second Border
Work Chart C across, working repeat 3[4] times.
Work as set until you have completed Chart C 9 times in total. 278[398] rows]
BO loosely with RS facing using a stretchy bind-off such as Jeny's Surprisingly Stretchy Bind-Off or the Knit Lace Bind-Off.
FINISHING
Weave in all ends. Soak stole in lukewarm water with a yarn wash until the yarn is thoroughly saturated. Roll the stole in a towel and gently squeeze to remove excess water.
Thread blocking wires through the edge sts along the length and width of the stole. Gently stretch piece to desired width and length, carefully pinning the body of stole along the blocking wire using pins. Do not unpin until completely dry.
ABOUT THE DESIGNER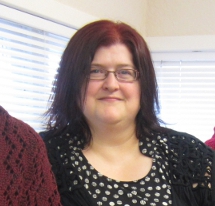 Janelle Martin has been knitting for more than 30 years and is excited to share her passion through her designs and as a knitting instructor. Her ongoing fascination is with Japanese Stitch Patterns and architectural detailing. Her hand knitwear designs possess an organic feel with stitch patterns flowing one into the next.
Janelle was awarded the 2011-2012 Sally Melville Award (KW Knitters' Guild), awarded (by members' votes) to "the knitter who has most inspired its members." She received the Amy Hallman Snyder Textile, Fibre and Quilting Arts Award at the 26th Annual Arts Awards Waterloo Region.
Janelle rarely goes anywhere without a book and her knitting.
Pattern & images © 2016 Janelle Martin. Contact Janelle