Feature: Cool stuff
Cool stuff
SR [Finished chest measurement for sweaters] = the smallest chest measurement to the largest chest measurement we could find in the book. There may be only one pattern with the smallest or largest size, but it's in there. Books are softcover unless noted otherwise. All prices USD unless noted.
When you click on an Amazon or Tom Bihn affiliate link below and make a purchase, you're supporting Knitty. We thank you!
Surprise reviews! (January 2019)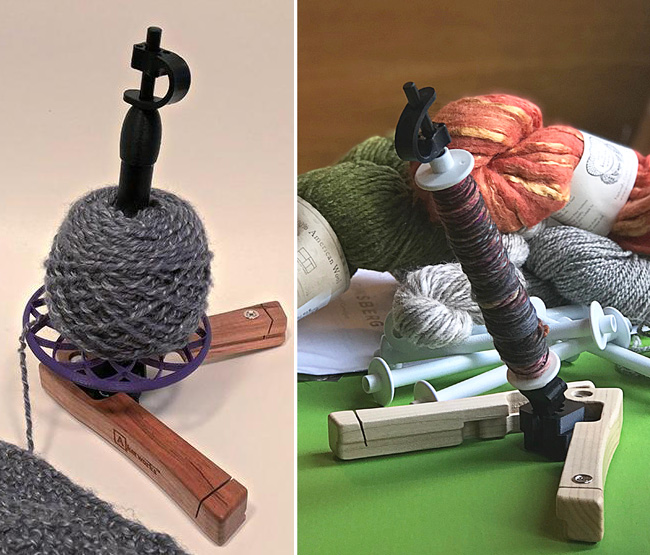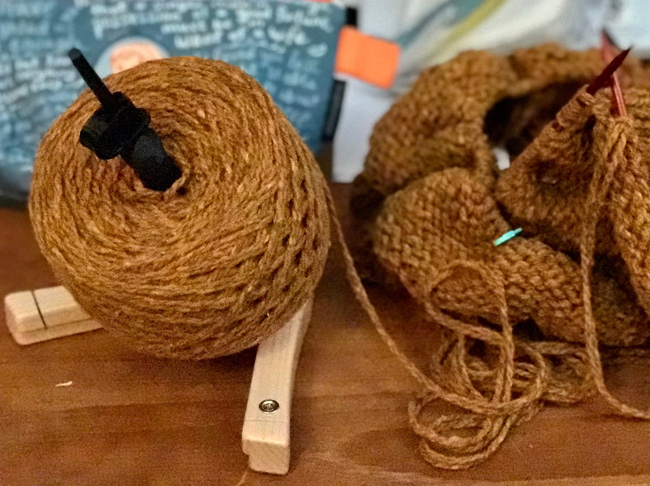 Flat pack Yarn Caddy (upper left) and Butterfly Kate Kit (upper right)
$74
Butterfly Kate: $61 • Yarn Caddy: $20
by Akerworks
Buy now at Akerworks
I thought I would use the Butterfly Kate for spinning and I did. I tried it, and then I couldn't stop. It is fantastic for chain plying, adding an additional ply – a fifth to their AkerKate's already 4-bobbin capacity.  I used it to hold a full bobbin while I wound storage bobbins, and I used it  to hold my core yarn for a spiral ply, then my wrapping thread for boucle. I was quickly hooked, and it became part of my regular spinning tool rotation.
The Butterfly Kate is simple and portable. It folds flat, and sets up smoothly. The shaft can be set at almost vertical or at an angle for a little extra tension. It comes with the clever Aker TensiTamer that adds more tension if you'd like it , keeps your bobbin from sliding up the shaft and can be used as yarn guide for particularly energetic or slippery yarns.
I thought I'd use the Flat Pack Yarn Caddy just enough to review it, and then I'd put it aside except for those very particular instances when I need it. I was so very and happily wrong. The Yarn Caddy works with the Butterfly Kate or any lazy Kate to hold cakes of yarn for knitting. It's made in two parts that pack flat for storage: a shaft to hold the yarn cake and a whorl to keep it tidy (yes, you can pick the color and design of your whorl). The Yarn Caddy helps me with two things, spooling my yarn from the outside of my cake to prevents extra twist, and keeping my yarn cake from jumping, rolling, and otherwise gamboling all over the room while I knit. I even take my Butterfly Kate/Yarn Caddy set-up to the movies with me. I don't want to knit without it.
JS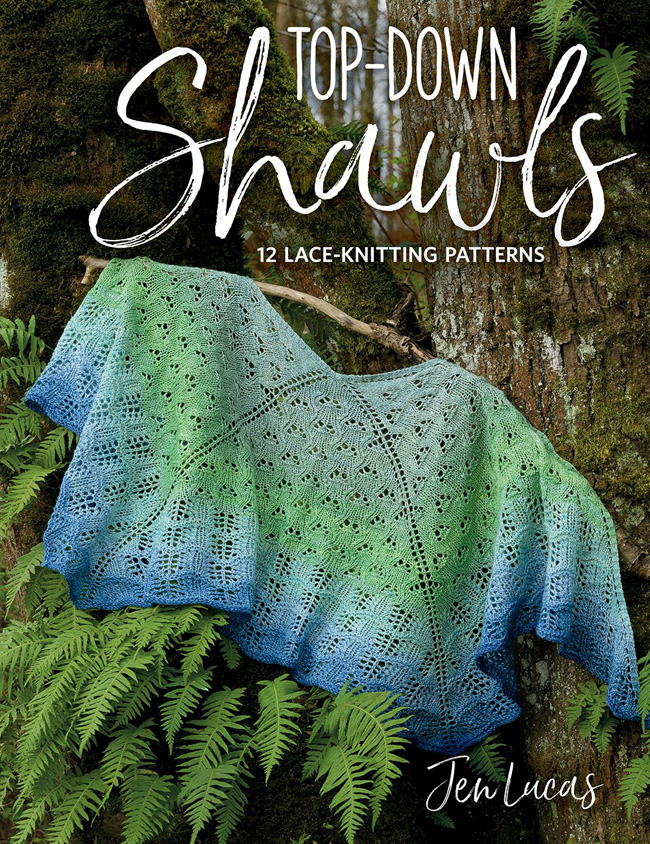 Top-Down Shawls: 12 Lace-Knitting Patterns
by Jen Lucas
Martingale
$25.99
Buy now at Amazon
This book landed on my desk at a perfect time. I wanted to knit a lace shawl, but I didn't want it to be one that forced me to knit with laser focus on just the pattern. I wasn't looking for an heirloom shawl; I wanted one I would wear most days for a splash of color and a little extra warm in the middle of winter. I wanted the patterns to be easy to read, and follow with the lace charted. And I wanted my shawl to be pretty. Top-Down Shawls: 12 Lace-Knitting Patterns fulfilled my knitterly wishes. 
The main part of the book is 12 lovely shawls, perfect for the special shawl yarn you have stashed away. The shawls are divided into four basic structures/shapes - wedge, crescent and half circle (the mighty Pi). There are four shawls in each style, and all are knit from the top down.
These are shawls I could happily knit while watching tv. The lace patterns are easily memorized repeats, and the results are shawls that I would wear a lot.
The bits I especially liked, that told me that Jen Lucas is a good teacher, or maybe a designer that listens to what knitters want, are charted and written out instructions, a Make It Your Own or Make It Bigger call out for each shawl, and stitch count breakdowns – lots of them.
There is a choose-your-own-shawl adventure at the back, 3 basic patterns (wedge, crescent, half circle) and a few stitch patterns to plug in to your favorite shape. There is also discussion on how to fit in any stitch pattern you'd like in one of these templates...all the fun part of designing with little to no math.
JS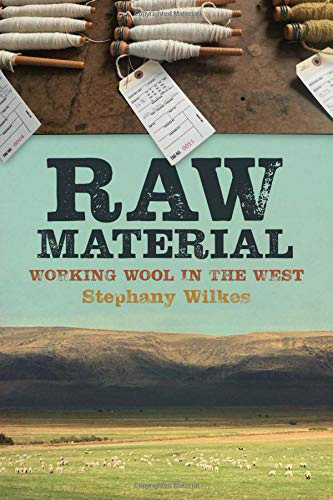 Raw Material: Working Wool in the West
by Stephany Wilkes
Oregon State University Press
$18.95
Buy now at Amazon
I crawled through this book, limiting myself to only a chapter every few days. I wanted to really absorb the information and stories. This book is a deep dive into the wool industry in the US west, the education of a sheep shearer, and a few insights into the US garment industry.
A quest for local wool to knit with became a life changing adventure for Stephany Wilkes. At the beginning of the book, she's working in the tech industry, kinda-maybe interested in learning to shear sheep, and by the end of the book she's a full-time sheep shearer and part of a vibrant, respectful and loving community.
Stephany writes about herself and her adventure, but the real stars of the book are all of the people and families making a living from sheep that she works with and learns from along the way.
This was an immensely satisfying book to read, one that frequently got put aside so I could do a little research on a farm, a yarn or a mill that she mentioned. After decades of knitting and spinning this book added great information to my knowledge of wool and the complexities of wool industry.
This is an excellent book for anyone who is curious or concerned about what it takes to raise local wool, or wants to know more about what goes into 100% US made wool clothing.
JS

Knitting
Large and Small Zip-Top Shop Bags
by Tom Bihn
Small (shown above in Island blue) 13" w x 10.6" x 9.4" d, $40
Large (shown above in Northwest Sky grey) 15" w x 13.4" h x 11.8" d, $55
Buy now at Tom Bihn
My birthday came for a second time this year when a box from Tom Bihn dropped on my doorstep. These two new bags instantly became my new favorites. They were designed to be shopping totes, but the small tote is now my favorite sweater-sized knitting bag , and the large tote is my new plane carry-on.
Here's the big thing about both of these bags, they carry so much more than they appear to. The small bag holds a whole sweater, including all the yarn I need, my ipad, knitting doo-dads and purse-y stuff. It's a simple bag and that's part of what I love, one zip at the top and two interior pockets, plus a clip for keys or a knitting necessities bag. Amy adds: in the photo below, you can see the interior pockets, each big enough to hold a HUGE 200g ball of DK-weight cotton with room to spare. I'm carrying an entire afghan's worth of yarn, as well as the WIP in the bag above and there's still room for more. Each pocket is big enough for a massive bottle of wine, water, soda...whatever.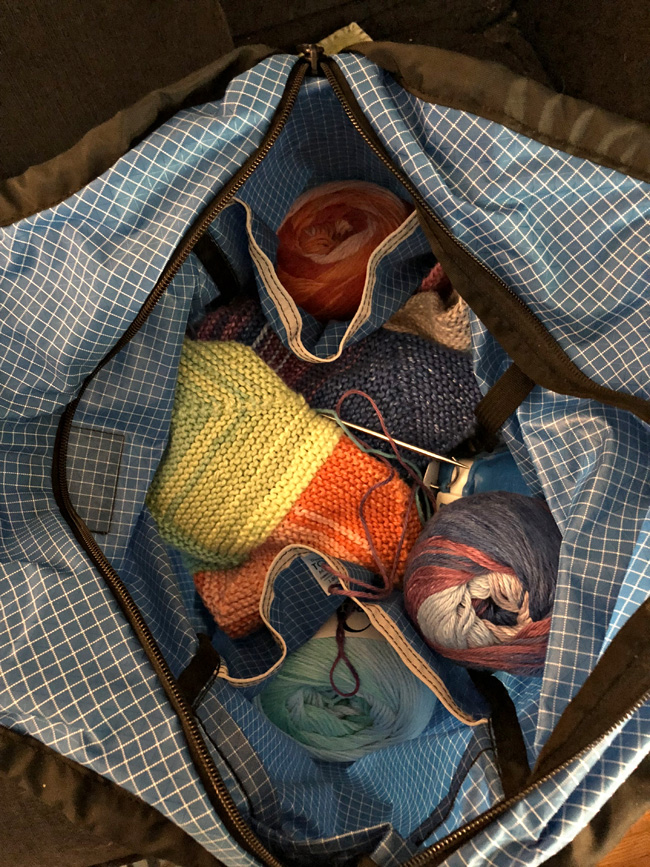 The large bag is my go-to carry-on now, (until I need to knit something big like a blankie, like Amy's doing) I took it on a recent plane trip; it held 5 days worth of clothes, an extra pair of shoes, my bathroom kit, and a book, and it still wasn't full. Because it's soft sided and most of the things in the bag were soft, I could squish it under the seat in front of me next to my Bihn Synapse 25 backpack.
The straps on both bags are padded and on the short side which I thoroughly appreciate. I can carry either bag in my hand and not have it drag on the ground, but they are long enough to carry on my shoulder too.
The two things that are genius about these bags are the zipper – it's longer than most bag manufacturers would make it so you can REALLY open the bag without the zipper impeding the stuffing. It's sewn in a way that, when the bag is open, the zip flops to the inside of the bag instead of becoming the edge of the opening and snagging everything (yarn!). The other bit that I will never stop loving is that they are very light but have structure. The fabric is the always gorgeous and tough as nails Halcyon rip-stop nylon – light and sturdy. If they had left it just in the Halcyon, it would be on the limp side and would fight you when you try to fill it. Here's what the brainiacs at Tom Bihn did to fix that: see the piping on the outside of the bag? It actually holds a flexible thin plastic cable. It can bend, but as soon as you put something in the bag, say your knitting, it stands up by itself, not collapsing like so many lightweight totes would.
JM, and a little from AS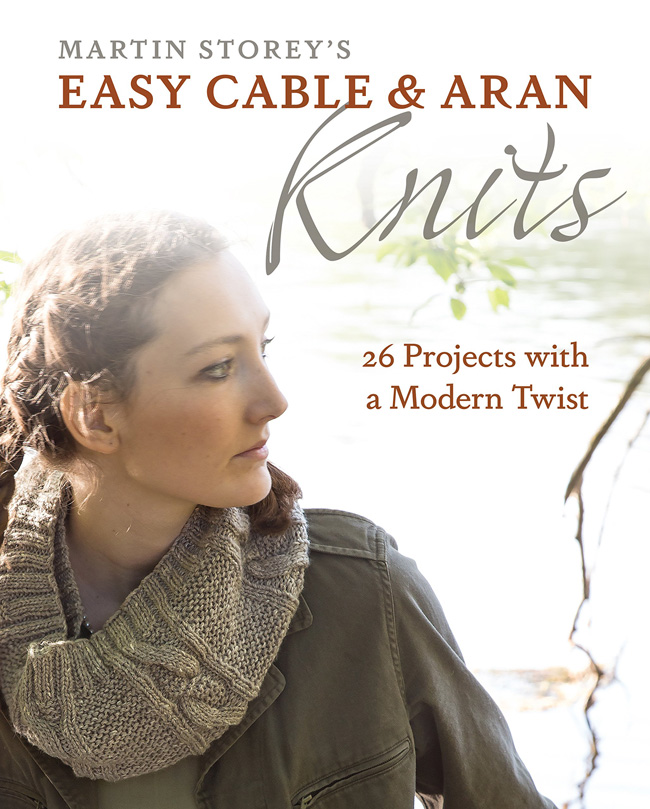 Martin Storey's Easy Cable and Aran Knits
Martin Storey
Trafalgar Square Books
$22.95
SR= 37- 51"
Buy now at Amazon
Are you new to cable and Aran knitting or are you looking for cable and Aran patterns that quicker to knit? If you answer yes to either or both, this book would be a good one for you.
The projects are mostly for an advanced beginner knitter, though there are beginner knitter projects too. I never underestimate the power and focus of a new knitter. The book is divided into two sections, projects with isolated cables, and projects with all-over cabled patterning or multiple cables.
What this book has that so many beginning and easy books don't, are garments. Seven of the 26 patterns in this book are sweaters or vests. The rest are cowls, scarves, pillows, hats, mitts and throws. Pretty much something to suit any textured knitting mood, and because it's Martin Storey and Rowan yarns, everything, even the simplest single cable pillow has style. The knitting and shapes are straightforward and the results are infinitely wearable. I'm eyeing the Links Cable Cardigan. It's a sweater I would wear with my jammies and tea when I get up and when I go out and about and actually wear lipstick.
This is an excellent book for those first cabled steps.
JM

Wild Mittens, Unruly Socks: 22 Outrageously Unique Knitting Patterns
by Lumi Karmitsa
Trafalgar Square Books
$22.95
Buy now at Amazon
Finnish designer Lumi Karmitsa has only been knitting for five years. You certainly can't tell from the intricate designs she creates for mittens and socks. Apparently no one told her that colorwork wasn't for beginning knitters, and that's quite a good thing.
The designs in this book are a riot of flowers, animals, symbols, and even a spiritual leader or two. The colors are bright and exciting, and the charts are big enough to knit from the book. The colorwork is mostly two colors per row, but a few have three, and the gauge ranges from 5.5 to 8 stitches to an inch. My only disappointment is that all of the patterns are written for only one size. But I am certainly willing to change needles sizes or do some math to partake in the imagination this book has in it. What other book could you find patterns for Buddha, a Staffordshire pupper, a skully santa, kitties, aliens , and genius rose sock with a double-layered lace toe?
This book is a celebration of knitting creativity.

JM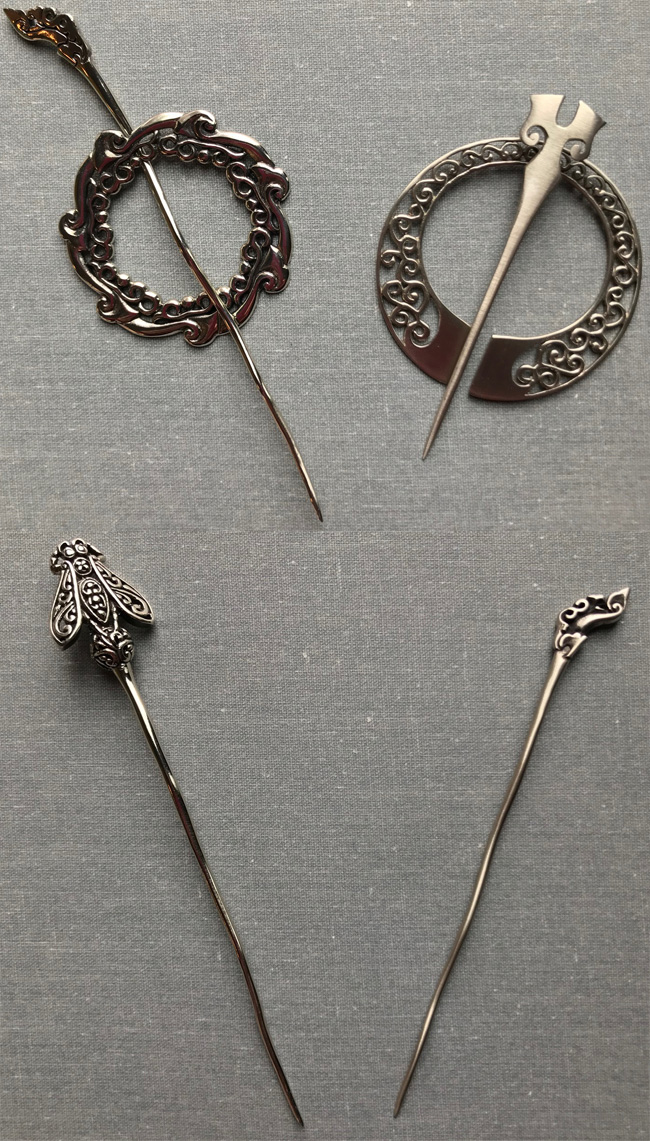 Waterfall Shawl Pin and Runa Penannular Brooch
Waterfall and Honeybee Shawl Sticks
by JulDesigns
$32.50 each for the shawl pin and brooch
$22.20 each for the shawl sticks
Buy now at Jul Designs
JulDesigns is mainly known for their ingenious leather closures, but did you know they do lovely shawl pins and sticks too? They are made from white brass and are strong and smooth without being heavy. The shawl pin and brooch have an outside diameter of around 2". The Waterfall Shawl Pin has graceful swirling pattern and the stick that goes with it is detached.
Runa Penannular Brooch is bold and calls to mind ancient Viking pieces. The stick of this brooch is attached. JulDesigns has made a helpful video showing how to wear it on your shawl.
Looking for something a little smaller or lighter? The Waterfall or Honeybee Shawl Sticks may be the thing you are looking for. Slender and lightweight, they are just long enough (Waterfall 5", Honeybee 4") to stay without slipping out of your knitting.
I was very impressed by the quality of these pins and sticks. They are every bit as well constructed and useful as the JulDesigns closures, and I think they are quite beautiful.
JM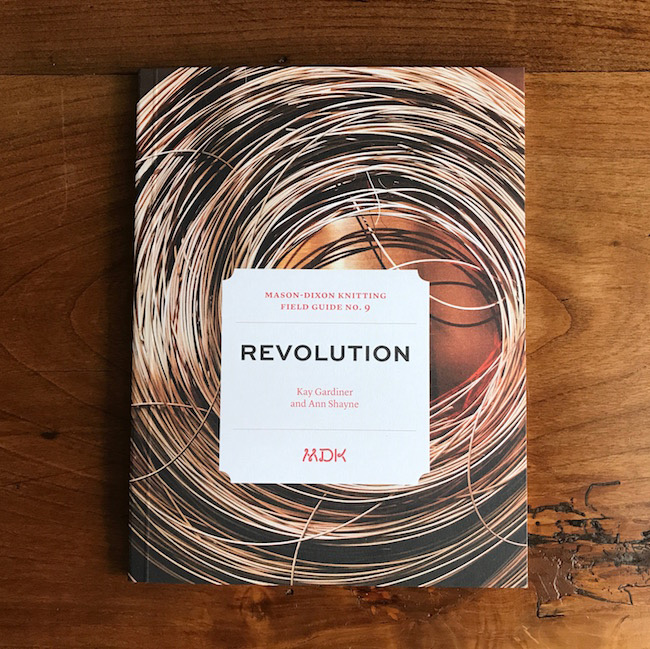 Mason-Dixon Knitting Field Guide No. 9
by Kay Gardiner and Ann Shayne
SR= 33-57"
$9-$14.95
Buy now from Mason-Dixon Knitting

It's Norah, it's Norah! I love the announcement of the new field guide designer from Kay and Ann. It's always exciting and always a little unexpected. This time around, it's Norah Gaughan. Not just Norah, but Norah and cables. Exciting, no?
How about this? Norah unfurls her creative genius on a beret, a cowl, and two (!) cabled sweaters. Here's the really unexpected part, three of the cable patterns are interchangeable.
There's a cap sleeved cardigan pattern, Calligraphy. Norah says why not? Why not indeed, because it's clever and stylish worn alone or over a long sleeved something.
In the mood for a basic pullover with not-at-all basic cable yoke with deep twists and bobbles? The Liberty Tree Pullover will excite you. Not in the mood to knit a whole sweater? (Norah feels you) How about just the fun part – the cabley yoke? Poof, it's Elaine's Capelet, a layer to throw on to keep your shoulders and chest cozy. The Ironworks Beret is knit at a tighter-than-the-yarn calls-for gauge to get the cables to stand up and the hat to evoke architecture.
To soothe your brain from the fire that Norah's designs will cause, take a couple of minutes to read Kay's story about how she accidentally started a knitting circle.
There's an interview with Norah where she spills about her next knitting focus, twisted stitches. I can't wait for that. In the meantime I believe a cap-sleeved cabled cardigan is in my future.
You stopped reading and just bought the book when I said Norah Gaughan and cables didn't you?
JM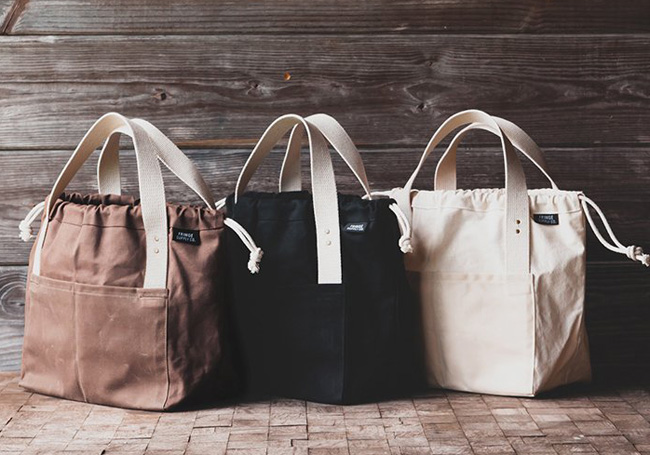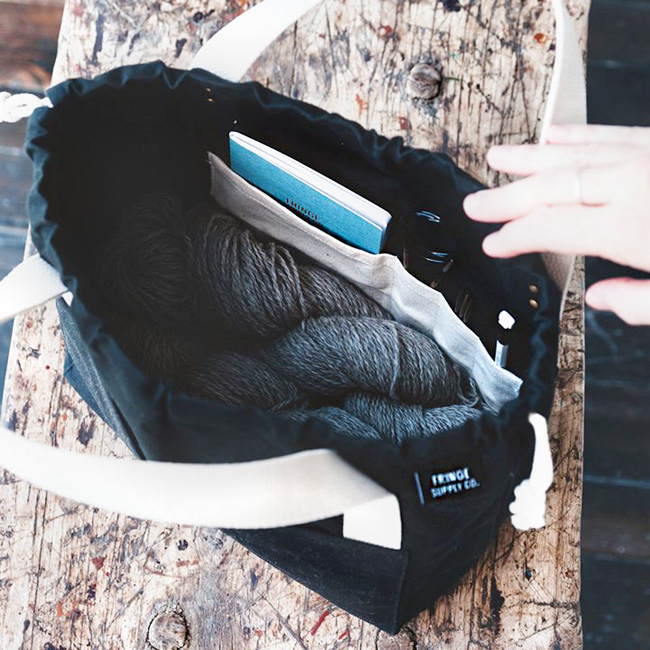 Town Bag
by Fringe Supply Co
11" x 5.5" base (16" wide at top), 10.5" tall 
Available in black, natural and cocoa
$95
Buy now from Fringe Supply Co
There are a few iconic products well-loved by knitters, and Fringe Supply Co is legendary for their Field Bag. Responding to the demand for a more purse-like version, they created the Town Bag, and at publication time, it was sold right the heck out.
Why is it so beloved already? It's a great size: big enough for a portable project like sweater parts or a shawl or other accessory. Well thought out, with pockets outside for things like a phone, wallet or small accessories; inside for yarn, a wallet or whathaveyou. The main compartment is big and unencumbered with yarn-tangling obstacles, and it closes with the trademark Fringe drawstring. The handles are made of cotton webbing, and the bottom of the bag is triple-weight to keep the bag steady to work from.
But what really makes knitters crave a Fringe bag is its aesthetics: the Town Bag has a canvas body and waxed canvas pockets for durability as well as visual appeal. It just makes you want to touch the thing. Carry it, use it all the time. Which is the whole point, isn't it?
You're going to see these everywhere soon enough.
AS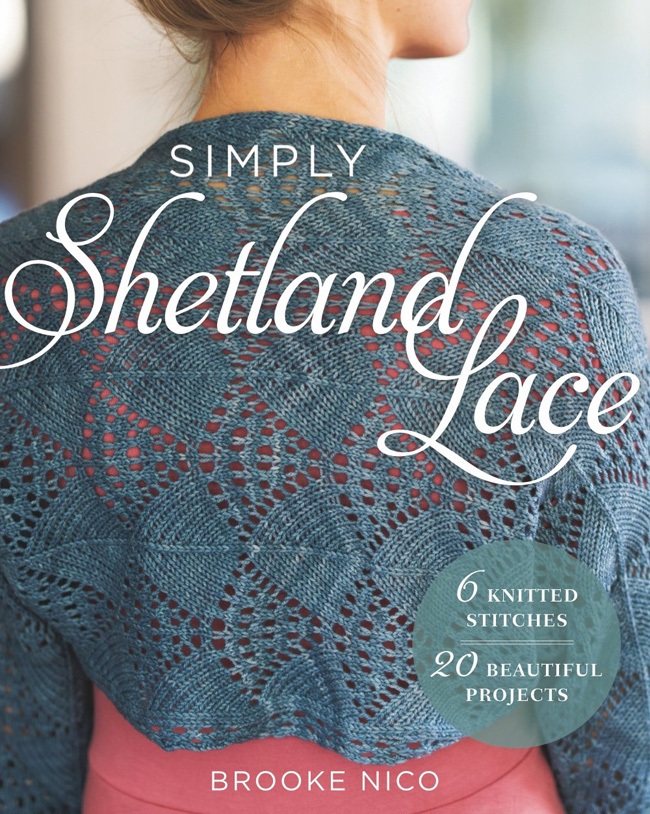 Simply Shetland Lace
by Brooke Nico
Lark
$19.95
Buy now at Amazon
Brooke Nico quietly kicks knitting ass. She's put out three books that teach, as well as present you with beautiful patterns to knit. This book is about
Shetland lace and has 20 wonderful projects, but it also teaches you how to get comfortable with lace, knitting it, reading your lace knititng, and even going your own way with it. This book is marketed for beginning-ish lace knitters, but I learned quite a bit.
The book is divided into three knitting sections that feature two related lace patterns each, for example Old Shale, and Feather and Fan. Both are well-known lace patterns; one is a variation on the other.
If you want to just knit, you may. There are 20 lace-filled patterns ranging from mitts to sweaters. My favorites are the Smooriken Pullover, Old Shale Tunic, and the Tae Shawl.
The genius thing for me was to see how stitch patterns are related. The paragraph introducing each pattern pairing pointed out constructions I had never noticed before – I love that. Once a knitter understands the construction of a lace pattern, then the sky is the limit for deconstructing and reconstructing lace stitches for shaping and just for fun.
So buy this book for the pretty lace patterns, but make sure to read and notice the bits that will make you an excellent lace knitter.
JM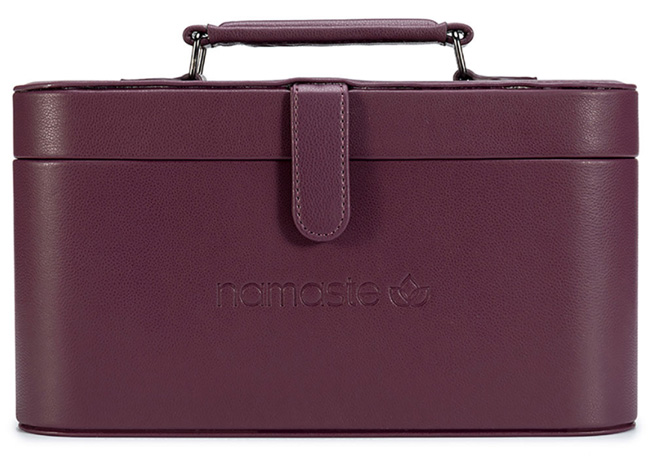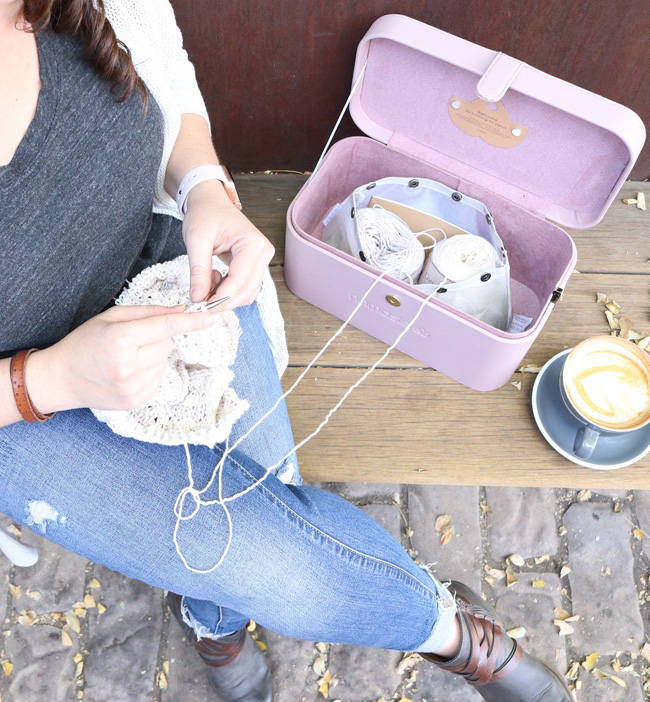 Knitter's train case
by Namaste
12"W x 6.5"H x 6"D 
available in Dark Grey, Blush (shown immediately above), Cranberry (shown top), Teal and Eggplant
$65
We at Knitty were huge fans of the Namaste brand, and really sad when they closed a few years ago. So imagine my glee (no exaggeration) when I spotted a brand-new Namaste design on the Jimmy Beans website. YES, NAMASTE IS BACK! Here's what the JBW says about that: "Namaste Brand and its manufacturers are all family owned and operated. Mindfully designed in Nevada and consciously produced in China, Namaste is part of the Jimmy Beans family." Okay! So how is the bag?
Holy bongos, people. This is a game changer. I've never seen anything in this size and configuration for knitters, and to find it in trademark Namaste quality vegan materials (feels like leather, but isn't) and in brand-new colors...super exciting! I got the dark grey to review, and I love the thing.
The bag is substantial, solid and not the least bit dinky. It's a great size for holding knitting projects from socks to sweater parts, to those cool sampling looms everyone's using, to spindling...it's a super-handy size. Also, it fits under an airline seat. And it comes with a tiny reinforced portal that allows you to feed your yarn out of the case, secure the lid with the magnetic clasp, and not worry that the ball or cake will roll off down the aisle and trip a flight attendant.
The top of the lid has a hidden metal plate inside, so magnets stick to it (and it comes with magnets, too!). Stick your pattern there! Or a dry cleaning receipt. Or a business card! It comes with a snap-closed shimmery silver mesh pouch that will hold notions or yarn, and a cute little notebook.
This bag is so fully featured that Jimmy Beans made a video that shows off all its features and gives you a great idea of the size, and really you should see it. And then you're probably gonna buy one, because it's really that good.
AS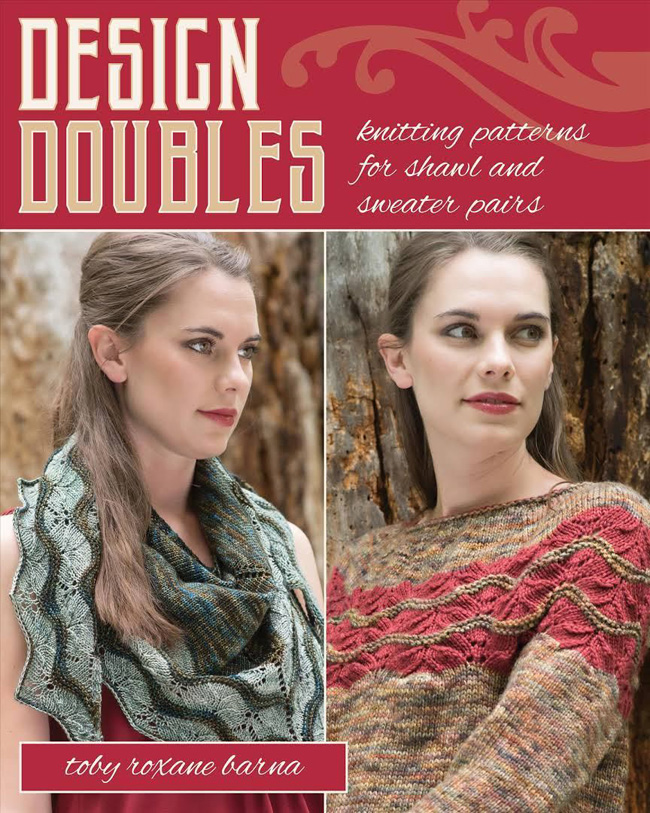 DESIGN DOUBLES: Knitting Patterns for Shawl and Sweater Pairs
by Toby Roxane Barna
Stackpole Books
SR: 34-54"
$24.95
Buy now at Amazon
 
A lovely collection of 20 designs: 10 combos of sweater and shawls. Each pair uses the same pattern stitch, in different ways. The book has a nice mix of indie dyer and more mainstream yarns, and the designs provide a number of great ways to use sometimes-challenging variegated and hand-dyed yarns. The garments come in seven sizes, to fit busts 34 to 54 inches.
There's designs for every taste; not everything is lacy, and the pieces are all very wearable. There's a fitted lacy summery top, several a-line pullovers, and cardigans short and long, fancy and plain. I might quibble that all the garments are worked seamlessly, which I know is the current fashion, but it's not always the right solution for a flattering fit or a long-wearing garment. As with any garment knitting pattern, check the shape, fit and sizing carefully before you proceed. The good news is that there's lot of great sizing information: clear schematics and detailed measurements.
KA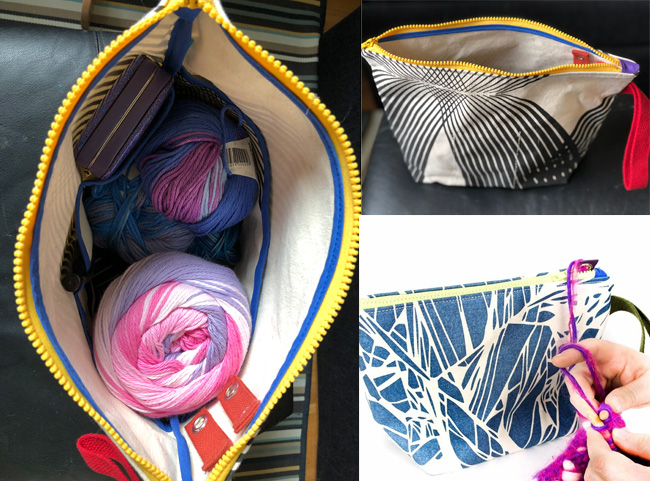 Knit bags
by Tim Eads
shown in Wave Black (above and top right) Glitch 1 Metallic Blue (bottom right)
13" x 8" x 5" and 11" x 5" x 8"
$42-$60
Buy now from Tim Eads
Tim is a clever chap. He's come up with a line of screen printed 15-oz (aka heavy) canvas fabrics that he turns into bags in a variety of shapes and configurations. The Glitch 1 Metallic Blue bag is printed with a shimmery blue ink and lined in a pale purple waterproof fabric, with a sturdy canvas strap. The zipper is the large-toothed kind that I don't find problematic to use with knitting. It's also aesthetically pleasing.
The larger Wave Black bag (unlined, but full of different-sized pockets) I found most useful in a larger tote. I used it as organization in a bag that had none, and could zip all sorts of accessories in it so that they wouldn't tangle up in my WIP. When my project outgrew the tote, I just moved it and the Wave Black bag to a bigger tote and continued. Very handy!
Tim's bags have a neat feature that you can see in the Wave Black bag above left: the detachable grommetted straps. Thread your yarn through it to keep it tamed, and when you need to change to another Eads bag, just unsnap the strap and snap it into the next bag. It also helps keep yarn away from the zipper (see photo bottom right above).
All in all, a nicely handmade product by a nice guy that does a nice job of keeping your projects organized. Nice.
AS