Feature: Knittyspin
INTRODUCTION
Knittyspin
A Little Bit of This and a Little Bit of That: Fun Yarns from Fiber Bits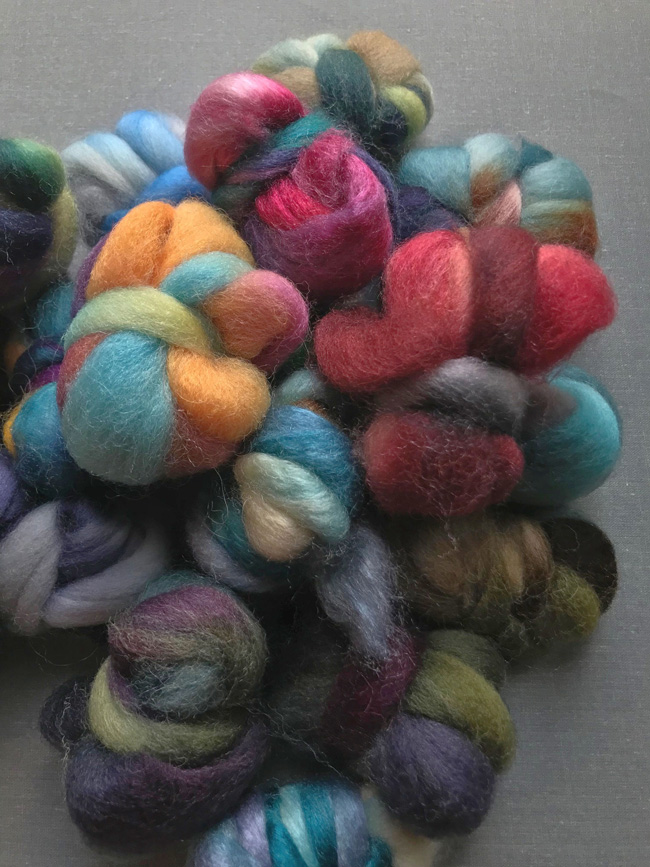 Minnies from Into the Whirled
What do you do with leftover fiber? You know the bits that you've peeled off while spinning, the part that made the colorflow wonky, or that last little piece that you just couldn't spin. Add to that all of the odds and ends from classes, goodie bags and fiber boxes. If you save all of those odds and ends of fiber (I do!), you'll likely have an army of colorful wee tribbles just waiting to become yarn.
If you've taken a class with me that has anything to do with color, you'll have spun and taken home Minnies from Into the Whirled. In class, we use them to work on drafting different colorways together. At home you can do that, and other things, on a bigger scale to make gorgeous and unique yarns, yarns that you might have seen something similar to in your local knitting shop.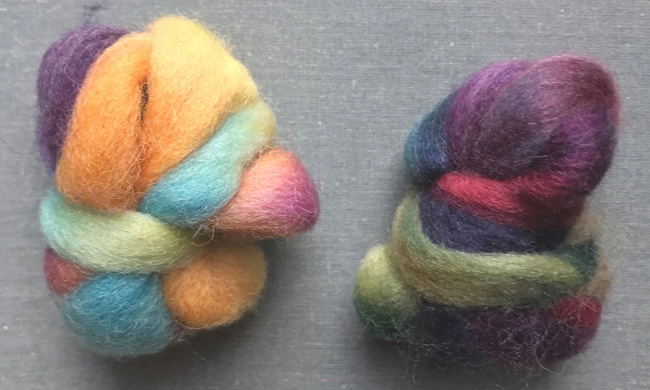 Varied colors make exciting yarns
You can buy Minnies, from Into the Whirled and other dyers or you can make your own. When I make my own (I usually call them Babies because they are so cute and tiny) I make each piece of fiber between .20-.25 of an ounce. I use all my leftover and goody bag fibers, and I even strip braids I'm no longer in love with from my stash.
If I'm dividing 4-ounce braids that I pull from my stash, I divide into 16 pieces. For a braid with a short colored dye pattern, or randomly dyed braids, I split the braid into quarters vertically, then split each quarter into four horizontally. For a braid that has long color runs, or if I want to preserve more color repeats in a shorter color runs, I divide the braid into eighths vertically then in half horizontally.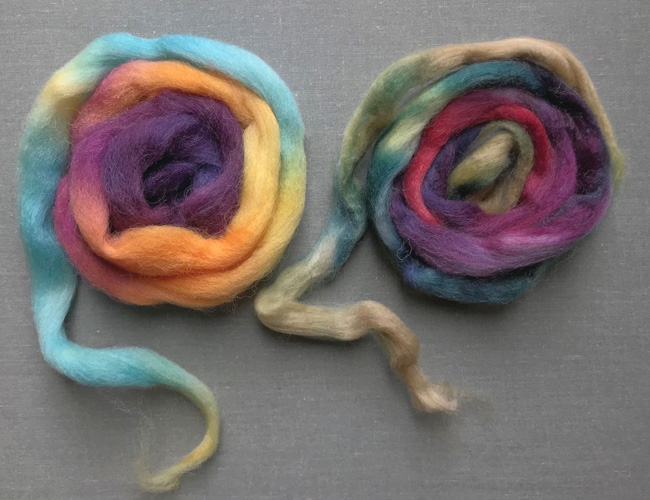 I use about a quarter of an ounce for each fiber bit
Then I spin. For each type of yarn, I pull randomly from my pile, basket or bag of fiber babies – the more random the better. I spin the fiber bits end to end or I spin them drafted together. Sometimes I ply them with the same type of spin, and sometimes I add a single unifying color.
I spun seven 2-ply samples over a weekend and had to make myself stop, because each yarn bred several more options in my brain.
My first samples were plied with either a grey Shetland single, or a dark raspberry Falkland single (from Into the Whirled, color: Djinn).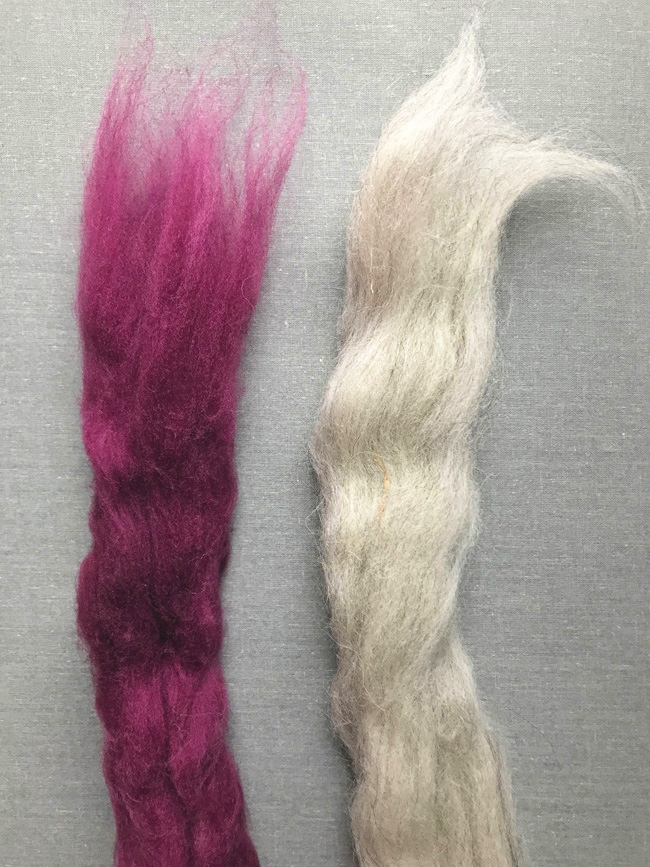 Falkland in the color Djinn from ITW, left. Natural grey Shetland, right
I first spun a bobbin's worth of bits end to end, spinning one, then grabbing a random bit next and spinning that, on and on until I was finished with my pile.Then I plied half of the bobbin with grey and half of the bobbin with raspberry.
The result is yarns that are rich and seem to wash through the colors. The yarns are marled (or barber pole) with fairly high contrast. You do have to like a marled look to like these yarns.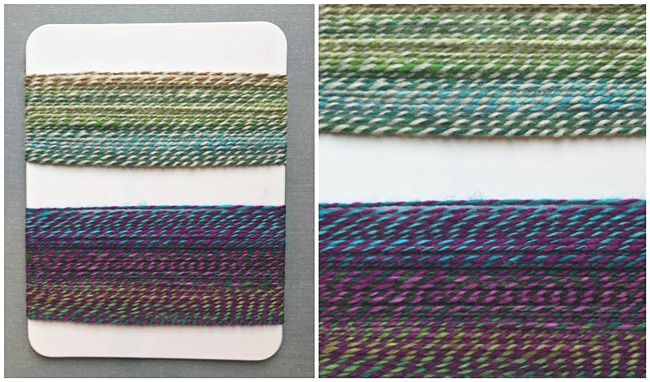 One ply of fiber Minnies plied with natural grey, top and Djinn, bottom
Next I spun a bobbin of drafted-together singles and plied them in the same way (half with grey, half with Djinn). To draft fiber together, I held two pieces of fiber side by side and draft them as if they are one piece. To make it easier for me to draft, I tend to use pieces of fiber that are no more than a half inch, or one finger wide.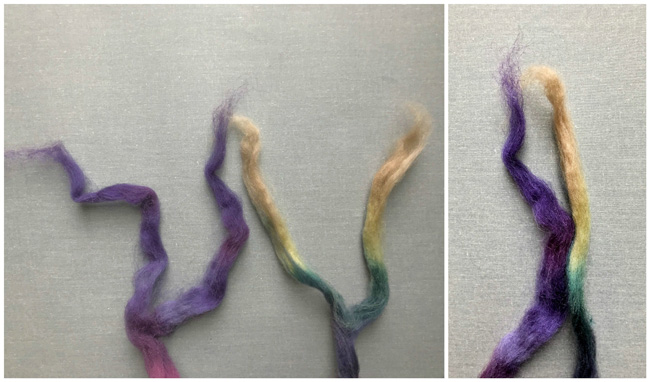 Two Minnies divided into half-inch strips, left. One strip from each Minnie held together for drafting, right]
When two colorways are drafted together, the singles are marled. Here are two bobbins: one with singles spun end to end and one with singles spun drafted together. You can see the difference in the style of spinning clearly in these bobbins. The colors look clearer on the end-to-end bobbin, and are already blending in the drafted-together bobbin.

A bobbin of end-to-end singles, left, and drafted-together singles, right
The drafted-together and plied with grey or raspberry yarns look busier than the end-to-end yarn. Looking at the closer photo, I can see the spots where the colors are mingling in one ply and the solid is happily going on its own way. Using a solid or natural color as one of the plies visually anchors the yarn. When I want a yarn that's a little less wild, that feels grounded in a color, this type of 2-ply is the way to go.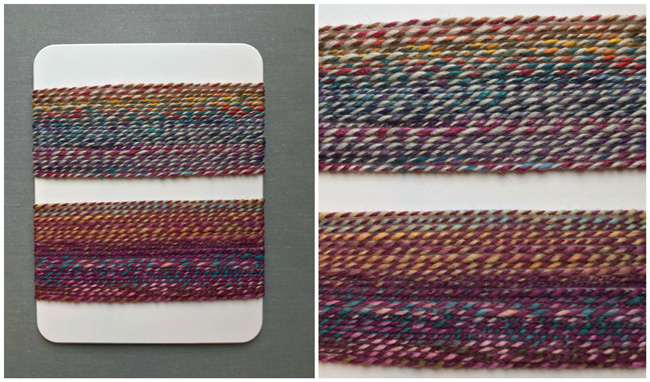 Drafted together fiber plied with grey, top and Djinn, bottom
The last three yarns are my personal favorites. I plied an end-to-end single with an end-to-end single, a drafted-together single with a drafted-together single, and an end-to-end single with a drafted-together single.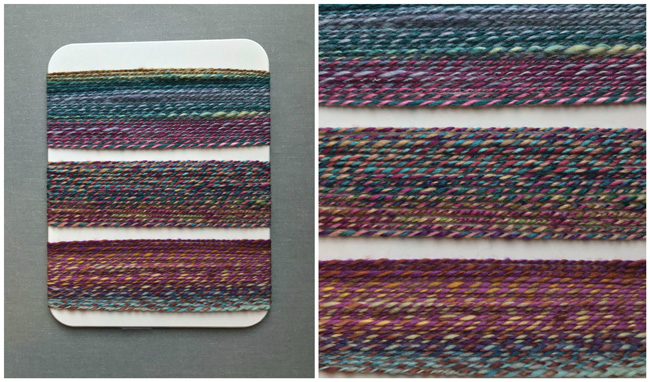 End-to-end plied with end-to-end, drafted-together plied with drafted-together, and end-to-end plied with drafted-together
The randomness and scattering of colors really excites me. I can really see, looking at the samples next to each other, that the end-to-end yarns have much bigger chunks of color, bigger, bolder, marling in the yarn. The drafted-together yarn has marling in both the single and the ply, it's a double marl, so the bits of color are smaller and blend together more. The end-to-end plied with the drafted-together is a pleasing combination of both, it has a different visual rhythm.
Each one of these yarns is unique and fun to spin, and would look fantastic knitted or woven. I'm already hunting for more languishing goody bags with more fibers to play with.