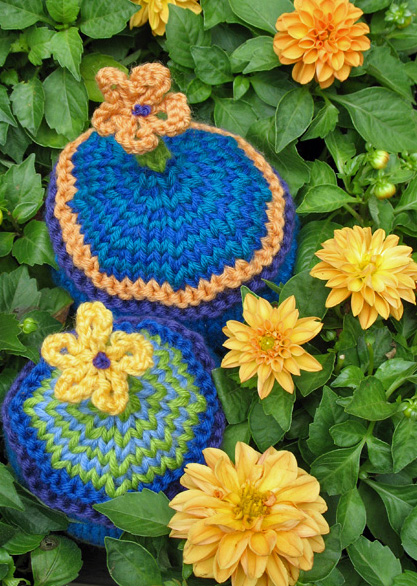 Note: Hat is worked using two strands of yarn held together throughout.
Using A and circular needle, CO 40[48, 56, 64] sts. Place marker and join to begin working in the round, being careful not to twist. Use the marker which is different from the others.
K 10 rounds. Break A.
Using B, k 1 round.
P 1 round. Do not break B; it can be carried loosely along the inside of the work while working the next section.
Using C and D, work as follows:
Rounds 1 & 2: [K2 using C, k2 using D] to end.
Rounds 3 & 4: [K2 using D, k2 using C] to end.
Break C and D.
Using B, k 1 round.
P 1 round. Break B.
Using E, k7[8, 9, 9] rounds. Break E.
Using C[F], k 1 round.
P 1 round. Break C[F].
Using F[B], k 1 round.
Next Round: [P5(6, 7, 8), place marker] 8 times. Break F[B].
Switching to double-point needles when necessary, shape crown as follows:
Round 1: Using A, [k to 2 sts before marker, k2tog] 8 times.
Round 2: Using B[C], k all sts.
Repeat these 2 rounds 2[3, 4, 5] times more. 16 sts remain.
Next Round: Using A, [k2tog] around, removing all markers except end-of-round marker. 8 sts.
Next Round: Using B[C], [k2tog] around. 4 sts. Break B[C].
Slip remaining sts to one double-point needle. From this point, top of hat will be worked in I-Cord.
Work colors as follows:
Hat with Apricot Accents: Work first row of I-Cord with A, then break A and continue with D.
Hat with Lime Accents: Continue with A.
Next Row: Instead of turning work around to work back on the WS, slide all sts to other end of needle, switch needle back to your left hand, bring yarn around back of work, and start knitting the sts again. I-Cord is worked with the RS facing at all times.
Repeat this row to form I-cord. After a few rows, work will begin to form a tube.
Work 3 more rows as set.
Next Row: [K2tog] twice. 2 sts.
Last Row: K2tog. Break yarn, draw through last st and pull tight.
FLOWER
Using straight needles and 1 strand of F[D], CO 35 sts using Knitted Cast On. Leave a 5-inch tail at beginning of CO.
Next Row: [K1, BO 5 sts] 5 times. 10 sts on needle.
Break yarn and draw through all sts on needle. Pull tight to gather sts, forming a flower shape. Tie yarn tails together to secure.