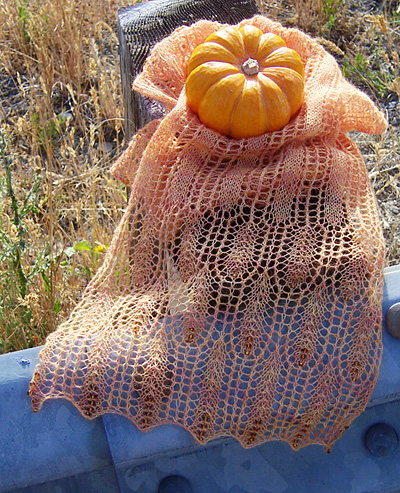 Larger needles are used to provide a stretchy CO edge for the lace.

Placing Beads:
Beads are not pre-strung, but are added as the scarf is knitted.
As shown, wrap uses beads which have holes large enough to accommodate a very small crochet hook. If you use beads with similarly large holes, beads may be placed using the technique detailed here. Scroll down to "Hooking beads as you go".

If you use beads which are too small to placed using a crochet hook, they may be placed using the technique shown here.


Directions for the Knitted Cast On method ("knitting on") can be found here.

S2KP: Slip next 2 sts together, knitwise, as if to work a k2tog. Knit next st through back loop, then pass both slipped sts over st just knit. This forms a centered double decrease.

SK2P: Slip 1 knitwise, k2tog, pass slipped st over. 2 sts decreased.

A unique method of grafting is used for this project. After each half of the scarf is worked, 1 row is worked using waste yarn. When the halves are grafted together, the grafting yarn follows the path of the waste yarn, then the waste yarn is removed. A tutorial for this technique may be found here.