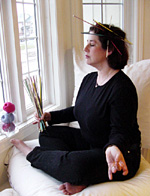 photo:
Lisanne & Bryce Thomas


Ah, blessed spring.
I will not go on and on about how much happiness spring gives me. And how much more I appreciate it as I get older and realize I've survived another winter.
I'll just let the patterns in this issue say it for me.
Meanwhile, at Knitty central, we've got contests on the brain.
The big one is coming up and every reader can enter...and I hope you'll want to. The contest concerns a personal quest of mine, and I know many readers are on the same quest.
So stay tuned, watch this page or, easiest of all, sign up for the Knitty reader list, and we'll drop you a note the moment it's time to enter! The list is never shared with anyone and we only send out a few messages a year.
But until then...
Announcing the Knitty 2006 Calendar contest!
Have you knit something from a Knitty pattern? Yahoo! You're eligible to enter!
We're looking for the best, most enticing, amusing and well-shot photographs of items knit from Knitty patterns. We'll select the 12 best and publish them in our first calendar, this fall, for 2006. And the best of those 12 will go on the cover and get some seriously fabulous knitworthy stuff! Read on!
PRIZES
Grand prize:
One [1] of the 12 runner-up winners will be chosen to be on the cover of the calendar. The grand-prize-winning photographer will receive a selection of current knitting books and a sampler pack of yarns from companies like Rowan, Jaeger, Artful Yarns, Reynolds and Lion Brand.
Runners-up:
Twelve [12] winning photographs will be selected to fill the pages of the Knitty 2006 calendar. Each winner will receive one [1] copy of the Knitty 2006 calendar and will be fully credited in the calendar [right on their photo].
Honorable mentions:
Pictures that we love but that aren't chosen as winning entries will be displayed in special gallery in Knitty's winter 2005 issue. Each photo displayed will be credited to the photographer, and we'll link to your website if you want us to.

Here be the rules:
1. Items must have been knit from a pattern published in any issue of Knitty. You may have altered the pattern and/or yarn specified, as long as the item looks like the original Knitty pattern.

2. Knitty staff are not eligible for this contest [that means the editors, columnists, Kristi and myself]. Contributors are eligible, but they cannot submit photographs of their own Knitty-published designs.

3. Each entrant may submit up to three [3] photographs in total. They can be of the same item or different items. The photograph[s] you submit will be low-resolution images. The winning entrants must be able to submit the winning photo[s] for publication in high-resolution [3 megapixel/300dpi or higher] format. The photograph[s] must be 11" wide x 8.5" tall.

4. 12 [twelve] winning entries will be selected by a panel of judges, and the decisions of those judges are final. Any entrant may win more than once. Each winner's compensation in exchange for the use of their photograph in the Knitty 2006 calendar consists of the prize[s] described above. There will be one prize awarded per winning photograph.

5. Entries must follow submission rules laid out below. Those that do not follow the rules will be disqualified. All entries must be sent electronically; entries cannot be sent via regular postal mail.

6. Photos MAY have been previously published on your blog or website.

7. All winning photos [the grand-prize winner, 12 runners-up and all honorable mentions] become the property of Knitty magazine, to be used only for the purpose of this contest [website display and publication in the calendar, if applicable].

8. Obscene, insulting, inappropriate or offensive photographs will be disqualified. Play nice, please.
9. Additions to these rules may be made at the editor's discretion at any time.
To enter:
For each entry [maximum 3], e-mail your photograph at a resolution of 72dpi to this address [turn your javascript on if the e-mail link isn't working], along with the URL of the

Knitty pattern it was knit from, your full name, the name[s] of any models, your e-mail address and full mailing address. If your submission is a collaboration [person A knitted the item and person B photographed it], please indicate who should be credited for each aspect of the submission. Only one prize will be awarded per winning entry.



* DO NOT SEND HIGH-RESOLUTION PHOTOGRAPHS IN YOUR ENTRY.

* Send all entries [maximum 3] in ONE E-MAIL MESSAGE.
By sending an e-mail entry to this address, you are agreeing to the contest rules above. You are also agreeing to the following statement:



"By my entry[ies] to the Knitty 2006 calendar contest, I verify that:
(a) I am the original creator of the photograph[s] submitted with this e-mail, and the owner of copyright therein, and that I grant to Knitty an irrevocable, royalty-free licence to use and distribute the photograph[s] in print, electronic, and/or computer-readable media;
OR
(b) I am authorized by the creator of the photograph[s] or owner of copyright in the photograph[s] to submit these photograph[s] to Knitty and to grant to Knitty an irrevocable, royalty-free licence to use

and distribute the photograph[s] in print, electronic, and/or computer-readable media;



and I further warrant that neither I nor the creator of the photograph[s] have infringed and/or violated the existing intellectual property rights of any third person in the creation of the photograph[s]. Further, I agree to hold Knitty and its editors and publisher harmless from any and all expenses, losses, liabilities, damages or third-party claims that may arise from any infringement and/or violation of such intellectual property rights.

The acceptance of my entry[ies] shall constitute full consideration for all electronic and/or computer-readable media use and distribution rights, and the selection of my entry as a winning entry shall constitute full consideration for all print, electronic, and/or computer-readable media use and distribution rights."





The photographers of the 12 winning entries and the grand-prize winner will be contacted by e-mail on or after the date the fall 2005 issue of Knitty goes live. The winning entrants must provide, within 7 days of this e-mail notification, a high-resolution version [300dpi or higher] of their winning photograph[s] sized 11" wide x 8.5" tall. Entrants that are unable to provide the high-resolution picture to these specifications within 7 days will be disqualified and a new winner will be chosen.




Deadline: All entries must be received at this address by August 1, 2005. The winners will be announced in the fall '05 Knitty surprise. The calendar will be available in the Knitty store shortly thereafter.
Hints to help you win:
Knitted items can be modelled or not -- it's the quality and impression of the finished photograph we're looking for, so be creative! The judges want to see photographs that are bright, well-lit, clearly focused and not grainy. Composition of the photograph is essential -- boring "standing-against-a-tree-or-wall" shots are discouraged. That's not what we want. Be creative, have a lot of fun with the process and think about what you'd like to see hanging on your wall for a whole month. Use fun props!