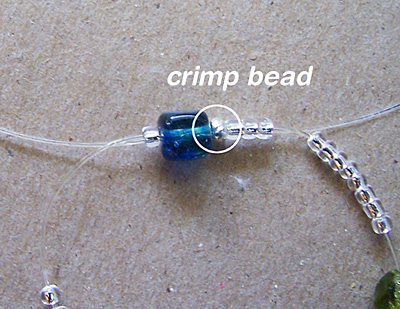 Cut cord, leaving at least six inches of unbeaded cord beyond the beaded portion that you will be using to graft. Remove the bead stop coil at end of beaded strand and replace it with large eye beading needle, making sure that cord is secure and the beads cannot move around on cord. Leave the bead stop coil at the beginning of knitted piece.
Graft the live stitches of the bracelet to the cast on row. This is more an aesthetic than technical exercise. The only really important issues are making sure the cord does not stretch and that the beads cover all of the cord, and that you like the effect.
After you have finished grafting, you will be crimping the two ends together to form a continuous strand. You may have extra beaded length when you have grafted the ends together. Remove any extra beads, ensuring that you have 11 seed beads left on the end. If you have a little extra length, weave the beaded strand through the bracelet in an aesthetically pleasing manner so that when you crimp the two cord ends together, there will not be any large loops hanging.
Remove the bead stop coil and needle. String a crimp on one side of the cord and run the other end of the cord through the crimp in the opposing direction. String either end of the cord through an extra two or three beads on both sides and pull tight, without stretching cord. Flatten the crimp bead using either crimping pliers or chain nose pliers. You may need to stretch the cord a little while you are crimping the bead so that you do not break the other beads; this is perfectly fine. Be careful not to "over-crimp", as that may damage or even cut the cord.
Alternate finishing instructions for those who don't wish to use a crimp can be found here.
Trim ends.