Spring Cleaning
As the days start to get longer and we creep out of winter, it's time to contemplate Spring cleaning. Any fit of organization sooner or later leads a knitter to a conversation with her yarn stash. If you're anything like me, in bags and boxes and drawers there are lots of yarns that seem to have lost their purpose. Even after the organizing is done, with all the potential projects sorted away and codifed, there is, inevitably, a pile of skeins in colors and textures you are no longer committed to, the odd impulse purchase, and a bunch of little balls that are, as the saying goes in my family, "too short to use and too long to throw away."
So in this issue, Frankenknits turns its attentions to a couple of great odd ball projects that will help you clean out your closets and put all those bits and pieces to use. If you don't have a stash of yarn that outpaces even optimistic calculations of longevity and productivity (or even if you do), these projects make a great excuse to call together the knitters you know for a yarn swap. With beverages and de-stashed yarn on the table, it will give everyone plenty of yarns to choose from and may be the perfect opportunity to find a good home for your last ball of fun fur.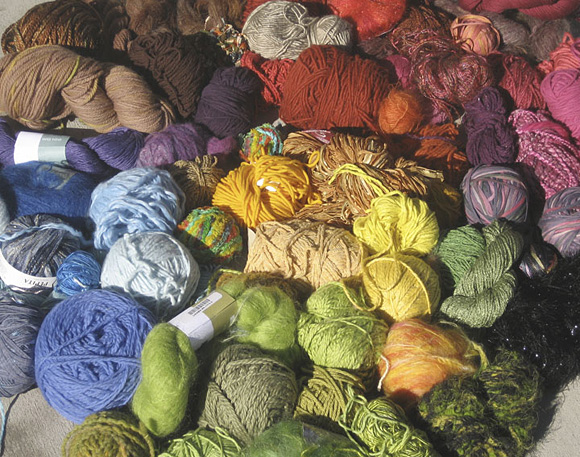 Once you've assembled all the yarns, you'll likely want to do a bit of sorting. Grouping the yarns by color or texture or weight can give you a better perspective of what you have. For the Secret Message Mitts you'll want to use yarns that are, on average, worsted weight. A few bits of finer or bulkier yarn will be just fine, though, so don't worry about swatching or detailed analysis. It's unlikely that any of these stray bits have ball bands attached, so just grab what looks right. In total you'll need about 200 yards of yarn, but any bit that's over two yards long is fair game.
You have even greater latitude in choosing yarns for the Biased Oddball Stole.

Choose a color or range of colors that you like, remembering that you want a range of textures too. Mohair, ribbons and novelty yarns will be happy additions. Clearly, you can draw inspiration from Prism Yarns' jaw-dropping beauties like Wild Stuff made up of a hand-dyed menagerie of all manner of novelty yarns. Don't be afraid to choose some yarns that you don't actually like on their own. Remember you're only using very small portions of each, so even a cloying or overpowering yarn may be just right in this context. You needn't worry too much about gauge, though very bulky yarns may be best separated from the rest and used for their own project. Skinny yarns can be held double or triple to make them more similar to the others yarns you're using.
The more yarns you use the better. There are about 20 yarns used in my sample. This isn't a project for minimalists. More is more here. Once you've made your selections, begin cutting lengths of yarn between one and five yards long. Tie the ends together leaving tails a couple of inches long and begin winding it into a ball. You'll create coherence by clustering similar colors together and do give a bit of thought to the placement of very light or very dark colors or any stand-out yarns you are using. By placing any screamers at somewhat regular intervals, you give a rhythm to the finished piece. For this stole using predominantly worsted and aran weight yarns, I used about 300 yards. This will be a very large ball of yarn! Don't worry too much about how much you've got – this is a flexible project and you can always add a few more scraps at the end if you come up short.
Honestly, making these giant oddballs can be a lot of fun in itself. You might find yourself making several. And that's just fine – knit up or in the raw, they make great gifts. Each one is a reminder of projects and ideas you've had over the years.

BIASED ODDBALL STOLE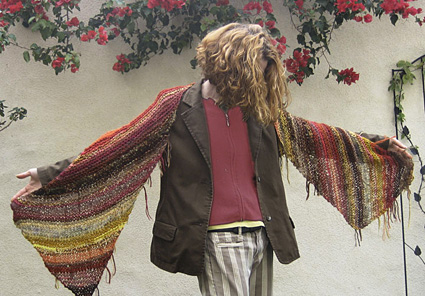 With less yarn or less time, you can easily make a scarf instead; just move on to the bias center section when your scarf is 6 inches wide and follow the rest of the pattern as written.
Finished measurements
16 inches wide by 60 inches long
Materials


1 giant oddball (approximately 300 yards)



US 13/9 mm needles (or size needed to match gauge or create a fabric that you like. For thicker yarns, use a larger needle.)
Gauge
8 stitches/16 rows = 4 inches over garter stitch
(matching gauge is not critical for this project)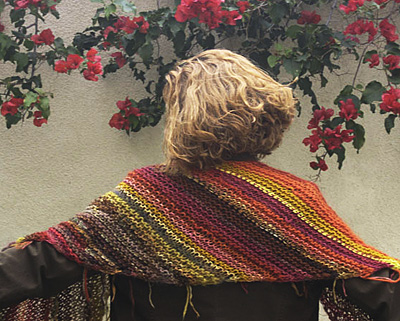 PATTERN
Increase Section:
CO 2 sts.
Row 1: K1fb, k to end of row.
Repeat this row 44 times, or until the short sides of the stole measure 16 inches or the desired finished width.
Biased Center Section:
Row 1: K1fb, k to last 3 sts, k2tog, k1.
Row 2: Knit.
Repeat these 2 rows until the longest side of the stole measures 60 inches or desired finished length.
Decrease Section:
Row 1: K to last 3 sts, k2tog, k1.
Repeat this row until 3 sts remain.
Next row: K1, k2tog.
Next row: K2tog, cut yarn and bring yarn through last loop to secure.
Finishing
Weave in ends if desired. Or consider simply pulling all the tails through to one side and treat them as a decorative element.
To gild the lily, add fringe. Cut approximately 100 20-inch lengths of yarn from your remaining odd balls. Divide them into 18 groups. Fold a fringe group in half and use a crochet hook to pull the doubled end about 2 inches through the edge of the stole. Reach through this loop and grab the loose ends of the fringe. Pull gently to secure. Repeat at 2-inch intervals along each short side of the stole.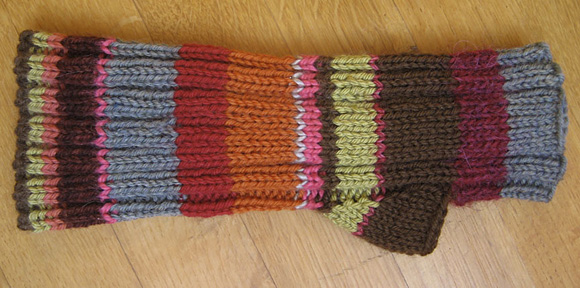 SECRET MESSAGE MITTS
The inspiration for these fingerless gloves came from a discussion of creating random stripes combined with a lingering question about Madame DuFarge, literature's most famous knitter. How did she manage to encode the names of those condemned to die for the new republic into her knitting? Some sort of pictogram? A coded set of knits and purls?
I have no idea how she did it, but I do know that you can put secret messages into your knitting with stripes. A number like your birth date, anniversary, or social security number is a fine choice. Use these numbers to create your stripe sequence. Repeating the initials of the wearer where a one-row stripe stands for A, a two-row stripe for B, a three-row stripe for C and so on… is also a great way to create a repeating stripe pattern. By extension. you could use this system to write "My hovercraft is full of eels." along the length of a scarf or even "I don't really like you that much." What you encode (and whether you reveal the secret) is up to you.
Size
One size fits most adults
Finished measurements
9 inches long
Wrist circumference 6 inches unstretched (up to 8 inches stretched)
Materials


Scraps of worsted/DK/aran weight yarn totaling 200 yards


US 6/4 mm needles
Gauge
24 stitches/28 rows over 2x2 rib (unstretched)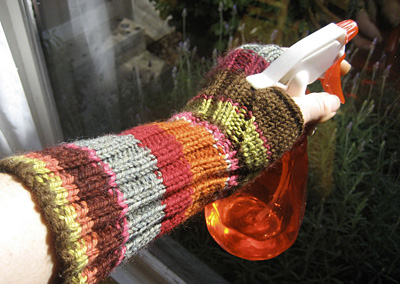 PATTERN
These fingerless gloves are knit flat and then seamed. Because they are long, the mitts are slightly tapered to make them fit comfortably on the lower arm. You could make them come all the way up to the elbow -- just work more rows before you begin your shaping.
CO 50 sts with the first color.
Change colors as needed throughout to create your code.
Work in k2, p2 rib for 2.5 inches, ending with a WS row.
Next row (Decrease Row) [RS]: K1, ssk, p1, (k2, p2) 4x, k2, p1, k2tog, k2, ssk, p1, (k2, p2) 4x, k2, p1, k2tog, k1 (46 sts).
Next row [WS]: P2, k1, (p2, k2) 4x, p2, k1, p4, k1, (p2, k2) 4x, p2, k1, p2.
Work sts as they appear for 1.5 inches more, ending with a WS row.
Next row (Decrease Row) [RS]: K1, ssk, (k2, p2) 4x, k2, k2tog, ssk, (k2, p2) 4x, k2, k2tog, k1 (42 sts).
Next row [WS]: P2, (p2, k2) 4x, p6, k2, (p2, k2) 3x, p4.
Work sts as they appear for 1.5 inches more, ending with a WS row. Piece measures approximately 5.5 inches.
Shape Thumb Gusset (Left Hand)
Row 1 [RS]: K4, p2, k2, p2, place marker, m1, k2, m1, place marker, p2, continue in pattern as set across row.
Row 2 and following WS rows: Work stitches as they appear. The newly made stitches should be purled on WS rows and knit on RS rows.
Row 3 and following RS rows: Work to marker, slip marker, m1, work to next marker, m1, slip marker.
Repeat Rows 2 and 3 until there are 14 thumb gusset stitches between markers.
Next row [RS]: Work to marker, remove marker, bind off 14 thumb gusset stitches, remove second marker, continue in pattern to end of row.
Next row [WS]: Work in pattern to bound off stitches, CO 2 stitches, continue in pattern to end of row.
Work in rib pattern for 2 inches more. Bind off.
To shape the thumb gusset for the right hand, place markers on the opposite side of the mitt, 10 and 12 stitches in from the left edge of the piece.
Finishing
Weave in ends. Use mattress stitch to create a seam on the underside of the glove.