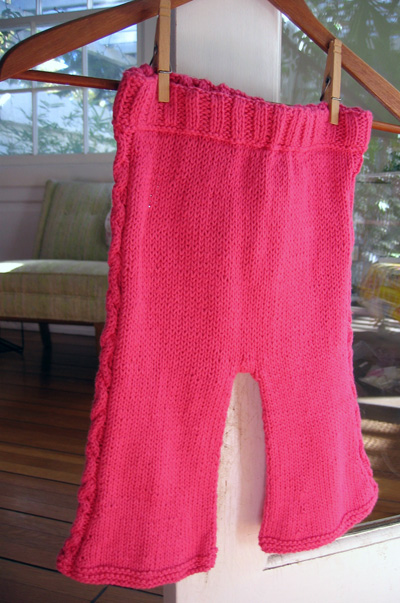 Waistband
Using circular needle, CO 112[116, 120, 128] sts. Do not join.

Rows 1-8: [K2, p2] to end.

Row 9 [RS]: P all sts. This row forms a turning ridge for waistband elastic casing.

Place marker and join to begin working in the round, being careful not to twist.

Rounds 10-17: [K2, p2] to end.
Round 18: P6, place marker, p44[46, 48, 52], place marker, p12, place marker, p44[46, 48, 52], place marker, p6; remove end-of-round marker, k4, p2. You are at the first marker. This point will now be end of round; replace marker with end-of-round marker.
Waistband is complete.
Rounds 19-20: [K to marker, p2, k8, p2] twice.
Shape seat using short rows as follows:
Row 1 [RS]: K26[27, 29, 31]; W&T.

Row 2 [WS]: P8[8, 10, 10]; W&T.

Note: When working short rows that follow, work wraps together with wrapped sts.

Row 3 [RS]: K11[11, 14, 14]; W&T.
Row 4 [WS]: P14[14, 18, 18]; W&T.
Row 5 [RS]: K17[17, 22, 22]; W&T.
Row 6 [WS]: P20 [20, 26, 26]; W&T.
Row 7 [RS]: K23 [23, 30, 30]; W&T.
Row 8 [WS]: P26 [26, 34, 34]; W&T.
Row 9 [RS]: K29 [29, 37, 38]; W&T.
Row 10 [WS]: P32 [32, 40, 42]; W&T.
Row 11 [RS]: K35 [38, 43, 45]; W&T.
Row 12 [WS]: P38 [38, 46, 48]; W&T.
Row 13 [RS]: [K to marker, p2, k8, p2] twice.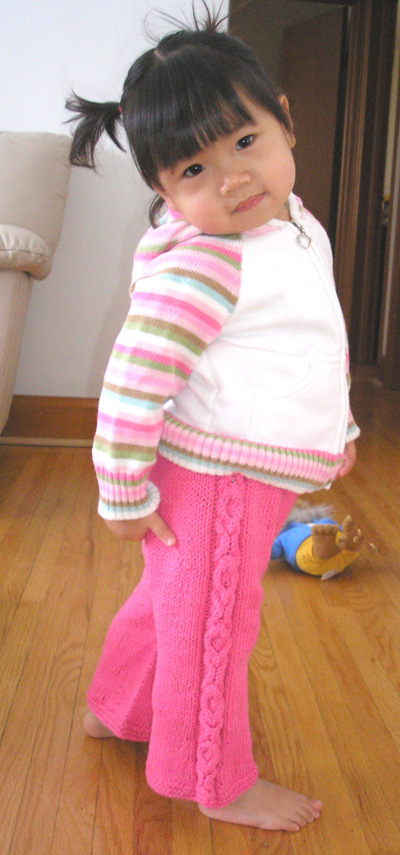 Begin Cable Pattern:
Next Round: [K to marker, work first row of chart over next 12 sts] twice.
From this point, work each set of 12 sts between markers in cable pattern as set, maintaining all other sts in stockinette st.
Continue in pattern until work measures 5.5[6, 6.5, 7] inches from lower edge of waistband. Be sure to measure length of piece along side edge, NOT along back; back will be longer than front and sides because of short row shaping.
Shape Crotch:
Next Round: [K22(23, 24, 26), m1, k to marker, work in pattern to next marker) twice. 114[118, 122, 130] sts.
Work 1 round in pattern.
Divide for Legs:
Next Round: Using double-point needles, k21[22, 23, 25], place next 60[62, 64, 68] sts on hold on waste yarn, place marker to indicate inseam, work remaining 33[34, 35, 37] sts in pattern. 54[56, 58, 62] sts. Redistribute sts between needles as needed.
First Leg:
Work in pattern as set until work measures 3[4, 5, 6] inches from crotch, or until leg is 2.75 inches less than desired length. Transfer sts to waste yarn and try pants on child at this point to determine desired length.
Increase Round: K1, m1, k to 7 sts before inseam marker, m1, k14, m1, k to 1 st before next marker, m1, work in pattern to end. 58[60, 62, 66] sts.

Work 5 rounds in pattern.

Repeat these 6 rounds once more, then work Increase Round once more. 66[68, 70, 74] sts.

Work 2 rounds in pattern.
Next Round: K to 1 st before inseam marker, drop next st from needle and allow it to unravel back to 2-3 rows before crotch, work phoney seam (see link in Pattern Notes) back up to current round; continue in pattern as set to end of round.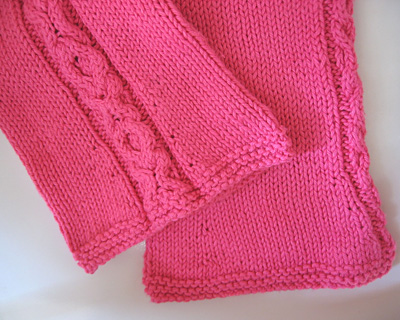 Cuff:
P 1 round.
K 1 round.
Repeat these 2 rounds twice more.
Loosely BO all sts purlwise.
Second Leg:
Leaving first and last 3 held sts on waste yarn, transfer 54[56, 58, 62] held sts to needles for second leg, placing markers at inseam and on either side of cable panel. Position needles so that beginning of round is located at left edge of cable panel; rejoin yarn at beginning of round.
Note: The 3 sts at center front and center back of crotch will be grafted together during finishing.
Work as for first leg, EXCEPT work phoney seam in st after inseam marker.