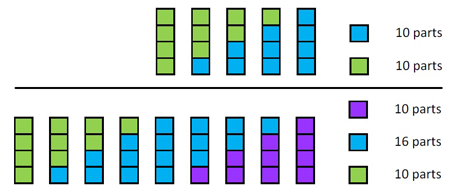 I blended the fibers for this cowl into two 5-step gradients which go from one color to another in 25 percent increments. To recreate this type of gradient with 2 colors of your choice, you will divide each color into four portions: 40%, 30%, 20% and 10% of your total amount of fiber (Ten parts of each color).

For a gradient that has more than 2 colors, the 'middle' color will be involved in 2 gradients, so you only need one stripe of the solid middle color. Instead of having 10 parts of each color, you will need 10 parts of the colors on the outsides and 16 parts of the middle color. In the case of the example here, I started with a green to blue gradient, and then added a blue to purple gradient, with one section of solid blue linking the two.
A drum carder will make this a quick and easy task. However, you can make similar blends on cards (or really just on one card) by doing the same layering with very wispy bits of each color (keeping the fibers aligned in the same direction) until the card is full, and then just peel it off the card. Repeat as needed – micromini-batts! You can also use a blending board, or just a flat surface upon which you build layers of fiber. Because you are using solid colored fibers, you are relying on optical blending to give the impression of a solid color. The more you blend the fibers, the more even your yarn will be.
I recommend taking the time to be fussy about keeping the fiber aligned as you blend it. You want the fiber to remain fairly parallel, and the colors to be mixed a bit at a time. Three passes on a drum carder should be enough to blend the colors well.
Instructions for the Long-Tail Cast On can be found here.

Directions for Jeny's Surprisingly Stretchy Bind Off can be found here.