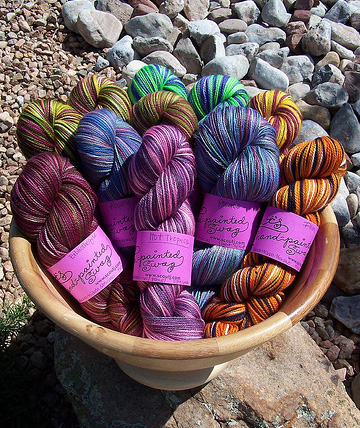 Scout's Handpainted Swag

Knitting offers a lot of opportunity for one-of-a-kind objects, especially if the knitter feels free to change out needle sizes, adapt patterns, or substitute yarns for different effects. Even the most generic pair of plain stockinette socks with two inches of ribbing has a hand crafted personality. Add a hand-painted yarn from one of the many Indie artists on the Web to the project, and those socks can be raised to be truly unique garments.

While there are Indie businesses that sell hand painted lace weight or sports weight yarns, it's the hand painted sock yarn that rocks my world, and I'm not the only one as evinced by the explosion of hand painted sock yarn available. Marie from Brooklyn Handspun said, "…being the quintessential New Yorker, I tend to wear a lot of black, so I sometimes feel a little color deprived. I found the answer in brightly colored variegated socks—I loved looking at them while sitting at my desk, and people don't see them unless I show them—and I show them often!"

For some knitters, the choice to use hand-painted yarn emerges from a vision of the "perfect" pair of socks for a loved one. In the case of Julie Persinger, her sister's devotion to the University of Illinois basketball team motivated her to seek out a custom-created hand painted sock yarn.

"I had promised my sister a pair of hand knit socks, but it was very difficult to find the right colors (orange and blue). Then I realized I could do a custom order. I approached Scout with a strong idea about what I wanted. The primary color needed to be orange, the secondary color was navy blue, and I wanted a small amount of white. To give Scout a visual idea of what I was looking for, I sent her to one of the University of Illinois athletics sites because I knew she would be able to see the exact colors. I also knew I wanted this yarn to be self-striping, keeping orange as the main color. I estimated what the ratio would be between the three colors; I was thinking 1" of orange, 1/2" of navy and 1/4"white. I let Scout have a little freedom with how the striping worked out, but overall, I tried to be as specific as possible since I had a good idea of what I wanted. At the same time, I was open to suggestion from her, since I don't have experience creating hand-painted yarns."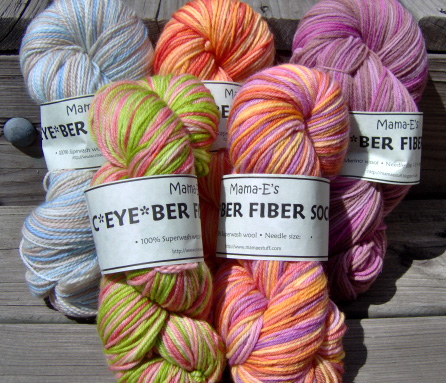 Mama-E's C*eye*ber Fiber

Custom work can also emerge from a less defined concept or an image that the customer wants to use as a reference. When I first saw the blog-themed yarns being made by Erin (also known as Mama-E) last spring, I wanted one that matched my new blog to send as a thank you gift to the woman who had sent me packages for Secret Pal 6. I exchanged e-mails with Erin, who attended art school, about the colors that might work well together, and she sent me a photo of the finished skein for approval. In a similar way, Jill worked with Marie from Brooklyn Handspun to create her own custom yarn.

"My specifications were that the yarn be superwash sock yarn and in Thomas the Train colors (red, blue, black, and grey) - a combination I couldn't find easily otherwise. I left the rest to her interpretation because I trusted that she would come up with something fabulous."

As with artisans working in other mediums, not all hand painters are interested in custom work; for many, the process of creation dictates the colorways available. Dave Daniels of Cabin Cove Mercantile brings his background in interior design and quilt making to the dye pot. He envisions his yarns as the first step in an artistic collaboration.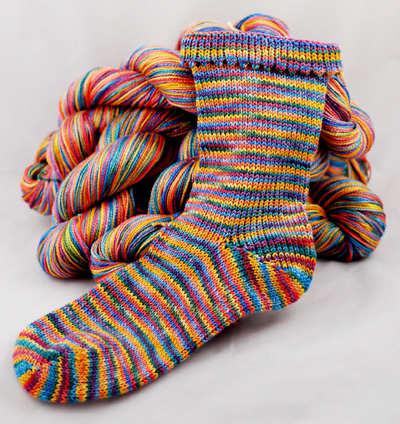 Cabin Cove Mercantile
"I only make one-of-a-kind skeins. Each one is like a little watercolor painting. But, I'm only painting the background. The knitter, crocheter, or weaver gets to take it and create his or her own masterpiece with it. My colorations come from the natural world around us. If you look at a bush or a tree, they are not just one shade of green. You have to get up close to really see the variations in the colors. And Mother Nature is the best color wheel there is. She's the one who dictates what colors are pleasing together."
Dave's not alone in looking to the natural world for color combinations. Symeon North of Pippi Knee Socks, whose work is featured in Shannon Okey's Spin to Knit and Josi
Hannon Madera's In the Loop, agrees that "Mother Nature has a remarkable way of never messing up. Her colors are perfect in all aspects." Symeon describes her creative process as environmental. "I look outside, at the trees or the gardens, or look within. A lot of it depends on my mood; one week, everything I do will contain orange, the next purple. Sometimes I feel like I am limiting myself, but, when I don't comply with my inner voice, I wind up unhappy with what I've made."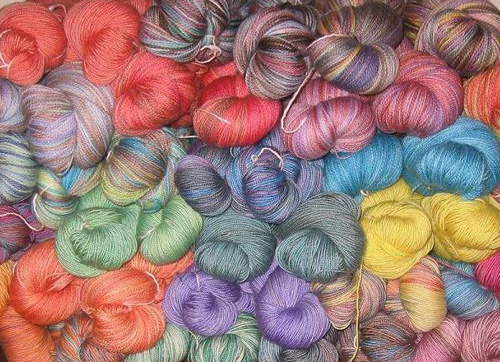 Brooklyn Handspun
Take a look around you. For yarn artists, inspiration may be found anywhere: Marie mentions the aisles of department stores among her sources, and Scout's Tarzhay mimicked adorable placemats from Target.
Part of the satisfaction of using a hand-painted yarn is developing a relationship with the artist. Whether you're requesting a custom color or smitten with a skein you're lucky enough to nab in an online Indie shop, chances are that your yarn will arrive with a personal thank you note.
"The best part…is hearing from folks when the yarn arrives," Dave comments. "The tall rectangular brown cardboard with the Cabin Cove Mercantile address label appears on their doorstep, and they know that that there's something special just for them…a fiber high I guess you could call it. And their excitement gets me excited to do more."
Scout agrees. "I know most people with whom I work love being able to support a small Indie business. And when you knit with hand-painted yarn, it's almost magical. You don't know exactly what the sock is going to look like, so it's a mystery that unfolds before your eyes. You don't know if it will stripe or pool or be totally variegated, and that makes every stitch interesting to knit. People who knit with hand-painted yarn definitely have an adventurous side to them!"
When asked about the rewards of hand dying, Erin said, "That's a tough one. There are so many rewarding things. Like the emails I get saying that folks love the yarn so much they want to eat it. Or the fact that I feel like an artisan again. Or the sheer connection that I feel to the craft. I learned to knit, to dye, then to dye fiber, than to spin--a linear progression into the history of the fiber arts. I feel that I am keeping the craft alive."
Marie and Symeon agree that feedback from happy customers is one of the greatest pleasures in their businesses.
"I love the enthusiasm people show when they get their yarn," Symeon said. "Fiber folks are really a great breed. I've been able to meet so many people from all walks of life, and we are all connected by a single thread, so to speak."
That connection may be the most compelling reason to knit with a hand-painted yarn. Both the artists and the knitters who use their yarn agree that hand-painted yarn makes a project more special.
"More thought is collectively invested into those projects. The project passed through more hands and required more brain-power to piece together," Jill said when talking about her Thomas the Tank Engine socks as well as other projects using hand-painted yarn.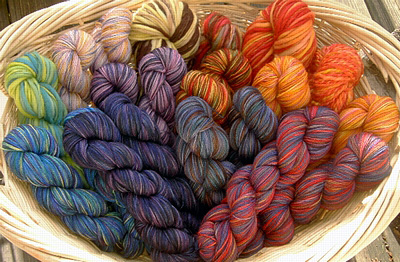 PippiKneeSocks
Hand knit socks are spectacular on their own, Symeon said. "Add to that incredible feat of creation: yarn created by another human being, and their energy really kicks it up a notch."
For Erin, knitting with hand-painted yarn is a gift for the knitter. "You feel…the pleasure of an item crafted by an artisan. It's the same reason why people buy art or hand crafted jewelry—only less expensive!"
All of the artists I interviewed were enthusiastic and grateful to be able to use their creativity as a way of satisfying their entrepreneurial spirits.
" I am so lucky to find something I am not only passionate about, but I can do from home while I raise my kids," said Scout. "I also feel extremely fortunate to have such amazing customers and friends out there who love my yarn and are making this little business of mine so successful."
There are innumerable sources for hand painted and custom painted yarns on the Internet. Here are just a few sites to help you find the perfect yarn to make your next pair of socks more special: