If the vultures are circling, we aren't giving them any place to land.
An August 28 Publishers Weekly article entitled "The End of the Yarn?" got knitters off- and online, in and out of yarn-industry circles, debating whether or not the imminent demise of knitting was upon us. The article -- about the glut of knitting books on the market, sales of which have indeed plateaued (read it for yourself) -- was ultimately more positive about the future of the craft than not. But the title, cryptic question mark and all, put forth in black-and-white the nagging concern felt by anyone who works in a business dependent on disposable income. "Everyone has the same thought in her head: You want to make hay while the sun shines. You want to sell yarn when people are buying it. And you're feeling when things are going well there's going to be a downside," says designer/author/instructor/blogger Annie Modesitt, who, in fact, foresees nothing of the kind for her beloved vocation.
Despite the irrefutable strength of the current knitting zeitgeist, there's no doubt that the faux-fur scarf fad that started the fire is over and the attendant business shift -- or "correction," as Lorna's Laces' owner Beth Casey puts it -- is in process. But there are many differences between the knit-times in which we live and the last time stitching went south, in the late '80s. Several industry insiders share their thoughts on how and why we as knitters got to where we are now and where we're going next.
Beyond the Bandwagon
"You're going to have peaks and valleys," says Jill Bujold, owner of Kaleidoscope Yarns' dual-pronged retailing biz (an LYS in Essex Junction, Vermont, and a booming e-tail site). "It was a peak several years ago because of the interesting yarns and the fact that people had to learn just one stitch and they could make a scarf. A lot of it was also the perception: If you knit, you're hip. What's happened now is, you can make only so many scarves. If those people didn't connect with the craft, they're not doing it anymore. All the people who've been knitting forever had other reasons; we weren't doing it because it was hip. And anybody who picked it up and went beyond 'I'm so cool, I'm knitting' and really appreciated the craft, those are the people who have stuck with it."
"Of course, people are buying less yarn, says Adina Klein, the triple-threat editor in chief of knit.1 and fashion director of Vogue Knitting and Knit Simple. They're buying thin yarn and knitting cables, and that takes longer than a fun-fur scarf on size 17 needles." Tarie Dillard Williams, the owner of Yarn Heaven in Arlington, Texas, who polled 150 or so yarn retailers about their opinion on the state of the market, agrees. "We might have seen a slight decline in our numbers, but we haven't seen a decline in our knitters," she says. "There isn't necessarily a slowdown; it's that the scarf-craze knitters have turned into real knitters and are branching out into sweaters and things that take more than a day or two. They're not coming back in as often because the projects take a little longer. I also see people spending less money, staying away from the higher end and going toward middle-end yarns. They want the best quality they can get for the best price, comparing prices more than ever before: 'Let me call you back; I want to call a few more stores.' "
Says Annie Modesitt, "I know there's this feeling out there that knitters are extravagant and we'll buy yarn we can't afford, but I find most knitters are very intelligent about buying what they need. And that's the salvation of knitting. Because if you have people being extravagant, that's good in the short run but bad in the long run. If they can't keep up the habit, it's a bad habit. But if they're pragmatic about it and buy the yarn they need, it's a good habit."
You can't get much more pragmatic than this: Adina Klein recounts a story about one shop that had so much fun fur yarn, the owner decided to throw in a free ball with every purchase. "And the customers were taking it out of the bag; they didn't even want it."
Yarn of Your Dreams
So what do we want? More and more, the answer is artisanal yarns that provide luxury for a price budget-conscious knitters can justify paying. "The shift toward the hand-dyed stuff is because of the shift away from novelty yarn," says Klein. "Smooth yarns are the way people are going now, and hand-dyers are getting smarter and are supplying the great fibers in tonal solids as well as their colorways; that's definitely what I'm drawn to these days.
"Everybody has something organic right now, which has a lot to do with the whole green movement," she continues. "Even cottons. Between global warming and air conditioning, these non-wool fibers are really going to do well. You could look at any company, from Lion Brand on. Its catalog is an aesthetic shift and it's coming out with an organic cotton."
South West Trading Company pioneered the use of soy and bamboo in handknitting yarns and is continuing to make news with corn and milk fibers, the latter of which turns up in one of its new Vickie Howell yarns, "Craft." "It's a spectacular trend to see the art move away from fossil-fuel-dependant fibers toward things that are good for the planet and great for your skin," says SWTC owner Jonelle Raffino. In the same vein are Hand Maiden Fine Yarn's Sea Silk silk/seaweed-blend yarns. Says owner Kathryn Thomas, "We always try to come up with something new but not totally trendy, because the way we dye we can't dye anything synthetic. I've never found manmade fibers on their own stand up to the test like natural fibers." After considering bamboo and the like, she was introduced to SeaCell and immediately loved it for its connection to her Nova Scotia roots. "The kelp in the ocean's more close to home."
Eco-friendly plays big at Yarn Heaven, as do yarns from Plymouth, Muench and Dark Horse, a "fabulous acrylic/nylon mixture that's just to die for," says Dillard Williams. Lorna's Laces hand-dyed sock yarns are a perennial best-seller, and it's interesting to note that, according to Beth Casey, LL's worsted-weight fibers sells almost exactly the same quantity as the company's incredibly popular sock yarns, a testament to the quality of the product and the shifting focus of the yarn-consuming public.
Speaking of quality, that's what Kaleidoscope Yarn's Bujold looks for. "We're going back to the touch factor," she explains. "Every inch of it goes through your hands as you knit it. We brought in some Buffalo Gold bison fiber this year: It's brown, very basic, but it's the fiber that's different. It's very soft and has no known allergies to it. People are really open to anything they haven't tried before." Alpaca in all its iterations is in at Toronto's Lettuce Knit. So is Blue Moon Fiber Arts' Socks That Rock and the quick-selling Hand Maiden yarns; owner Megan Ingman sees Hand Jive Knits, a fingering-weight merino colored with vegetable dyes, as the next indie line to make a splash.
"I think it's really important to encourage the small company," says Annie Modesitt. "Using hand-dyed yarns adds so much to the excitement in the marketplace. It drives the larger companies to keep on their game and keep the good stuff out there. If designers don't champion some of the smaller companies, they won't be there."
Techies
It's easier for designers to champion yarns when they know the knitting public will use them right. And that's what's happening now. As newer knitters progress and fabulous fibers draw lapsed knitters back into the fold, the technical skills of the entire community are on the upswing. "Our technique classes are always full and have waiting lists," says Jill Bujold. People want to learn how to do the right thing when it comes to piecing together a garment or picking up stitches. They're really experimenting and are willing to say, 'OK, this neck is really low and I'm going to raise it, so can you help me understand what that means for my decreases?' "
"Two or three years ago people wanted a class to make a bag or a scarf," says Modesitt. "Now they want technique, which is much more exciting. I feel it's like, Teach a person to fish and they'll make scarves for the rest of their lives; give them a fish and they just have one scarf."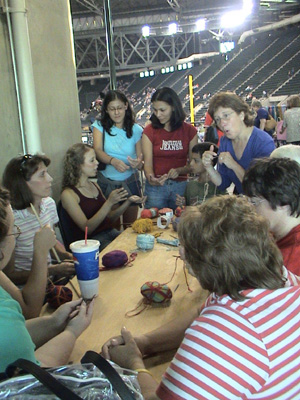 SWTC and its summer Stitch N Pitch at an
Arizona Diamondbacks game
Youth Quake
Much has been made about the influx of twentysomething knitters, some of whom are hooked, some of whom have walked away. But what really piques the experts' interest is how many much younger people are seriously picking up sticks. Mary Colucci, president of the Craft Yarn Council of America, asked some of the 140 volunteers at the recent New York Knit-Out what trends they noticed. "They were really surprised at the number of very young, we're talking teens and younger, knitters who came over to ask questions," she says. "We've never had that before.
At an Arizona Diamondbacks Stitch N Pitch game back in September, SWTC's Jonelle Raffino "noticed a substantial and growing interest from men, young and old alike. The mother of one young boy told me they were at the game just for the lessons. At one point he got so frustrated that I found him around the corner in tears. I sat down and chatted with him about my experience learning, then told him all about Kaffe Fassett and some of the other great men of the art. The young man bolted back to the table, determined to learn. Two weeks later, he and his mother dropped by SWTC to thank us. Now he's a knitter, finishing his first scarf."
Blogorama
You're reading Knitty, so you're already aware of the power of the online knitting community -- a nonexistent factor the last time knitting faced a downturn. "Immediately everybody knows about new things, whereas in the past it took years and years to get around," says Hand Maiden's Kathryn Thomas. Just look what the popularity of Kate Gilbert's Clapotis in did "in terms of revenue and exposure" for Lorna's Laces, says Beth Casey. "Shops I had never done business with were calling." Lettuce Knit has become a real destination stop, thanks to its prominence in the Yarn Harlot and Knitty blogs. "Steph's blog, it's unreal how huge she is," says Megan Ingman of Madame Pearl-McPhee. "When they come to Toronto, they make sure they find the shop. It's really good for business." Sock knitting, lace knitting, spinning -- would any of these have been as big as they've gotten without bloggers spreading the word?
"They are driving trends in the sense that they're driving the energy," says Adina Klein of knit bloggers. "A place like NY Sheep & Wool, which I've gone to for Lord knows how long, I've never seen it so packed in my life, ever. Another thing about the bloggers is that they're smart. They want to educate themselves technically, so they're learning quickly on the Internet."
Egads, E-tail
They also want to brag about the bargains they find. And the explosion of virtual e-tailers as well as actual retailers has contributed to the industry redistribution. Yarn Heaven's Tarie Dillard Williams doesn't mind competition -- a preponderance of new shops in the Dallas area hasn't affected her bottom line at all, she says -- but she does mind it when people brag about Internet discounts when they're in her house. "There's a young lady who comes to my knitting group and said, 'You know, you can buy this online for this amount.' And I said to her, 'I love having you here, but I find it really hard to swallow when you come in and tell my customers the great deals you can find on the Internet. If you continue to do this, and you and they continue to buy from the Internet, I'm not going to be here anymore.' She looked at me and said, 'I never thought of it that way before.' Not that I mind you getting a deal; I think everybody should get a good deal, but I really wish you would talk about it outside of the store."
"People are people," says Annie Modesitt. "They're going to buy some stuff online and some stuff in the store. That's just how it is." She's equally sanguine about the free patterns available online, one of the main reasons knitting-book sales have leveled off (others include the sheer saturation of beginner titles -- "How many how-to-knit books do you need," asks Jill Bujold -- and the number of non-craft publishing houses trying to cash in on the craze). "A rising tide raises all boats," Modesitt says. "If you can get people excited about knitting with a free pattern, then next time they will buy a pattern.
So What's Next?
"Those of us who are hard-core knitters know just how good it is for your spirit and your soul; it's not going to go anywhere," says Modesitt. So what can we look forward to? Says Adina Klein, "Eco-stuff is going to be big. Everybody's got to have a sock yarn, that's for sure. And by next fall oversize sweaters that were sort of in when I came into the industry in the late '80s, people are going to be wearing them again. They're really fun and easy to knit. There's this absence with the horrible poncho gone. A stockinette-stitch drop-sleeve sweater is just as easy to make and, in the end, better for the industry because you're shaping and improving."
Aside from the potent portable, SWTC's Jonelle Raffino forecasts "a huge trend in crochet and fusing crochet with knitting in garments. We also see freeform as a real up-and-coming trend with a growing worldwide audience."
Modesitt predicts a boom in sweaters made with "smaller needles, finer yarns. I think the sock knitters have done this, which is a beautiful thing. That's not to say that big needles aren't going to be around; they always will. But if you can turn a heel and shape a toe and work on a size 2 needle, you can certainly make a sleeve that fits and shape a waistline and work on a size 4 needle. OK, it's going to take you a month and a half to knit this instead of three weeks, but when you finish it you will have something you will wear every single week because you love it so much."
And no matter the chatter, the immense love of knitting will keep things moving for a long time to come.