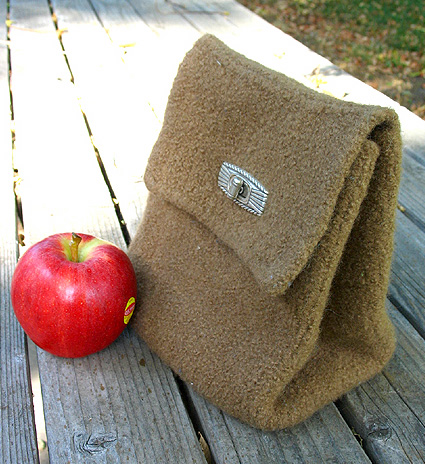 by Frances Swiecki
A girl's got to carry her lunch around in something, and brown paper bags are an endangered species at my house. After bemoaning the lack of suitable lunch containers for several days, my father suggested that I knit one. I believe his exact words were, "What do you need a brown paper bag for? Can't you just knit something up?"
So I did. This little number is fun to make and could last forever.
In addition, the wool is naturally insulating: Even without access to a refrigerator, you can pack a cheese sandwich without the cheese melting by lunchtime.

photos: Frances Swiecki
One (comfortably fits a sandwich, cupcake, juice box, and small bottle of aspirin)
Before Felting
Width: 9 inches
Depth: 7 inches
Height: 13 inches
Flap: 6.5 (w) x 7 (h) inches
After Felting
Width: 7 inches
Depth: 4.5 inches
Height: 7.5 inches
Flap: 6 (w) x 4.25 (h) inches

Cascade 128 [100% Peruvian Highland Wool; 128yd/117m per 50g skein]; color: 1208; 2 skeins


1 16-inch US #10.5/6.5mm circular needle


2 stitch markers


Tapestry Needle


Purse fastener or Button of your choice
Approx. 12 sts = 4 inches in stockinette stitch.
Exact gauge is not important for this project.
[Knitty's list of standard abbreviations and techniques can be found here]
The base of this bag is worked back and forth in garter stitch, then stitches are picked up around the circumference of the base, and the bag body is worked in the round. When the bag body is the desired height, some stitches are bound off, and the bag flap is worked back and forth. This easy project is a good introduction to both knitting in the round, and felting!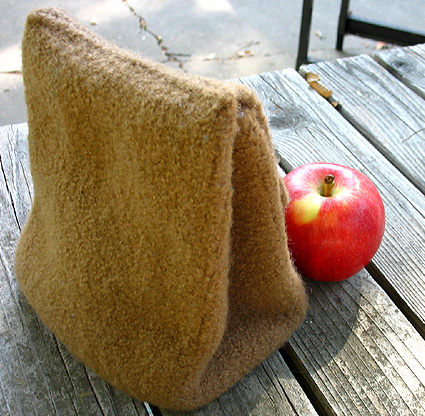 Base
CO 25 sts.
Row 1: Sl 1, k to end.
Repeat this row 35 times more. There should be 18 slipped sts along each side edge of the work. After last row is worked, do not turn work.
Bag Body
Place marker on needle at end of last row to indicate beginning of round, pick up and k 18 sts (1 st in each slipped st) along adjacent side edge of bag, pick up and k 25 sts along CO edge, pick up and k 18 sts along remaining edge of work, k to marker. 86 sts on needle.
Work in the round in stockinette st until work measures 13 inches from edge of base.
Next Round: BO 61 sts, k to end. 25 sts remain.
Flap
K 4 rows.
Beginning with a P row, work in stockinette st until flap measures 7 inches.
BO all sts.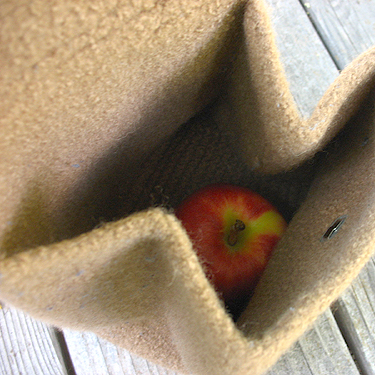 Weave in ends.
Felting
Place the bag in a pillowcase and tie it closed. Set your washing machine for hot wash/cold rinse, with a low water level and the maximum level of agitation.
Place the pillowcase in the washing machine, adding a small amount of detergent and a pair of old jeans or other heavy article of clothing, to provide additional agitation. Run the washing machine, checking progress regularly.
When the bag has reached the desired size and density, remove it from the machine and rinse it thoroughly. Shape it with your hands, folding it to resemble a paper lunch bag. Lay it flat and leave it to dry thoroughly (this may take a day or two).
Final Touches
Either cut a buttonhole in the flap (reinforce it by sewing around it, if you want) and sew a button to the bag underneath, or get yourself one of those snazzy purse clasps and attach it, following the manufacturer's directions.


Frances is a Junior in High School living in sunny California, where she spends all of her free time (and more) knitting, and all of the time that isn't free working in the performing arts.
She works in a yarn store, and blogs whenever she can manage it.
Pattern & images © 2006 Frances Swiecki. Contact Frances