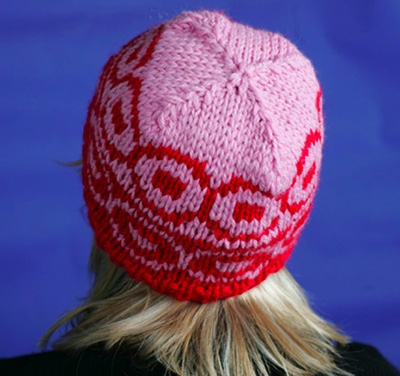 Note: Hat is worked using 2 strands of yarn held together throughout.
Using circular needle and 2 strands of MC held together, CO 64 sts. Place marker and join to begin working in the round, being careful not to twist.
Work 5 rounds in 1x1 Rib.
K 1 round.
Join CC and work Rounds 1-20 of color chart (chart will be worked 8 times in each round).
Break MC, and k 2 rounds using CC only.
Next Round: [K16, place marker] 3 times, k to end. 4 markers on needle.
Shape crown as follows, switching to double-point needles when necessary:
Decrease Round: [K2tog, k to 2 sts before next marker, ssk] 4 times.
Repeat this round 6 times more. 8 sts remain.
Break yarn, draw through remaining sts and pull tight.