Many of us prefer Kool Aid to chemical dyes because it is safer, requires no extra equipment and it's sold at the corner grocery here in the US. Besides, there's just something fun about fruity smelling roving and yarn, and it will dye any protein fiber. However, when dyeing any larger amounts of yarn or fiber, it can get pricey. Food color drops, and Wilton's paste are also used for dyeing wool, but how do you know what color you will get? With some time, testing and a little experimentation, you can dye your fibers almost any color you could want. From blinding hot pink, to subtle forest greens, all from those magic packets, and little bottles.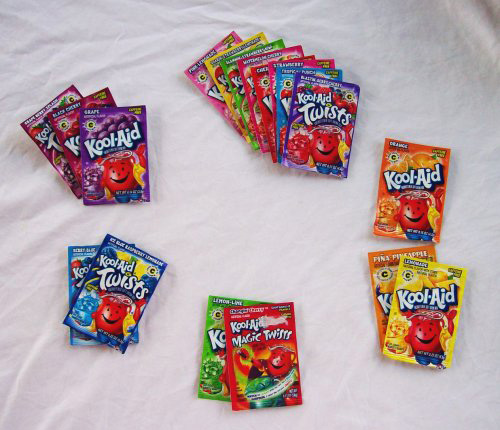 Kool Aid is colored with food color in powder form, and also contains citric acid for flavor. The colors in all the different flavors I could get in my area are made up primarily of these three: red #40, blue #1, and yellow #5.
I found eight flavors of Kool Aid, which were all the same color, red. They were all colored only with red #40. But how can Pink Lemonade be the same color as Blasting Berry Cherry? One is dark bright red, and one is a subtle pink. The difference is actually in value, that is to say the amount of red #40 in each packet. So the dark reds, such as Blasting Berry Cherry, Strawberry, Tropical Punch, and Cherry, have more red #40, and the pinks have much less red #40. What this means is that if you want to dye five pounds of wool pink, then it might take as many as 50 packets or more of a pink color Kool Aid, where as it might only take one to five of the dark reds. A sobering thought, when you consider the extra yarn you could afford by saving all that money.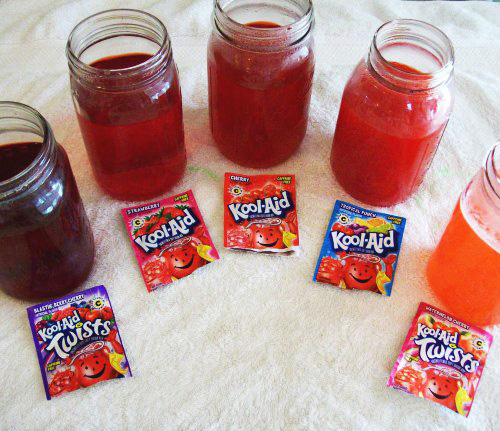 However, there are also food color drops, and are more concentrated than their fruity flavored rivals. There are two kinds available in my area. They are the regular food color drops, and the newer NEON food color drops. Here is a break down of of which colors are in each color.
In the regular box,
green = blue #1 + yellow #5
red = red #40
blue = blue #1 + red #3
yellow = yellow #5
NEON food colors:
Pink = red #40, possibly also red #3
Yellow-green = yellow #5 + blue #1
Blue = blue #1
Purple is red #3 + blue #1
This is at least what I think is in each color, since they don't say what is in each bottle. So for about $3 to $5 you can dye more wool, and have a much better variety of colors, especially if you use Kool Aid and food colors together. The most useful colors will be regular red, NEON blue and regular yellow.
So, now we need to consider how colors relate and mix together to make the colors we want. Primary colors, as I'm sure most of us know are red, yellow and blue. NEON blue, regular red and regular yellow are all primary colors. They are blue #1, red #40, and yellow #5. To start with, we will work with the colors that only contain one food color, and avoid regular blue, purple and yellow green in the NEON box, because they contain more than one color. So now that we have three primary colors to work with, we can make the secondary colors.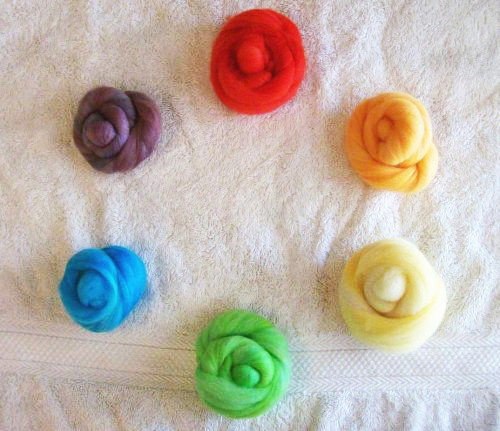 Yellow and blue makes green, Ziplock told us so many years ago. Red with blue is violet, and yellow plus red makes orange. Orange, violet and green are the secondary colors.
So now that we've had a quick little primer in color theory, we can work on making our own colors. Here is a short run-down of the common Kool Aid colors, and how to make them.
For 1/2 to 1 oz of fiber (to get the same result as the one packet of drink mix for the same amount of fiber).
Reds and Pinks
5 drops regular red - light pinks (Pink Lemonade)
10 drops - darker pinks (Slammin' Strawberry Lemonade)
15 drops- light reds (Watermelon Cherry)
30 drops- medium red (Strawberry, Cherry and Tropical Punch)
50 drops - dark red (Blastin' Berry Cherry)

Violet
5 regular red + 2 blue - a bluer violet (Grape)
5 regular red + 1 blue - a red violet (Grape Berry Splash)
Note: Secondary colors tend to separate during the dye process, particularly purple. You will have best results if you dye the fiber pink or red, and then overdye it with blue. Still the hand-painted look can be very attractive. Purple is a challenge. It can be done, but is a rather complex process, and even the Kool Aid separates a little.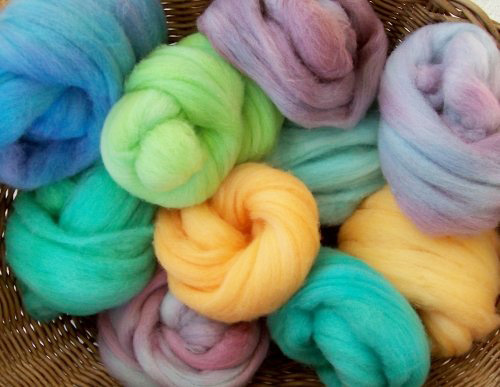 Blues
6 drops of NEON blue is the same as Berry Blue
2 drops of NEON blue is the same as Ice Blue Raspberry Lemonade.

Greens
NEON: 4 yellow + 1 blue - lime green (Lime Green / Lemon Lime Kool Aid)
Regular: 3 drops green + 2 drops yellow – lime green (Lime Green/Lemon Lime Kool Aid)
2 NEON blue + 1 regular yellow (Changing Cherry)
3 regular blue + 1 regular yellow (Changing Cherry)

Yellow
1 drop of regular yellow (Lemonade)

Orange
4 regular yellow + 1 regular red (Orange)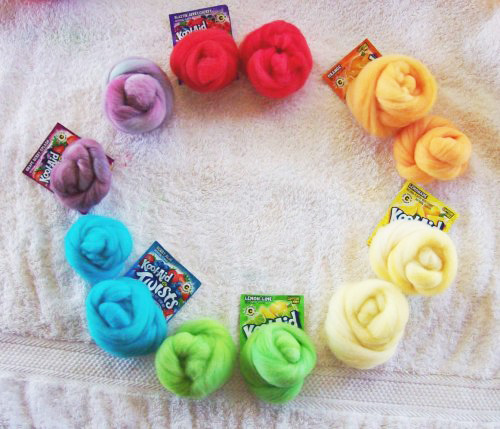 The downside to using food color instead of Kool Aid is that the Kool Aid smells better than vinegar. Some colors of Kool Aid are the best value, such as the reds, because they are more concentrated. You can dye some fiber in Kool Aid, and then after all of the dye has been absorbed you can reuse that water quite a few times without adding more acid. You can also purchase citric acid in many health food, and gourmet stores, or buy the invisible Kool Aid and use that for the acid, as even for large dye batches a few packets will be plenty. Doing samples, and dyeing small batches can be fun, and if you keep some basic records of your recipes, you can get a wide range of results that are easy to duplicate.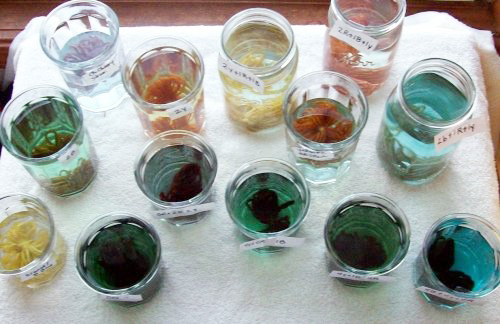 So now that you can make all these colors from those little bottles, what about more subtle colors? Not everyone wants neon colored socks after all. The final piece of the color theory puzzle are called compliments. These are the colors that are across the color wheel from each other. Yellow is across from violet, green is across from red, and blue is across from orange. Notice that there is always one secondary color, and one primary color. When you add a compliment to the dye in the right amount, it will have the effect of damping down the brightness of the strongest color. This color wheel was made by mixing compliments together, and you can see the resulting tones. Beautiful, rich and lovely, colors that anyone would want to wear or use.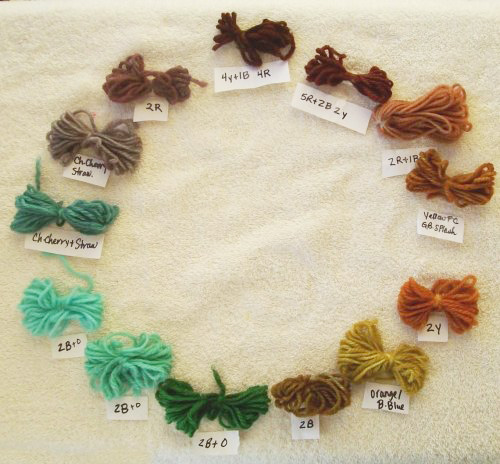 So what we really have done, is mixed one primary with one secondary, and that is an easy enough thing to do. What you are really doing is combining the three primaries in different amounts. If there is more red and less blue and yellow, then the color should have a reddish cast, more yellow, then a yellow tone, and so on. The main technique though is merely combining all three colors in various amounts to create new colors. So you can not only do blue and orange, but blue and red orange or blue and yellow orange. The sky is the limit, and you can make any color you want with food colors.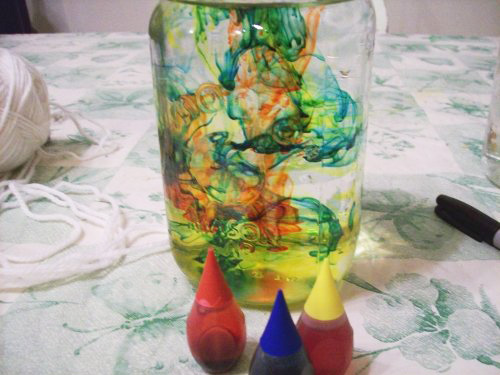 In this example, we have 9 jars, fill each one with cool water, and one tablespoon of vinegar. Now we will add the food color drops. Add the number of drops indicated of each color in each jar. This example clearly shows how the dye progresses from red, to brown, and finally to green.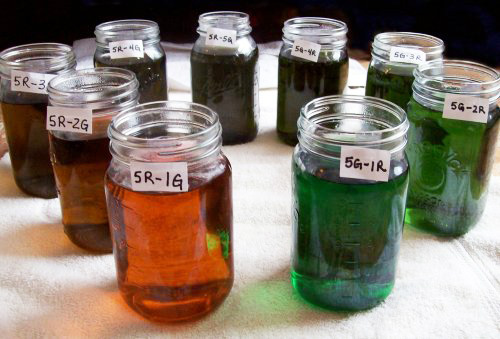 From left to right:
Jar 1: 5 red, 1 green
Jar 2: 5 red, 2 green
Jar 3: 5 red, 3 green
Jar 4: 5 red, 4 green
Jar 5: 5 green, 5 red
Jar 6: 5 green, 4 red
Jar 7: 5 green, 3 red
Jar 8: 5 green, 2 red
Jar 9: 5 green, 1 red
Submerge a small amount of wool, and microwave on high for two to seven minutes. Keep reheating as needed, keeping the water very hot until all the dye is absorbed.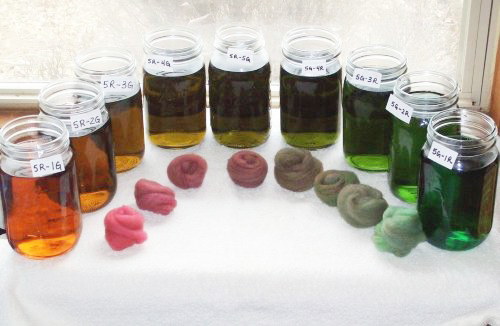 Our samples show clearly that the red drops are a bit stronger than the green drops. Jar 6 or 7 is where the middle of the range is, that is to say the ratio where the red and green make a good solid brown. If the red and green were of exactly equal strength, then 5 red and 5 green would be the balanced brown.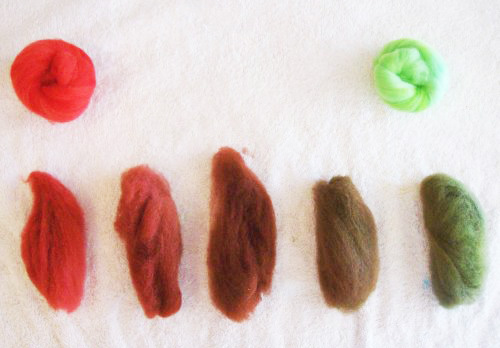 You can make this whole progression with any color you like to get just the right color you want for a special project. First you decide which color you would like. Perhaps you would like a nice rusty rose color. Since you want the dye to be light, then you will not want to make a super strong dye bath. You will also want to begin with some red food color, and slowly add small amounts of green, or vice versa.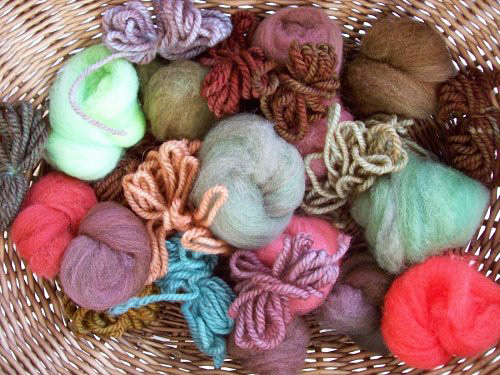 Often you need to add less than the equivalent of one drop, so what I do is add one drop to a cup of water and then with a syringe purchased for this purpose (needle removed of course) I add the primary color to the secondary color at 12 ml at a time until I have something close to what I want.
I dye a small sample of yarn or fiber and see if I am getting the color I want. Too brown, means add less of the primary, and too bright means add more of the primary. Too dark means that you have too much dye in the bath.
All other colors and their compliments work the same way. It is necessary to do the same test to find the middle or brownest tone mixture with each color group. You can also subtly alter the colors by using colors like yellow green and red violet.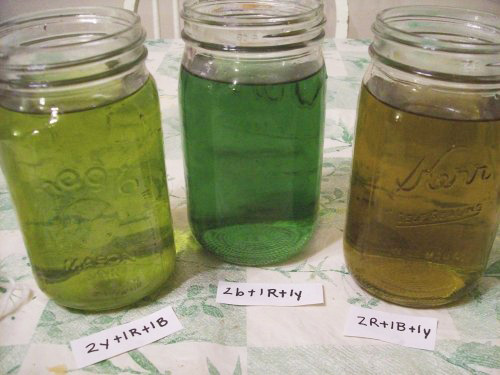 The combinations and resulting colors are almost limitless. The best part of all, is that these techniques will also work with almost any type of dye materials, I have personally used them with great success with Jaquard dyes.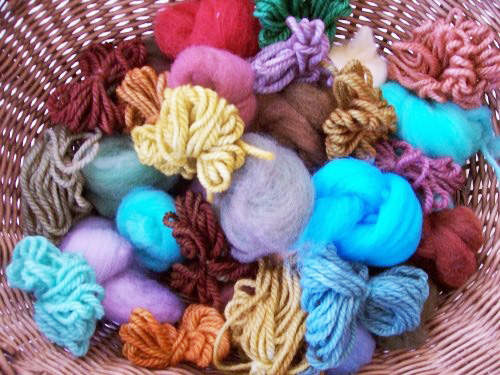 There are also recipes on the backs of the boxes, and these are a great place to start as the colors are stunning and easy to mix following the instructions. All the colors I made were beautiful and easy to mix, although some of them took quite a while to dye to that dark consistency.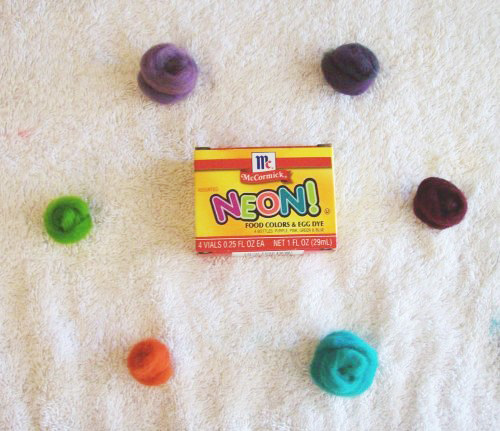 Now that we have a pretty good handle on how colors mix to make new colors we can try the ever challenging purple.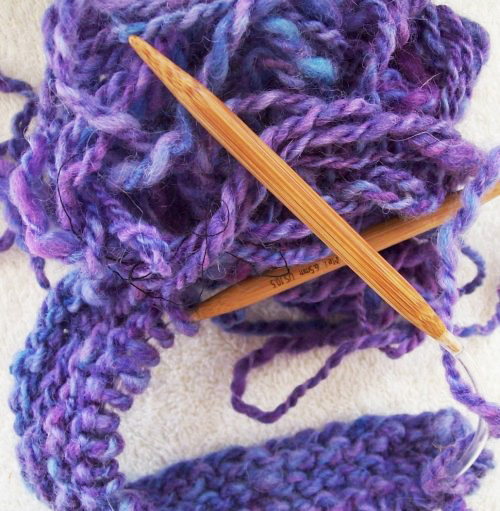 Purple is a difficult, because red and blue are absorbed at different rates, and also at different acid levels. So if you mix up a beautiful purple dye bath and plonk your yarn or fiber in, it will in all likelihood come out looking hand-painted, blue and pink with some purple places. This is very beautiful, so don't be discouraged if you get this, it will knit or spin up to be quite lovely. To get a more solid purple, there are several things that will help.
* Add a teaspoon to a tablespoon of salt to your water. This softens the water and will help the dye adhere more evenly.
* Start with less acid, depending on the amount of fiber, perhaps only a teaspoon or tablespoon of vinegar at a time. The reds will absorb leaving the blue behind. Keep increasing the acid one tablespoon at a time until all the blue is also absorbed. For dark purples this might take all day. Be patient, and give it time to absorb the blue, it will eventually.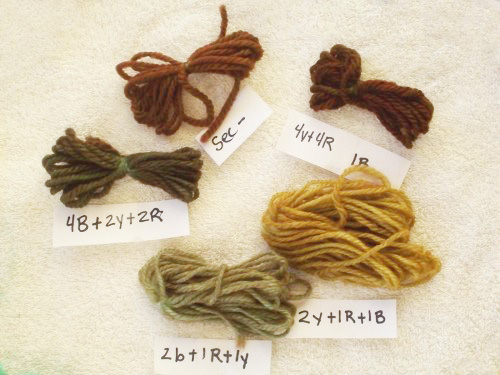 * If using a product that has red #3 this is even more important as it absorbs much faster than blue and at a much lower acid level. Red #40 is less of a problem, you might work with it first, and then once you can get a good result consistently, then try the red #3. They react similarly, but the reaction is much more pronounced in red #3.

* Mix your dyes in cold water, and soak your materials in cold water as well. Once your fiber or yarn is well soaked, lay it in the dye bath and heat slowly.

* Try dyeing the yarn or fiber pink or red, rinse, then spin dry or roll in a towel. Once the fiber has most of the excess water out, and is cooled, re-dye it in blue.

*Finally, if you can avoid accidentally felting, you can remove the fiber, and stir the dye every few minutes. This usually works well for yarn, because I don't usually mind if it felts a bit. Rovings and other loose fibers are not easy to remove for stirring without serious side effects, so use this method with caution.
Experiment on pieces of left over yarn or fiber, and document your results in a small notebook. The only time you don't make careful notes of the colors used, will be the time you make the most amazing color you've ever made, and you will not ever be able to create it again. So, write it down.

Finally, you can use ANY food coloring product with these methods, and with some experiments and careful note taking, you can make almost any color you like. The only color I have not made is a pure black, because this color tends to separate like crazy, but again, the effect is stunning.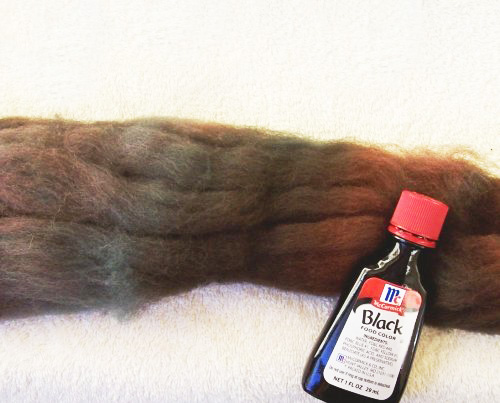 Once you have done your dye testing, break a piece off, and cut a slot in a piece of cardboard (I keep all the tags from Christmas and reuse them). Write your recipe on the card, and secure the sample in the slot. The extras are wonderful for needle felting or a handspun color change yarn. You know, Christmas tags will be on sale in a few weeks, so don't forget to buy the old fashioned cardboard kind. I buy a box or two each year for 75% off, and these work perfect. Business cards or even card stock are also great.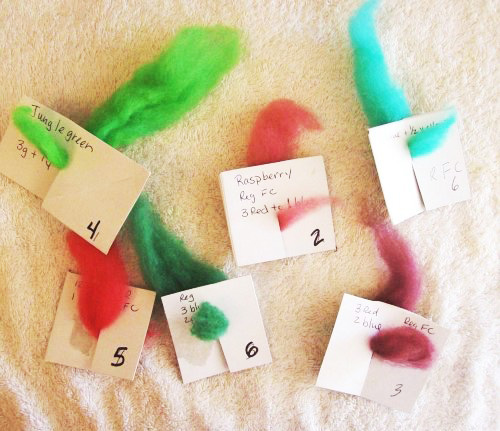 To make recipes for all the choices in food color would be difficult to put all in one article, however here is some basic information on Wilton's paste, and how you can use it instead of food color drops. I have listed the colors contained in each, largest amount to the smallest.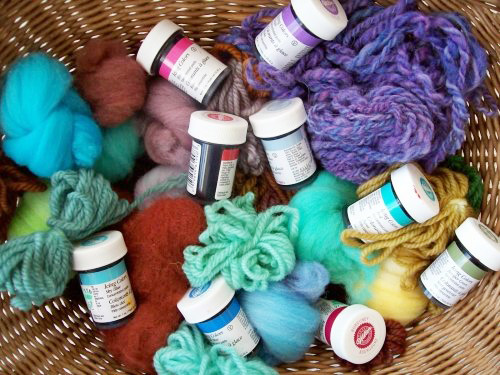 Primary Colors (meaning only one color is used in the mixture)
Lemon Yellow (yellow #5)
Sky Blue (blue #1)
No Taste Red (red #40)

Greens
Teal (blue #1, yellow #5)
Juniper Green (yellow #5, yellow #6, blue #1, red #3)

Reds and Pinks
Pink (red #3, yellow #5)
Rose (red #3, yellow #5) note same colors as Pink, but a stronger concentration.
Red (Red #40, Red #3, yellow #5, yellow #6)
Burgundy (red #3, yellow #6, blue #1)

Blues
Delphinium Blue (blue #1, red #3, yellow #5, yellow #6)
Royal Blue (blue #1, red #3)

Black (blue #1, red #3, yellow #5, yellow #6)
Wilton's also has some color mixing information on their website. There are 28 colors in all, and I have only included the information I read off the jars I happened to have on hand.
I hope this helps you to make all those colors of the rainbow that are floating around in your head.