Dear Mother,
What a year it's been! I'm so pleased that our respective legal representatives have finally worked out an acceptable settlement regarding the damage that you and your relatives inflicted upon my home last holiday season. I'm sure you'll be happy to know that the floors have since been refinished, the Persian rug has been replaced, the sliding screen door has been re-screened, my leather sofa has been repaired and my liquor has been replenished.
Of course, as you'll recall, every single gift that we planned to hand out was ruined. (Also, the dinner was ruined, the dessert was ruined, the supposedly unbreakable dishes were ruined, the kitchen counters were ruined, my relationship was ruined, and the toilet was ruined. Somehow.) I doubt that you'll understand, but it was difficult for Asif and I to face our friends and his family and tell them that their many expensive gifts had been crushed under the gouty feet of a half-dozen inebriated old women fighting with frying pans and rolling pins while their senile husbands laughed and shielded themselves behind the lids of my garbage cans. It was just easier to pretend that there'd been a death.
We'll have no such luck with that excuse this year, which is why I'm going against my better judgment and resuming contact with you. I have compiled the following list of suggested presents for you to purchase and send to my home in repayment for last year's fiasco. Yes, you. Yes, every single item. And there'll be none of that C.O.D. nonsense. You have till December 15th, or within 24 hours you'll find yourself hosting a gaggle of lazy ill-tempered drag queens for a week, loose all over your house, all expecting to be fed.
Yarn
None of my friends can never have enough yarn, so I'd like you to parcel up two skeins each of Flaxen, Silken and Sea Silk yarn (all sheep-free) from Fleece Artist's Handmaiden yarns. These are beautiful yarns, with considerable yardage. Two skeins is more than enough to make a sizable lace shawl. Two more might make a handy strait-jacket for Aunt Wilma—if she and I were speaking.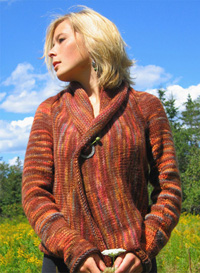 Kits
Even though we all love to browse at the local yarn store whenever we can, it's sometimes easier to receive a kit with a pattern and all the yarn you need, rather than pull all the various items together yourself. I'd like you to have delivered a Imogen raglan jacket kit <---; a Rowan Morrigan cardigan kit and a Habu Paper Linen Silk Mohair Jacket kit.
Needles
Some of my friends—of the few I have left after last year's Christmas debacle—have been greatly frustrated at knitting patterns that state US needle sizes in a country that (quite rightly) focuses on needles in metric sizes. A good part of that annoyance disappears when you have an interchangeable needle kit. I'd like you to order a Denise Interchangeable Needle set, preferably the pink version—a portion of its profits is contributed to breast cancer research. I think also the Knitpicks Options (metal) or Harmony (wooden) interchangeable needles set, and as well a complete set of the old-school 32" Addi Turbo lace needles —and maybe a nice pouch to keep them in. And not one of your leftover purple velvet Crown Royal bags.
Patterns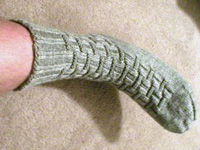 I'm all about the crafty guys, and I'm pleased to say that they have some great patterns online that are worth checking out. Danny Ouellette has some new ones including a Traveling Rib hat, an Acorn touque and a Diamonds and Roses lace shawl. Jared Flood has designed and adapted a number of great pieces, including the Red Light Special fair isle hat, a Murse 'European carry-all' and the Hemlock Ring Blanket, as well as two patterns in recent issues of Interweave Knits: the Koolhaas hat and the Cobblestone sweater. And Dave aka Criminy Jickets is the creator of the soon-to-be-classic Basketweave Socks--> as well as the Ridges and Ribs socks and the Garterlac Washcloth. I'll take one of each. Since I also have some hooker friends, I'll take a few of the many patterns that Drew Emborsky, the Crochet Dude, has at his blog including dishcloths, purses, vests and a Flying Afghan.
Books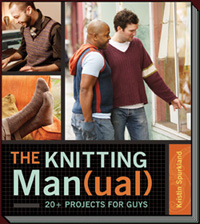 Well, I think the number one book to give this year is Debbie Stoller's just-released Son of Stitch 'n' Bitch, which focuses entirely on men's patterns (45 of them), from the fashionable to the whimsical to the slightly insane. (No, no clown suits in there for Uncle Harry.) Running a close second is Kristin Spurkland's The Knitting Man(ual), with more than 20 patterns that have a traditional feel but a more modern use of colour and construction. And of course there's always Michael del Vecchio's Knitting With Balls, crammed with designs by both men and women that any guy would be more than thrilled to have. I can think of three men who could use these -- and if they never learn to knit themselves, they can regift them back to me and I can pretend to be surprised.
Gifts
Last but not least, I'm told that some people would rather receive handmade gifts than make something themselves. I try not to know those people, but a few of them slip in under the radar and then it's too late. Online craft store Etsy has some standout male creations at reasonable prices. My favourites have to be by knittingkneedle—the fabulous knitted Penis Cushions [below] and the Crocheted Dinosaur Skull; dennisanderson has brewed some bars of Beer Soap out of genuine Guinness beer (they'd go great with hand-knit bathmitts and washcloths); and the snowconecollective has a brilliant t-shirt design called Analog vs. Digital. Hop onto the internet to get these going before the mail comes to a standstill.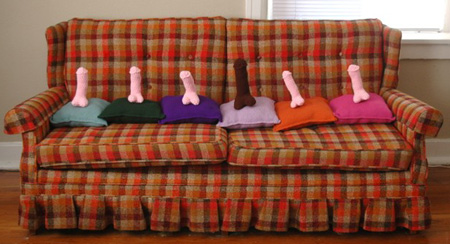 That about does it, Mom—and if you ask me, I'd say you got off pretty easy. I'll leave you to your shopping and look forward to a wonderful damage-free end of the year...and of course to all these packages. I'll be sure to forward your holiday wishes to the helpful folks at the detox centre who spent so much of their festive season watching over you and Aunt Edna in chair restraints placed ten feet apart. Ah, what a magical time!
Best wishes always, and a Happy New Year...
Your son,
David