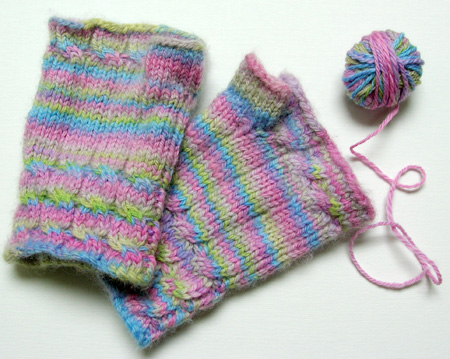 Fetching mitts knit from Navajo-plied merino hand-spun
Once everyone in the family is sporting a fabulous chunky hat, and the bookcase is overflowing with skeins which you put on display because they are "just too pretty to make anything out of", you may find yourself wondering what else you can do with your hand-spun yarn.
There is a limit to the number of scarves we and our families need, so unless you wish to design from scratch every hand-spun article you make, you will probably be asking yourself whether you can substitute hand-spun yarn in one of your favourite knitting patterns. The answer is, of course, yes.

In this article you will discover how to spin a consistent yarn and achieve the gauge required by the pattern you have in mind. We will also look at the composition of some popular yarns and discuss how to achieve a successful match. You may even find some ideas for using up some of those "too-pretty" skeins to make room for the next exciting batch!

Some Things to Consider
Not every commercial yarn can be replicated exactly. Factories have spinning and plying processes available to them which can hardly be achieved on a domestic wheel, however, with a bit of ingenuity you can come up with something that has a similar gauge, composition and hand to the original yarn.
Gauge, naturally, is most important. You cannot begin to think about replacing a recommended yarn if you don't match the gauge -– just as you wouldn't substitute a mis-matched commercial yarn. Don't be discouraged, though; it is not as difficult as you might think to spin to a specified gauge: Just follow these steps:
Decide whether your yarn will be singles, 2-ply or 3-ply. This will depend on the yarn you are trying to match, and the effect you wish to achieve.
Refer to the gauge table to see how thick your singles should be spun.
Spin a test length and measure the wraps per inch (wpi) both in the single and after plying. Even if the wpi is correct, knit a swatch as well for extra reassurance.
Keep your sample of singles handy while you spin so you can regularly check for consistency.
Remember:
- Always measure a whole inch – do not be tempted to stop at a quarter or a half and multiply. Every wrap counts!
- The amount of twist in your yarn will affect the gauge and wpi so make sure you spin your sample as you plan to spin the whole skein and make notes of wheel ratio and tension.
- In fact, keep notes on everything you do! You will thank yourself when you want to replicate your hand-spun later.
| | | | | |
| --- | --- | --- | --- | --- |
| Weight | Laceweight | Fingering | Double Knit | Worsted |
| Gauge | variable | 28sts = 4in | 22sts = 4in | 18sts = 4in |
| wpi – for singles | 22 | 16 | 13 | 10 |
| wpi – for 2-ply | 44 | 32 | 26 | 20 |
| wpi – for 3-ply | 55 | 40 | 32 | 24 |
Composition can be anything from easy to impossible, to match. Many of the yarns we knit with are made of wool, much of the fiber we spin is wool -– simple! Fancy yarns and acrylic blends, however, may require a bit more imagination to create something similar. Don't be afraid to experiment and 'fudge' your fibers a bit to achieve a similar yarn. With experience you will find there are many ways around a tricky composition -– and you may even like your version better.
Hand is the 'feel' of the yarn and finished fabric. A tightly spun cotton yarn feels completely different to a soft singles of the same thickness. The number of plies, the amount of twist in the yarn and the finishing process will all affect the way your knitted fabric feels and drapes. Once again, experimenting with small amounts is the best way to find hand that you like, and you'll soon find you get a 'feel' for creating a certain type of yarn.

Spin Your Substitute
I chose three popular wool blend yarns to experiment with, opting for varying gauges, compositions and purposes. The first is a worsted-weight, softly textured yarn, popular for warm wintry garments. Second, a favourite lace-weight yarn which combines mohair fuzziness with the shimmer of silk. Finally, a standard double knit yarn, just the kind of thing you might choose for a fall cardigan or a soft baby sweater.
Worsted Weight
It is apparent at first glance that this is a singles spun yarn, and it is quite soft and slightly fuzzy. The ball band states only that it is 100% wool, but from the soft feel and what I know of its felting properties, I am almost certain it is merino, easy to find in my stash. Gauge is straightforward, simply a matter of keeping a small strand of the yarn close by while spinning to make sure I match the thickness.
What I felt was important with this yarn was to achieve the same thick softness and fuzziness of the original. This called for a low-twist, woollen-spun singles. I set my wheel on the lowest ratio to minimise twist and pulled off short lengths of merino roving, fluffing them out slightly before spinning them from the fold.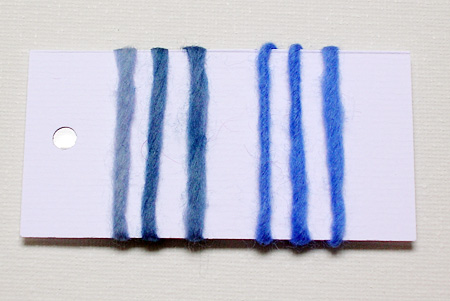 Commercial worsted yarn (left) and hand-spun (right)
To help the yarn stay together and tame the twistiness of the singles, I treated it to a shock-and-whack treatment after winding off my skein. This involved plunging the skein alternately into hot and cold water and then whacking it against the kitchen cupboards! In a soft singles this felts the fibres slightly, helping to reduce wear later and bringing out a fuzzy bloom on the yarn.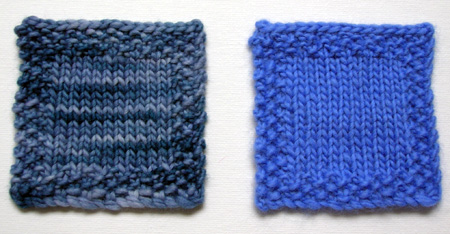 Swatches from commercial worsted yarn (left) and hand-spun (right)
After blocking, the appearance and hand of the two swatches is almost identical. This is an easy yarn to replicate and, being a singles, allows great scope for playing with color and texture in your planned garment.
Lace Weight
As the lace-weight yarn knits up into a very open fabric, I allowed myself a bit of leniency when it came to composition and spinning. Firstly, the commercial yarn is a blend of 67% mohair, 18% silk and 15% synthetic. That's a lot of mohair! What I might have done is spin a very fine single of pure mohair, then a very fine single of pure silk and ply them with a commercial nylon thread to hold it all together. This did not appeal to me – mostly because pure mohair and I don't really get along.
I chose instead to blend 50% kid mohair with 50% merino/silk blend using hand cards. The resulting fluff was far more manageable than pure kid, with the small amount of wool being just enough to reduce the slipperiness. I set the wheel ratio to high for maximum twist and spun very slowly and as finely as possible, keeping an eye on the fibres so the longer mohair did not creep away leaving a pile of wool behind.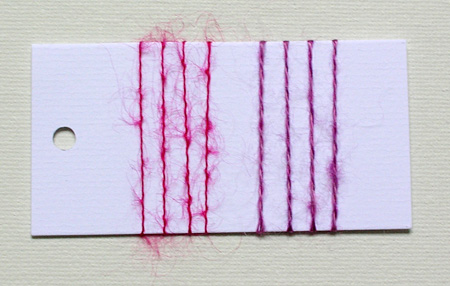 Commercial lace-weight mohair yarn (left) and hand-spun (right)
I plied the singles back on itself and then treated it also to a good whacking to encourage the mohair to bloom.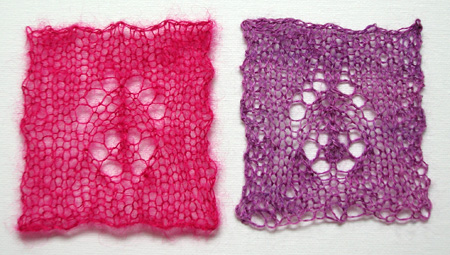 Swatches from commercial lace-weight mohair yarn (left) and hand-spun (right)
The hand-spun yarn is slightly heavier and has a little less halo than the commercial lace-weight (more halo than appears in the photo, though). However, when knitted on the same needle size and blocked, the swatches are not dissimilar.
Double Knit
This yarn is soft and bouncy with excellent stitch definition and is my current favourite for cable work. The crispness in the cables is due to the almost perfect roundness of the yarn, in this case, achieved through many very fine singles being wrapped around a central core. To replicate this as closely as possible, I chose a superfine merino from my stash and spun a fine singles for a 3-ply yarn.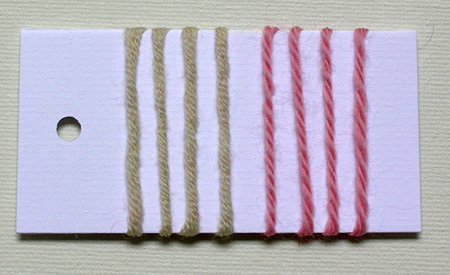 Commercial DK yarn (left) and hand-spun (right)
The 3-ply has a nice roundness which closely resembles the commercial sample. In the swatch, it shows clear, crisp stitch definition.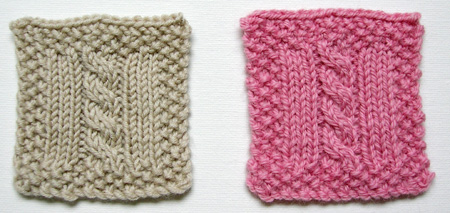 Swatches from commercial DK yarn (left) and hand-spun (right)
When dry, there is a slight difference to the hand of the swatches: the commercial yarn is a little softer. The handspun is still very soft, however, and would feel great knit up as a sweater or close-to-skin accessory.
Spinning your own yarn for a pattern opens up a whole new world of possibilities in color, texture and design. You can plan exact color placement or spin a little bit of textured yarn to use as a feature in part of the garment. Don't be afraid of the time involved: in my experience, it takes less time to spin two ounces of fiber than it takes to knit up the same amount of a similar yarn. And the satisfaction of having created something completely from scratch will stay with you forever!