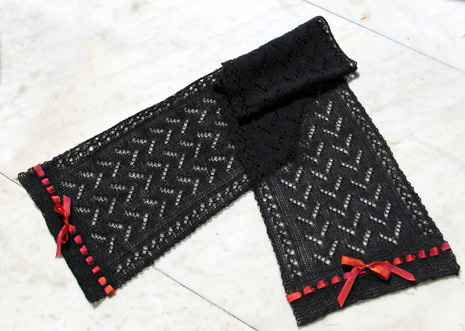 Weave in ends. Block to dimensions given above.
Cut ribbon into two equal pieces. Beginning with the ribbon at the WS of the scarf, draw ribbon up through the first eyelet at the left edge.
Weave ribbon in and out of the eyelets across the scarf, until one eyelet remains; ribbon is at WS of scarf.
Adjust so that lengths of ribbon at each side of the scarf are the same length. Bring ribbon at left around to front of scarf and weave again through eyelets until center of scarf is reached. Weave other end back towards the center in the same way. Tie ends into a bow. Trim ends.

Weave remaining piece of ribbon through other end of scarf in the same way.