Now it's our turn...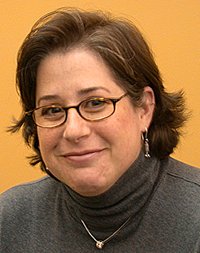 All you wool lovers. You mohair fondlers. You caressers of cashmere.

You have no idea how lucky you are.
I am allergic to wool. I'm not alone in this allergy, but it's clear that us folks allergic to animal fibers are in the minority. I was diagnosed allergic after the usual multi-stick test given at my doctor's office when I was a wee bairn. It was confirmed again in my adulthood by a 2nd doctor's test and an experiment of my own.
I bought a ball of something Pingouin that was 50% wool, 50% acrylic. I figured I'd be fine and maybe it really was just in my head. I started knitting a hat. And within three days, I had a horrible cold. That was enough proof for me.
For years, it didn't bother me, really. I just avoided woolly things. Cotton sweaters were all I wanted to knit.
When I picked up knitting again in the late 1990s, I automatically reached for cotton yarns. And then, for the first time ever, I stopped and took a look around the shop and saw what I had been missing.
Self-patterning sock yarns were the first to make me physically wince. Then the superthick wools, like Lang's MAX or Rowan's Polar or Big Wool. The delicate softness of Filatura di Crosa's Zara, in so many exquisite colours. Finally, Colinette's Point 5 almost made me weep aloud in the store.

It's just not fair!

For the first time in my knitting life, I understood what I was missing. I couldn't stand it. I just had to touch! How bad could it be? Instantly, my hands began to tingle, then burn. I dropped the stuff like it was on fire. Damn.
The last straw was felt. Not that crap you use in kindergarten. The gorgeous stuff you make yourself. Our last issue was full of it. Theresa's Fuzzy Feet [which started a revolution!] and Kathy's Suki. Both gorgeous, and both untouchable for me.

But then something wonderful happened: spring! Take a look around this issue and you'll see what I was delighted to find. There is a world of choice for non-woolly knitters, too! Rayon and tencel and silk and cotton and flax and linen. All worked together in different blends, in tempting textures and sumptuous sheens. Cascade's Fixation has gloriously satiated my desire for self-patterning sock yarns. And there are so many new cotton/acrylic super bulky yarns being introduced each season that I no longer long for MAX.
I will never be able to felt, but I can still surround myself in things shimmery, soft-and-lush, nubby, thick/thin and just about everything you wool people have. Ha!
---
Once again, we've made a magazine. Thanks go to everyone listed in that dark grey box at the top of the page, but special thanks go to Kristi Porter, K&K [the s*bux editorial committee], and Megan Reardon & Amy Swenson, coding coaches.
We're continuing to grow [slowly] and change [for the better] and we're glad you're here with us. Stick around. And if you haven't already, please do join our notifylist. There are a few Knitty goodies that we've saved for afters, and you wouldn't want to miss them, would you?