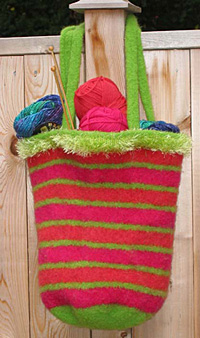 by Kathy Wortel

A huge, fun felted tote bag with simple shaping and a sassy edge treatment. Use whatever color[s] you like. Be bold.
NOTE: When changing colors, use a simple square knot to tie new color to existing color, and trim ends of knot to 1 inch on inside of bag. Ends will conveniently felt when washed, securing them permanently.
Making the large tote shown will use very little of the 2nd skeins of CC2 and CC3. If you wish to only purchase one skein of each, begin bottom shaping of bag in MC after 3 repeats EACH of CC2 and CC3, instead of 4 repeats each.

model: Kathy's patient fence

photo: Kathy Wortel
FINISHED MEASUREMENTS
Finished size [after felting]: 31" circumference, 18.5" deep.
MATERIALS

[MC] Brown Sheep Co. Naturespun worsted weight [100% wool, 245 yds per 100 g skein], color: Spring Green; 2 skeins


[CC1] Schachenmayr Salsa [100% polyester, 65yds per 50g ball], color: Farbe 21; 1 ball


[CC2] Naturespun, color: Bougainvillea; 2 skeins


[CC3] Naturespun, color: Cherry Delight; 2 skeins

1 set of US #11/8mm double-point needles


1 32-inch US #11/8mm circular needle
GAUGE
11 sts/16 rows = 4" in stockinette stitch
DIRECTIONS
Tote Bag
Using double strand of MC, co 112 sts on circular needles.
Being careful not to twist work, join and k one round.
Switch to one strand MC combined with one strand CC1 and k 8 rounds.
Switch to double-strand of CC2 and k 8 rounds, increasing 8 sts evenly in first round (120 sts on needle).
Switch to double strand MC and k 3 rounds.
Switch to double strand CC3 and k 8 rounds.
Switch to double strand MC and k 3 rounds.
Switch to double strand CC2 and k 8 rounds.
Continue with striping sequence as established until you have completed 4 stripes EACH of CC2 and CC3.
Switch to double strand MC and k 3 more rounds.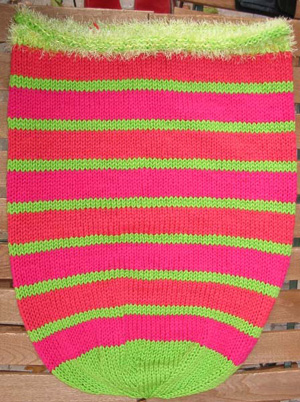 Continuing with MC, begin shaping as follows, switching to DPNs as needed:
Round 1: *K10, k2tog* around
Round 2: K
Round 3: *K9, k2tog* around
Round 4: K
Round 5: *K8, k2tog* around
Round 6: K
Round 7: *K7, k2tog* around
Row 8: K
Row 9: *K6, k2tog* around
Row 10: K
Row 11: *K5, k2tog* around
Row 12: K
Row 13: *K4, k2tog* around
Row 14: K
Row 15: *K3, k2tog* around
Row 16: K
Row 17: *K2, k2tog* around
Row 18: K
Row 19: *K1, k2tog* around
Row 20: *K2tog* across remaining sts
10 sts remain.
Cut a long tail of yarn and thread through remaining sts with a darning needle. Pull tight.
If there is a small hole in the center, stitch over it a couple of times to close.
Weave in end of yarn.
Handles [make 2]
CO 120 sts with double strand MC on circular needle. Do not join.
Work 6 rounds St st.
BO.
FINISHING
Felting:
Editor's note: for a detailed description of the felting process, see Kathy's article in this issue of Knitty.

Using normal cycle, hot water, and low water level, place items in washing machine with an old pair of colorfast jeans or other heavy article of clothing to increase agitation.
A small amount of Eucalan [rinse-free wool wash] or mild soap may be added to water. Check washer every 5 minutes or so to see how things are progressing and that items are felting evenly.
NOTE: Remove handles as soon as they have felted [which may be prior to removing bag].
The bag's handles will resemble twisted coils when first removed from washing machine.
Use your fingers to pull them into a flattened shape and let dry.
15 minutes of agitation should felt the bag adequately. If not, agitate for another 5 to 15 minutes or until knitting is firmly felted.
Let water drain after wash cycle, but DO NOT start spin cycle.
Gently squeeze excess water out of felted items, then put them between towels to squeeze out more water.
Pull into desired shape and dry flat.
When bag and handles are dry, sew handles to inside of bag.
ABOUT THE DESIGNER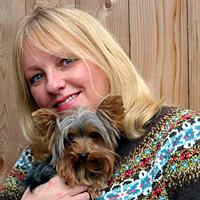 Kathy Wortel is a Toronto knitter.
She and her husband and daughter are owned by their Yorkshire Terrier, Suki.
Pattern & images © 2002 Kathy Wortel. Contact Kathy.