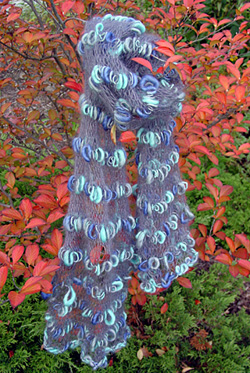 by Natalie Wilson

Here's a quick and funky scarf [or stole, with a shake!] based on Debbie New's Scribble Lace technique. The thick-and-thin yarn forms great twisty loops in the luscious kid-mohair-and-silk fabric. The knitting is straightforward, but managing the thin yarn on the big needles requires a little experience.
About yarn choices: any combination of really thick and really thin will give an interesting effect. However, a smooth, thick yarn will show the loops better than a bumpy yarn. The mohair is a good choice for the thin yarn because the slight furriness helps the loose stitches keep their shape.

model: le jardin du Natalie

photo: Natalie Wilson
SIZE
S [M, L, XL, XXL]
FINISHED MEASUREMENTS
Approximately 16 x 54" when laid flat.
Thanks to gravity, it grows to about 66" long and scrunches to Appropriate Scarf Thickness™ when draped around a neck.
MATERIALS

[MC] Rowan Kidsilk Haze [70% Kid Mohair, 30% Mulberry Silk; 227yd/210m per 0.9oz/25g skein]; Color: 605 Smoke; 1 skein


[CC] Berroco Hip Hop [100% wool; 76yd/69m per 3.5oz/100g skein] Color: 7254 Blueprint; 1 skein

1 24-inch [or longer] US #17/12 mm circular needle
GAUGE
When laid flat, 11 sts/9 rows = 4 inches in pattern.
DIRECTIONS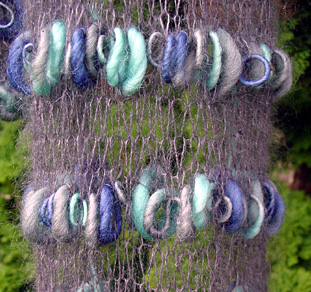 With CC, CO 45 sts.
Row 1 [RS]: Switch to MC, k.
Row 2 [WS]: P.
Row 3 [RS]: K.
Row 4 [WS]: P.
Row 5 [RS]: Switch to CC, carrying it loosely up the edge of the work; k.
Row 6 [RS]: Slide stitches to other end of circular needle. Pick up MC; k.
Row 7 [WS]: P.
Row 8 [RS]: K.
Row 9 [WS]: P.
Row 10 [WS]: Slide work to other end of circular needle. Pick up CC, carrying it loosely up the edge of the work; p.
Repeat these 10 rows 12 times, then work rows 1-4 before binding off loosely with CC. You may change the length to suit you, ending with either a Row 4 or Row 9 before binding off.
ABOUT THE DESIGNER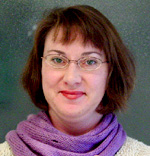 After a 15-year career as an environmental consultant, Natalie started Iknitiative as a focus for her fiber arts interests. She teaches knitting to kids and adults at community organizations in the Detroit suburbs.
Her two preschool children think that everyone goes to the yarn store as often as they buy groceries.
Pattern & images © 2002 Natalie Wilson. Contact Natalie.