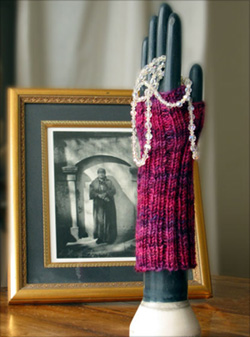 by Bonne Marie Burns

You live in the Northern Hemisphere and it's winter. Why are you smiling when you're outside? ANSWER: The magic of these VOODOO WRIST WARMERS has you TOASTY FINE now that the little gap between your gloves and coat sleeves is history!
These are designed, executed and road-tested by a street-shooting photographer in Chicago who refuses to have a tidbit of freeze on her frame.
Added bonus: This is a great pattern to learn knitting in the round!
I used a very nice variegated yarn from eBay seller Mary Ann's Yarn Barn (eBay ID: lotusblossom).
Since these take so little yarn, they are a fun way to experiment and express yourself colorfully. EXPLORE!