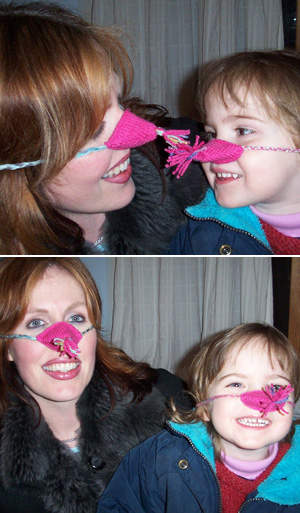 by Amy R Singer

When my sister and I were little, Grandma used to knit for us. The one thing I remember loving the most were her nosewarmers. I have a vivid memory of the scent of frosty winter air coming through the warm fabric she'd knitted.

None of us could find a existing sample of this unusual garment, but our mom clearly remembers the following details: pointy main part, braided ties at the sides, tassel on the tip.
So I decided to try to recreate her pattern. I knit a cone shape on 4 DPNs and came up with a ridiculous mess. Giving up in frustration, I went back to knitting a sock. And as I finished the short-row toe, I realized I had a new kind of nosewarmer staring me in the face! A few adjustments in width and depth and voila.
My husband doesn't quite understand them, and believe me, I know they're silly. But when you're six years old, nothing is cooler on an icy winter day than tying on one of these and heading out. Everyone else freezes but you.
My version is made in cotton Fixation, which has a lovely dense springiness and is suitable for most everyone [especially those allergic or sensitive to wool]. It's available online from Red Bird Knits, and one ball will make a billion nosewarmers! If you need to substitute, use any worsted weight yarn. Knit it tightly, on much smaller needles than the yarn calls for. No one wants air leaks in their nosewarmer.
Bonus: they take just over an hour to make. This time of year, you can't beat that.