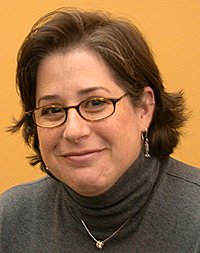 It's always something.
And so, during my current stressful life situation, I've found myself knitting like a madwoman. Except it's doing exactly the opposite -- it's preventing madness.
Since finding myself downsized out of a job a month ago, I've finished two pairs of socks. And edited another issue of Knitty.
It's the knitting that's kept me from going wacka-wacka. The rhythmic movement of my needles as I work stockinette in the round is as hypnotic and healing to me as solitary meditation might be for someone else. I also give huge credit to long power walks around the neighborhood with a friend.
And then I come home and knit some more.
Enough about me. Knitty has changed a little since our first issue. But just a little. Slightly improved navigation, additional pages and new features.
You'll also notice our new "Knit it now!" links. These links direct you to Knitty-friendly online shops that carry products mentioned in our pages. They've been good to us and we know they'll be good to you, so please consider giving them your business if you're going to order stuff you've seen in this magazine.
Once again, I want to make special mention of Kristi Porter, Knitty's Technical Editor. There would be no Knitty without Kristi, especially this issue.
Finally, huge, warm hugs to every one of our contributors. Their top-quality work is continually inspiring to me.
Anyway, take some time, grab a cup of something warm and soothing and spend some time with us. We're really glad you came to visit.