Ice: The Art of Hildur Bjarnadóttir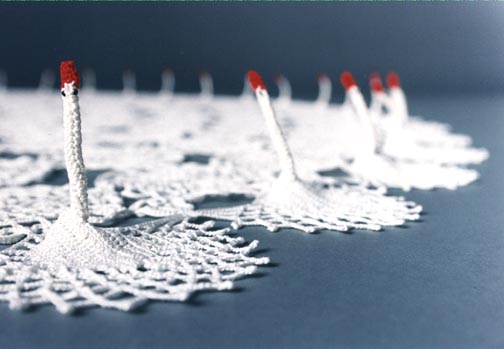 Hildur Bjarnadóttir | Swanhildur (detail), 1997 | crocheted cotton | 5" x 78" x 78"
Svan is Icelandic for swan. Perhaps to honor her namesake bird, Hildur Bjarnadóttir's grandmother Svanhildur used to crochet little doilies, each with five swans -- with long necks and red beaks -- surrounding it. Today her granddaughter's 6 1/2 foot version, entitled Swanhildur, resides in the permanent collection of the Reykjavik Art Museum, "which is kind of nice, the museum being located right next to where my grandmother lived."
Family and tradition are heavy influences in Hildur's work -- which ranges from sweater-sized knitted wall-hung works to enormous crocheted doilies like Swanhildur and Shooting Circle. Her 2002 piece entitled Yarn Twirler consisted of a video loop of Will Rogers constantly twirling his rope around his horse. "The loop is very meditative, echoing the feeling I get when doing crocheting or other repetitious work," says Hildur, and adds "Will Rogers, by the way, was a real cowboy who taught his children the dying art of lassoing, just like my mother taught me how to do handcrafts."
The artist remembers knitting on her front lawn in Scotland at the age of five. She soon took off into creating her own patterns and sculptural objects. "For as long I can remember I have worked with this medium, long before going to art school. It was a very natural, effortless decision; nothing else was really an option."
Even when she explores the world of drawing and painting, she does so with textiles, "drawing" with graphite-colored yarn or unraveling a painter's canvas and reworking it in detailed crochet. In Wool Star, the yoke of an Icelandic sweater is flattened to become a bullseye painting. "I simply wanted to make an un-functional image based on that pattern -- easily recognizable, but focused on the formal or abstract elements."
Untitled (drawing) is inspired by traditional Icelandic woolen hats, knitted from the top-down. "The hat begins with a little tip and then you add loops from there gradually forming the hat. I started out like I was making a traditional hat but added more loops than usual to make it stay flat. Where I added a loop it makes a line, and makes the whole into an intense drawing. I chose a yarn which looks like graphite, it has a little shine like when you draw intensely with a pencil on a piece of paper."
Making craft works because she loves to, and has to, Hildur has found a ready and willing "fine art" audience. Untitled (drawing) won a juror award at the 2001 Oregon Biennial of the Portland Art Museum. With paintings making up a heavy 2/3 of the exhibit, understated Hildur says, "I thought it was enjoyable to get a prize for a knitted piece."
Hildur is currently working on weaving and tatting -- more decorative work, which she has steered away from in the past. "It is very important for me to keep a good relationship with Iceland," she says. "Most of my inspiration comes from my roots there and my upbringing, and a lot of my work relates to Icelandic and Scandinavian textile tradition. I think it suits me best to be able spend half my time in America and half in Iceland." Soon the Pacific Northwest will be treated to her newest work, when their turn at her affections comes around this summer.
Hildur can be reached via her web site. She is represented by Pulliam Deffenbaugh Gallery.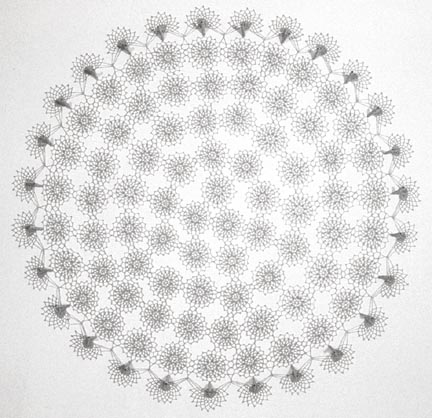 Hildur Bjarnadóttir | Shooting Circle, 1998 | crocheted silver yarn | 4" x 48" x 48"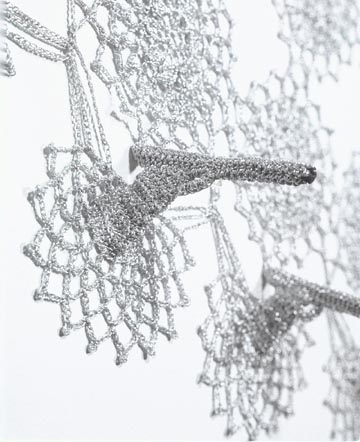 Hildur Bjarnadóttir | Shooting Circle (detail), 1998 | crocheted silver yarn | 4" x 48" x 48"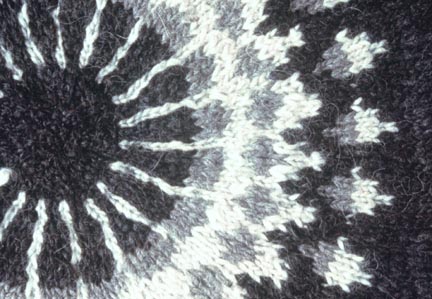 Hildur Bjarnadóttir | Wool Star (detail), 1998| knitted yarn| 26" diameter

Heat: The Art of Shaza
"I have a mother lode of lurex," says artist Shaza. The abandoned yarn was found in an empty knitting factory in Brooklyn, after the tenants -- a company that made "icky acrylic sweaters" -- moved out. Artist Michael Yinger arranged the yarn into an installation: a 50' by 20' color field. "When he was finished, I grabbed what I could get."
For an artist who paints with yarn, the find was serendipitous. With each wall-hanging sculptural knitted piece, Shaza conveys a color and texture story with "fuzziness, sparkle, depth, things tied to it, tied into the work." She knits 95% of her art with a "workhorse of a 3-gauge knitting machine. I've crammed through the most incredible combinations to see what's possible." As she machine knits, she can only see the back of the fabric developing until at least a foot is finished, so there's always improvisation, hope, and surprise. She washes each knitted piece in hot water to further the surprise through distortion.
The works look like landscapes, and indeed each one reflects and is named for a place: Seattle, San Diego, Naw'lins. But the artist strives to keep away from anything representational. Each piece is about color, texture, and nostalgia. Color combinations will evoke strong memories and emotions in viewers. They want to touch Shaza's work, because they have something in their past or their home that it calls forth. A couch. An old sweater.
The lurex became part of Phoenix, an 18-foot-long monster purple piece with which the artist has a particularly dual relationship. "I hate the color purple," she says, "and Phoenix is not a destination I enjoy." Phoenix was born of the desire to hang something big off the roof of her building for an open studio event. "I made it out of hated colors in case it was stolen or pigeons pooped on it. But it came out a stunning piece." Since then, Phoenix has been shown wrapped around pipes, pooled in gallery corners, and even used to swab the floor at New York's CBGB.
It's a good example of how the hanger -- and the viewer -- complete Shaza's process. Each piece is malleable, flexible, open to limitless interpretation. When shown by a furniture maker, they can be laid across tables and sofas. When shown in a gallery, they can be hung, precious, on white walls. In much of knitting "everything's geared toward being something when it's finished. But with one of these pieces it's up to the person who's hanging to decide what it is."
And whether it has a purpose at all. Many say knitted art does not. But Shaza responds, "It's knitting for knitting's sake. It's not supposed to do anything."
Shaza can be reached via her web site.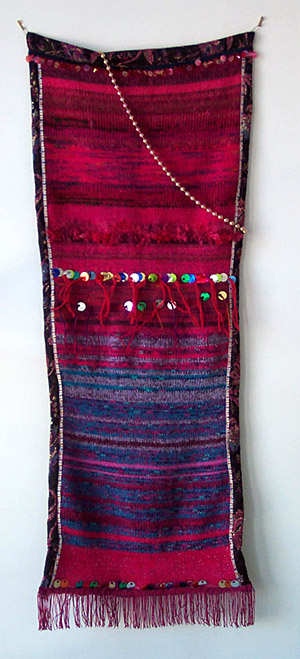 Shaza | Naw'lins | Mixed fiber, tapestry, beading, sequins and Mardi gras beads


Shaza | Palm Air | Mixed fiber, some hand dyed and spun, paisley print trim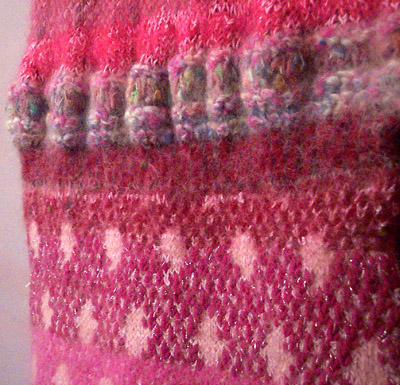 Shaza | Palm Air | Mixed fiber, some hand dyed and spun, paisley print trim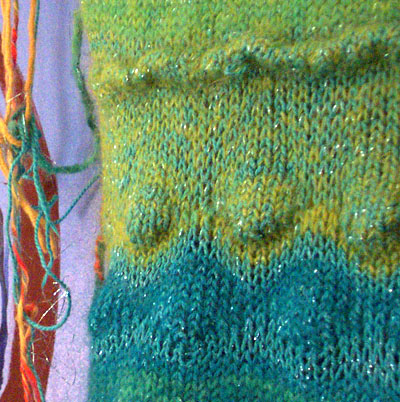 Shaza | San Diego | Mixed fiber, some hand dyed and spun, mini mirrors