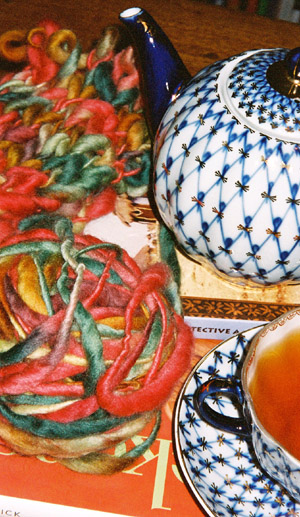 Knitting seems to bring out my materialistic side. To be more precise, my materialistic sides. Since starting to knit, I have found that I can personify covet, hoard, desire and want in a fugue of forms. Forget gift-giving. Knitting as meditation. Knitting as connectedness to community. I knit because I want stuff, a feeling that is only intensified by the lack of instant gratification.
For example, I decided to knit a poncho this winter. No, I needed a poncho. I had just finished a summer ponchito and it had to have a cold-weather companion. Never mind the fact that I would be joining an inexplicable craze for ponchos this year, and would be only one of several thousand women wearing ponchos to their morning coffee runs in November.
In, oh -- maybe it was July -- I started looking through knitting magazines from previous years. Would I find the perfect poncho pattern there, or would there be something better in one of the new fall or winter issues? But who can wait? The yarn would be all gone by then. It would take weeks to special order it.
I sat at home over a cup of steaming red tea (never mind the heat) and strolled through the pages of my books looking at all the poncho patterns. I do like tea, but, actually, this tea-drinking tableau combined two fantasies. The first: that I was one of the models in Melanie Falick's Weekend Knitting book, an endless source of knitting lifestyle porn. Two women curled up together on a Weimaraner-colored couch facing each other, one intimately winding turquoise wool around the other's knees. Or, a thinner version of me with the same hair color and cut, casually knitting a long, skinny scarf, leaning over the arm of a sofa, mossy yarn trailing towards the floor. The other fantasy: that I was a portly, no-nonsense Botswanan woman, drinking rooibos tea between solving gentle non-murder-oriented mysteries, also an idea I had gotten from a book.
Realizing I was getting way off track, I polled my best friend, also a knitter, and she recommended a poncho pattern in a book I didn't own. I went to two bookstores and neither had it, so within four hours I succumbed to the feeling of urgency and ordered it online, with expedited shipping, so I could feel like I'd done something about this problem right away. August was approaching. Want to get a head start.
Another two weeks later, and I finally decided on a pattern. It was not in the book I ordered. Although, really, how many different patterns for something made out of rectangles could there possibly be? I had decided to let the yarn guide me, and the pattern will come with the yarn as a kit. The yarn was aptly named Windfall, without which I had to wait another two weeks to accrue the money to buy the stuff. Of course, it had to be hand-dyed, imported-from-Wales Colinette in a color reminiscent of the glory days of an apple orchard, a thick-thin texture that said "groovy, organic." I delight in the thought that selecting this particular yarn and pattern will mean that I will need to buy more needles.
Perfect.
When my poncho kit arrives, I rip the bag open; but the second I touch the yarn, the beast is soothed and I handle the skeins gently. I look at it for a few days arranged in a wooden bowl, in which I unsuccessfully dissuade the cats from taking a nap.
The weather turns colder. In knitting the poncho, I experience great joys ("Wow! Look at how it knits up!") and frustrations ("How do I take out this wonky decrease?"). I give a great sigh when it's finally finished, throw it over my head while it's only pinned together, and examine myself in the hallway mirror.
But then, something alchemical happens. I sew up the seams of the poncho and rather innocently wear it to my local yarn store on a busy Sunday, for maximum effect, and receive a compliment from another customer.
"Why yes, I did make it," I respond with false modesty.
In turn, I eye what she's buying and ask, "What are you working on?" and maybe she'll say, "Some Nordic mittens" or "A knit bear" or "A tweedy cardigan" or "Oh, just a scarf. I only knit scarves." But I'll immediately sense the sophistication of the yarns she's knitting together for that scarf, or wish I had plans to knit mittens, or feel the sting of the inherent practicality of a cardigan or imagine how cute that bear would turn out. I'm consumed with jealousy.
I haven't forgotten my poncho. I don't love it any less. I don't want that project over this one, or think the grass is greener on the other side. I think all the grass is green everywhere, and I want to be rolling in knitting projects. I suppose this is why people have stash problems.
So, while some of my knitting compatriots are knee-deep in hats for all their German relatives, or booties for all their pregnant girlfriends, I'll continue to sit on my red couch, looking through those magazines and patterns and books, thinking about my next project. Which will be for me, of course. I suspect I'm not the only one who feels this way, in fact, I know the owners of my local knitting store gleefully knit more stuff for themselves than others. The joy of giving, indeed.
The truth is, it isn't always the knitting itself that gets me through a night of insomnia or the Weltschmertz that sometimes hits me on Mondays --you know, those deep fears about who you are as a person. What excitedly soothes me is the process of looking at those beautiful books, planning for a future that involves something comfortingly soft in a material that I have given a lot of thought to, however superficial that may seem. I'm just happy I've found something like that I can give to myself. One could call it selfishness, but I call it dreaming.