When the temperature drops each fall, I open my cedar hope chest and dive into my sweaters. A majority are hand knit and I'm seized by their individual sentimental meaning or their imperfections. I return to some sweaters as old friends. Here's the brown, slip-stitch one that I wore on my first date with the man who is now my husband. Next I find my "bus sweater", a three-year project made out of cream-colored counterpane triangles that became a masterpiece when assembled. I embrace the old friend sweaters even as they become worn and tired looking. Those sweaters are carefully hand washed, reshaped, and worn regardless of their age.
It's the other sweaters that bother me. When I open the chest, I see the brown, simple knit cardigan with the big wooden buttons. Its flaw lies in the weird fashion choices I made -- the big buttons are still acceptable, but the short, almost shrug-like length is not. It looks now like I knit only half a sweater. Or the gray vest; its abalone buttons nearly redeem it. The vibrant natural gray from a friend's Romney sheep make it worth keeping. But I never wear it because the crocheted edges of the arm holes look strange. I feel frumpy when I have it on.
There are days when I look just right in a sweater that I've made. There are days when I look good in a store-bought sweater that fits. However, I settle all too often for a day at home with an old handspun, hand-knitted sweater that makes me look rumpled and unkempt. I'm too attached to the work I've put into it to give up such a sweater, but I'm not able to produce a perfect product every time. Also, I come from a community of fiber artists who give me others' mistakes, and only occasionally do those sweaters fit. Today I wear my mother's creation, a long bright red car coat which was so fascinating to knit that I knew of two people knitting this pattern at the same time. The coat never fit my mother.
In the past, when everything was homemade, people made do. Garments were often exchanged with family members or friends until they found a good home on the back of a wearer better suited to its design. Clothes were remade over and over again. These renovations enabled a sweater to become useful even after the sleeves were damaged or the cuffs torn. Sweaters became vests, and vests became felted vests, until eventually knitted fabric was sewn and cut into a child's sweater, a pair of mittens, and a work scarf or hat. I try to learn from our ancestors' ingenuity, and salvage my mistakes.
More often than not, I don't have the skills to do a seamless renovation to an existing sweater. I am a contractor sent in to do a tough job. I lack just the right tool or architectural details. How to make it look like the vest (now a sweater) always had different color sleeves? How can I make it look like the buttons were purposefully mismatched? Sometimes, though, I score a victory for innovation. My "new" sweater has all the grace and style that the old sweater lacked.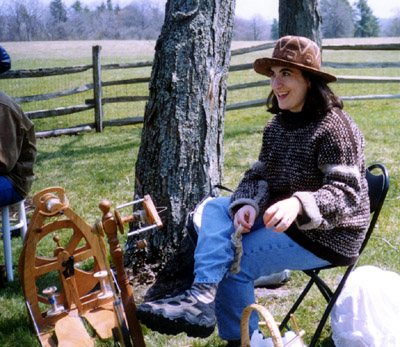 Once, I acquired a store-bought Shetland wool turtleneck from a famous mail order catalog. It was light heather gray, just the right thickness and styling -- until I wore it. The overgenerous turtleneck caused outrageous itching, regardless of how tall a cotton turtleneck I wore beneath it. I tolerated this neck irritation for years. Finally, I gathered my courage and cut down the turtleneck. I used knitting needles, a yarn needle, and a glass of wine as extra, false courage. I tacked down the edges to make a crewneck sweater. This was an outstanding victory for itchy necks everywhere. I plowed ahead with confidence to my next project.
On a trip to Britain, I'd found some deliciously butter-colored wool. It was from a rare breed of sheep called Teeswater. It is practically impossible to acquire this wool outside of the UK. The unspun roving flew through my hands while I sat at my spinning wheel, an intoxicating delight to spin.
Then, I designed a sweater for it, a concoction of ribs and eyelets that fit like a Renaissance bodice, tight in the sleeves and bust, accentuating my waist. I chose buttons and my knitting needles soared through the air like Mrs. Weasley's, somehow enchanted to knit without ceasing. Half way through the sweater, I got up to get a drink of water, and returned to my senses. The deliciously butter colored wool might look good enough to eat, but it would look horrible on me, with my dark hair and pale skin.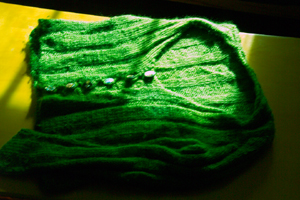 Taking a huge risk, I completed the sweater and dumped it into a dye pot. Knowing that the dye take up would be notoriously uneven and ugly, I renovated with abandon. I used salt to slow dye take up and slowly heated the water. At the moment of truth, I hauled the sweater out of the dyebath. It was a lovely spring green with a yellow tinge which I knew would make me look ill when I wore it. The renovation wasn't working! In a moment of despair, I threw a packet of blue dye into the mix. Magic happened. I now own a blue splotched, kelly green creation. The sweater's lustrous mohair-like wool shines in the light and it receives compliments wherever I go. This sweater is featured in Belle Armoire, a wearable art magazine, in their Winter 2004 issue. Its color is nothing short of a miracle.
This fall, I am faced again with a chest full of sweaters. I envision the renovations to come, but I am a procrastinator when it comes to risk taking. I never work on my old sweaters when the weather is warm and sunny. On snowy days, when the temperature drops precipitously, I'll know what to do. There is a long white cardigan with wooden buttons that needs to have new cuffs knit on, because I've worn off the old ones. The brown shrug cardigan with the huge buttons needs a make over. I foresee an empire waist cardigan with a different-colored ruffle at the bottom that extends it to a full-sized garment. Finally, there is the unknown future to consider, a last-minute, spontaneous transformation that will occur, when I desperately need a change in February. Some sweater from the bottom of the chest will get an overhaul, and my creativity will emerge in sweater form, like a butterfly from its chrysalis.