article and photos by Kathy Wortel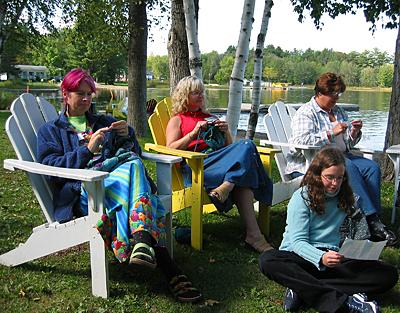 Lucy Neatby, Elizabeth Fallone, Beth Allat [in chairs].
Emma Penny in foreground.
You've seen them advertised in the back of knitting magazines. Ads for "knitting camps", usually held at some rustic resort, where well-known knitting instructors teach classes exploring techniques that, for the most part, are explained in books readily available at your local public library.
So what's the draw? Are these camps worth the time and money we could instead be spending on stash enhancement?
With this question in mind, I recently attended the 5th annual "Gone Stitchin' Weekend", held at Bayview Wildwood resort on Sparrow Lake near Orillia, Ontario. This camp is organized by Karen Dinner, owner of Village Yarns, Julie Schilthuis, owner of The Needle Emporium, and Bev Nimon of Kertzer Yarns.
There were approximately 40 of us attending Gone Stitchin'. The camp runs for 2 or 3 days, depending on what classes you choose. Instructors this year included Bev Galeskas, owner of Fiber Trends, Lucy Neatby, a well-known Canadian knitwear designer, and author/designer Nancie Wiseman. I signed up for Option 3 which included a Friday night arrival, two classes Saturday and one class Sunday morning. The total cost of my weekend was $975 Cdn. This included the classes, as well as accommodation and meals for me and my husband and daughter, who shared my room and enjoyed the resort while I was at class. The cost for a knitter attending on her own, and willing to share a suite with another knitter, would have been $600 Cdn.
So what do you get for $600? The resort itself is classic Canadiana: suites with sitting rooms and fireplaces overlooking a very pretty lake, muskoka chairs by the water, pretty good meals and great meeting/classrooms. There were generous door prizes for every attendee donated by major yarn companies. I won a 10-pack of Mohair Plus by Naturally Yarns for participating in the scavenger hunt, as well as a door prize of a Jo Sharp scarf kit with pattern book and yarn.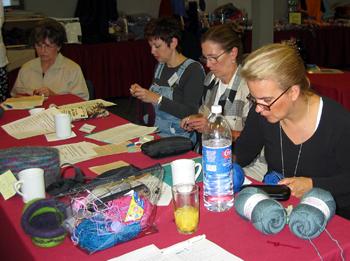 At right, Julie Neal in Bev Galeskas' Felted Clogs class
My three classes [Finishing Techniques; Fiber Trends Felted "Fizz" Mitts; and Lace Making & Charting] were excellent and the class sizes were small — four to eight knitters.
Most of what I learned could be found in instruction books or well-written patterns that companies like Fiber Trends sell, but like many other participants, I learn and remember much better by doing rather than reading. For instance, by the end of the 3-hour lace class with Bev Galeskas, I was surprised at just how much I now understood about lace charting, reading my lace knitting, and the actual construction of those scary-looking but beautifully intricate lace shawls.
Aside from the classes, the weekend was very busy with group meals, a scavenger hunt, fashion shows and general socializing. The Friday night fashion show was a huge trunk show with models wearing the latest designs by Rowan, Naturally Yarns, Needful Yarns, Mission Falls and others. Saturday night's student fashion show was a chance for the attendees to show their work. There were many accomplished and creative knitters present, and seeing their artistry was truly inspiring. It also begged the question: Since so many of them were obviously very talented and knowledgeable, what made them think they needed to attend knitting camp? I asked some of the knitters attending to describe the bang they got [or didn't get] for their buck.
Elizabeth Fallone from Barrie, Ontario, brought her mother-in-law with her for the weekend. "Knitting is such a solitary pursuit, I came here for the chance to get together with other knitters, explore ideas and techniques, be inspired, maybe try something different."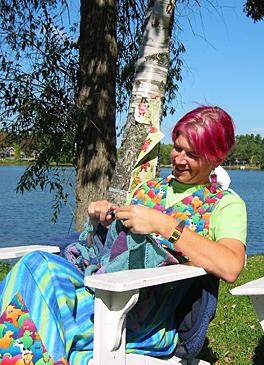 Designer Lucy Neatby [left] described the weekend as being "more about the people you meet. We have a common bond. Knitters are a community. After a while you start recognizing other knitters you've met everywhere."
While most of the happy campers were from Ontario, there were also some who traveled from farther away; several from Quebec, one from Whitehorse and another from NY state.
I asked Julie Neal from Montreal why she and her friends chose to spend a good chunk of their yarn dollars traveling to Ontario to attend this weekend for the past few years.
"We have a blast on the train together," Julie said. "And when we get here, this is like Club Med for me. I have two small kids at home and this is my chance to get away for three days, not think about meals, and get inspired by other knitters' techniques and garments. It's the equivalent of my husband attending a medical conference and discussing science for three days. Also, the knitting world is quite small, and it's great to meet and learn from knitting designers who are very accessible to us [here]."
Julie's friend Beth Allatt used to own a yarn store in Montreal. "My non-knitting friends don't understand this obsession," she said. "When I come here, I'm with others who share the same passion or obsession. I come for the whole experience."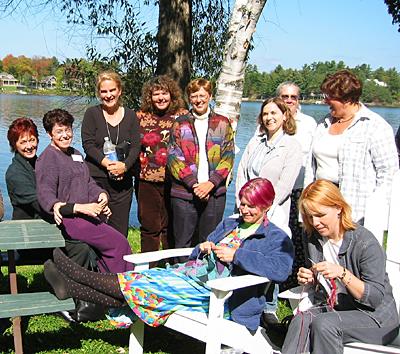 L to R: Bev Nimon with Bev Galeskas on her knee, Julie Neal, Julie Schilthuis, Jane Lowe, Theresa McPherson, Ann de Jong, Beth Allatt.
In chairs: Lucy Neatby, Michelle Brisebois.
So was the weekend worth what we paid? I think the answer depends on your personal circumstances, as well as your reasons for attending knitting camp. A quick look around told me that all the attendees were women and most were probably middle-aged, with a sprinkling of 20-somethings and seniors in the mix. These demographics might suggest that women with disposable income are more likely to attend a weekend like this. Then again, there were also passionate knitters who live by a strict budget so they can attend camp each year. Everyone I spoke to emphatically pointed out that they came as much for the camaraderie and inspiration as for the classes.
Will I attend again? I think I'll take it on a year-by-year basis, and if my bank account is healthy and there are some courses that interest me, I would love to hang out with and be inspired by these knitters again.