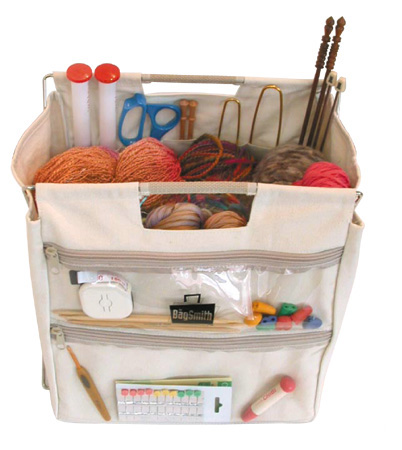 The ProjectBag
by BagSmith
This is one very cool bag. It's big, but not too big [12"H x 12"W x 9"D]. It sits politely at your feet, by your chair or on a table. Made of canvas and supported by a collapsible metal frame, this bag is sturdy but not heavy.
And it's got pockets up the wazoo! Pockets on the outside, pockets on the inside. Pockets of all sizes. I love pockets.
The Project Bag will hold a good-sized sweater in the works, plus the yarn to make it, and you can take it with you to your knitting night.
Mostly, the price is right. The dang thing retails for just $22. Amazing.


The Knitting Experience, Book 2
The Purl Stitch
by Sally Melville
XRX Books
$19.95

I love Sally Melville. The first book in this series, The Knit Stitch, is a good part of the reason why.
As she tells us in this new book, The Purl Stitch, "I started this series 5 years ago, when few were learning to knit and yarn shops were closing." We know how much the knitting world has changed since then, and Melville makes sure to take full advantage of it.
The new book offers new meditations on why we knit and why it is so enjoyable. I especially like her essay on flow [page 5].
But this isn't just a book of writings. The patterns are a delight. Many of us were gobsmacked when we read her first book -- suddenly, we found ourselves craving her garter-stitch-only garments. Now that she's brought the purl stitch into the learn-to-knit repertoire, the design options are wide open. Melville is a master at making a simple garment fabulous and worth the time to create. The cover dress is a cute, flippy, fuzzy thing. There are vests, shells, shawls, pullovers, everything -- each with just enough zing to make you anxious to finish it and slip it on. First on my to-make list is the Not Your Mother's Suit Coat, a lush hyperbulky jacket.
Just as with the first book in the series, The Purl Stitch is excellently photographed, showing all techniques step-by-step to help the new knitter. And just as with the first book, experienced knitters could learn a few tricks, too. For knitters like me that learned to read patterns before charts became popular, pages 148-149 will be invaluable.
This book is one to pick up, grab a warm beverage and find a quiet spot where you can take some time and savor it. You'll find yourself running for your needles soon enough.

All right. Just how many books on finishing techniques does one knitter need?
As many as you can get, if you ask me. Every knitter does things their own way. That's why Stitch & bitch gatherings are so much fun -- learning how everyone else does it. And that's how I see these books. The Interweave Compendium of Finishing Techniques covers more than just knitting, while Nancy Wiseman's Knitter's Book of Finishing Techniques concentrates on our craft. Both spiral bound [an essential feaure when your hands are full of yarn], each is full of juicy information.
Wiseman's book clearly has the advantage for knitters; it covers everything from cast on to bind off and nearly everything in between. Clear pictures, good illustrations, helpful descriptions. Despite the name, it's not just a finishing techniques book, but a good book that covers all aspects of knitting. I particularly like that she lists benefits and drawbacks of each technique. Very cool.
If you're a multi-crafter, McEneely's book is worth a look. She parcels finishing techniques together into chapters for edges, seams & joins, braids & trimmings, embroidery and such [and then sub-categorizes them by craft: knitting, crochet, embroidery, knotting, weaving]. The photos are colorful, illustrations are helpful and text is clear. If you're looking for a new edge treatment for your latest project, you might find it in here.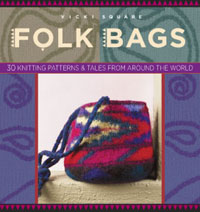 Folk Bags
30 Knitting Patterns and Tales from Around the World
by Vicki Square
Interweave Press
$21.95

As Knitty readers know, people everywhere knit. This book takes that literally, and shows us 30 projects inspired by the cultures of people all over the planet. Some follow traditional shapes like the French Market Bag. Others use surface design characteristic of a specific part of the world, like the bags from Peru and Bolivia. Some are just fun. The Irish Creel is my favourite.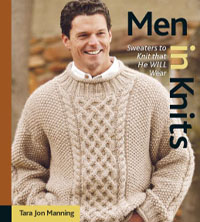 Men in Knits
Sweaters to Knit that He WILL Wear
by Tara Jon Manning
Interweave Press
$28.95
Okay, the guy on the cover is cute. But so is the aran he's wearing.
This book is full of stuff for traditionalists. And since most guys don't wear technofur, that's a good thing.
Cables, rib and yes, even argyle are here. But Manning has updated the traditional with modern styling. A good addition to your library for those times when you need a project for your personal guy. Or maybe even for you.