Many of us have had what we think is a great idea for a new product. But we don't all follow through and turn the idea into a finished product. This issue, we interview [via online messaging] Jordana McVey, creator of the Knitter's Purse, who's done just that.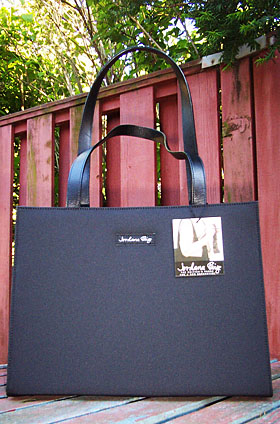 Knitty: Tell me why you started your company.

Jordana: I'm a knitter. I'd heard many comments and read several articles about the increasing popularity of knitting. I've always been one to sew and had just recently made my mom a knitting bag. It suddenly dawned on me that there was a need for a more stylish and sophisticated purse. Especially one that allowed the knitter to be very organized instead of having just a "hole", as my mom calls purses with no pockets.

Knitty: Your product is very professionally produced. That means manufacturing and complicated processes the average person has no access to. What made you make the big leap into full production?

Jordana: I was originally going to start small and make the purses myself. I went to a textile tradeshow in LA, researched materials, considered having an artist create custom fabric and then discovered that there was no way I could make the purses myself...at least not with the look I was after. It took about 7 months to realize it wouldn't work. Very frustrated, I searched the net for a manufacturer who could create my purse. I found two, one in NY and one in California. I decided to contact the one in California (they're physically closer). Originally I was just looking into the whole process, cost and what was required. I sent sketches to the company and told them approximately how much I wanted to pay for each purse. They said they could do it for my price. I paid for a prototype to be done (quite a process) and went from there. I guess I chose to take the big leap because I felt that I had a product that could sell. I figured it was worth it.

Knitty: How did you come up with the design for the prototype?

Jordana: My first priority was function. I wanted a good-sized knitting project to fit as well as a pattern book. The most logical shape was the shape that it is. A book can easily slide in and out. Also, it was important for any size needles to fit and not stick out. Those two factors are what determined the size. Next I wanted lots of pockets. Usually my tools end up falling out everywhere. I wanted the knitter to be able to just pull the tools out she needed easily.

Knitty: What kind of response have you had from your website? And how are you getting the word out about your product?

Jordana: Response has been very good. For the consumer, I am spreading the word through advertisements (the most response coming from my ad on Google). Of course, I don't have a huge amount to spend on advertising, but I know it is crucial to making my product sell. I benefit a lot from articles like this one. I've contacted several knitting magazines and hope to see my purse in future "what's new" portions of their magazines. I have sent numerous promotional materials out to hundreds of stores. Then I follow up with a phone call. If they like the purse, they order!

Knitty: What are purchasers saying about the product?

Jordana: I love hearing all the comments because it allows me to make my product better. The comments vary. They range from people absolutely loving it -- they really understand what I am trying to do. They like that the purse has a sophisticated look and can hold so much. I received several comments saying, "I've been looking for a great knitting bag. This is great!" Others don't grasp the concept as well. I stress that the purse will coordinate with whatever you're wearing so you can always carry it with you. Some feel that the price is too much for their customers to afford. But others like the price and think it is very reasonable. I do have plans for more styles of purses and hope to be able to offer a range of prices.

Knitty: You're still in college, correct?

Jordana: Yes.
Knitty: I'm wondering how you were able to secure funding for the business at your age.

Jordana: I worked through high school and my first two years of college. Rather than spending this money, I saved it. I had enough saved to put toward my venture. I asked my parents to help me pay for my new idea. This they did.
In fact, my family has been a tremendous support. I could never have gotten this going without them. They encourage me and keep me going when I get down. They're always there for me.

Knitty: What's your major and are you planning to make this a full-time business when you graduate?

Jordana: Marketing. My hope is that by the time I graduate, I will have a growing business that I can focus on full time

Knitty: Now some quickies. How long have you been knitting and who taught you

Jordana: My grandmother taught me when I was in elementary school. I got halfway through a dish cloth and gave it up. When I was a sophomore in high school, I got interested again. My mom reminded me how.

Knitty: What are your favorite types of projects to knit?

Jordana: I enjoy children's clothing, although I don't know very many kids to knit for. I mostly stick to sweaters/tops.

Knitty: You designed a cap for the last issue of Knitty. Was that your first original design or have you created others

Jordana: I've done others. Very simple ones. I am working on creating more complicated patterns, but it does take time to get the hang of it.

Knitty: Why do you knit?

Jordana: I think it is very relaxing. It's also a great way to feel that you're accomplishing something, such as when traveling or watching TV. You're not just wasting time.

Knitty: What's on your needles right now?

Jordana: An alpaca boat neck top I designed.

Knitty: And what's up next?
Jordana: Hopefully, a tank I designed and submitted to Vogue Knitting/Family Circle Easy Knitting.