Fragile
The Knitted Art of Stephanie Speight
Stephanie Speight
Train, 2003 (detail)
14' long
knitted tissue paper patterns

Meditation, Oh my Father 2002 (detail)
10' x 10'

knitted vintage sheet music
When Stephanie Speight found an ancient roll of paper in an old, damp basement, she was drawn to its character, developed over years of exposure to dust and mold. She was inspired to use the delicate paper as the fabric for a series of sewn 1940s-style garments, from a bevy of bonnets to a gaggle of grandma-panties stretched across a clothesline. But as meticulous as she had to be to sew with tissue-thin, aging paper, Speight decided to go even farther.
"At the end of it all, I glued the tissue sewing patterns end to end." says Speight. "I ran them through my pasta machine on the fettucini setting, cutting them into fragile yarn-like strands resembling shed snake skins." The artist then cut up an old hoe handle and constructed a very large circular knitting needle. "With sanding and shaping the old hoe made lovely smooth needles."
The resulting work -- entitled Train -- is a breathtaking 14-foot knitted wedding train, full of what the artist calls "little mends" in the weak tissue.
Speight remarks, "Working with materials so stunningly beautiful, utterly fragile and impermanent was perhaps an attempt to make friends with impermanence itself." Having poured hours and hours and hours into a piece she expected might, with luck, last for just 3 or 4 exhibits, the artist feels was "a practice of acceptance and surrender to one's ultimate end."
Before Train, Speight had knitted with paper and hoe handles before. Her delicate and lovely Meditation, Oh my Father was shown at Reed College in 2002. The piece is 10 feet square and is knitted from a ream of vintage sheet music.

Thick
The Knitted Art of Susan Planalp & Jessica Schleif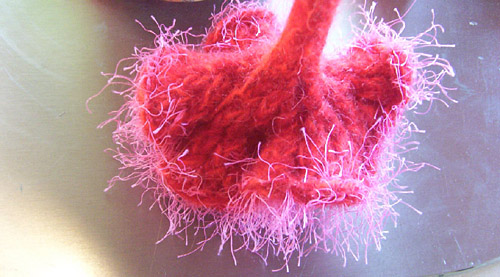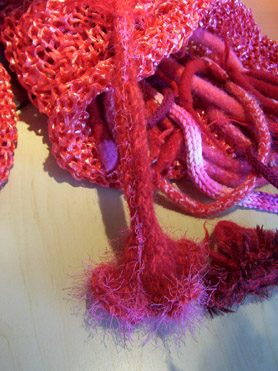 Susan Planalp is a living a knitter's fantasy. "My friend is a yarn rep, and she gives me free yarn, a duffel bag full each season." Planalp, primarily a painter, had been collecting wool sweaters for years, shrinking them and cutting them up for parts to use in art works. But she hadn't knitted for many years. When the yarn rep came into her life -- with delicious off-season oddballs -- she picked up the needles again and began knitting, purling, and fulling what she describes as "organic, kelpy, ocean pod things."
Two years ago, Planalp joined up with artist Jessica Schleif, whose knitted works lean toward plant forms. "Together we made a knitted salad for a food-related show. Knitted lettuce leaves, pea pods, all green." Since the salad, Planalp & Schleif have collaborated many times over the past two years, making abstract forms that drip, drool, and seem to slither through space.
Planalp, 57, treasures her work with Schleif, more than 20 years her junior, for many reasons, including their cross-generational friendship and working partnership. One notable installation the two created together -- for AVA gallery in Astoria, Oregon -- is Bounty to Barcodes. The work included felted pods, antique fishing line, felt stretched over fishing weights, and knitted linen fish shrink-wrapped in styrofoam meat trays. (Schleif still works with AVA, and also collaborated on the Stump Cozy Project there).
"I'm mostly a painter," Planalp says. "Knitting is something I do at night, and it's kind of meditative." The artist admits, though, that the knitting is not only fun but has made a significant difference in her painting work. "My paintings have changed because of the colors in the yarn. The yarn expanded my palette. I never expected that to happen!"
Planalp is clearly enjoying creating knitted art, and its effect on her is obviously freeing. Next up, she will install felted gray flowers in the cracks of her concrete garden wall for Portland Open Studios this fall. And her show -- in January 2005 at Portland's Blackfish Gallery -- will include a felted chandelier.
all images this section...

Susan Planalp &
Jessica Schleif
Knitted installation at Lint, 2004
(detail)

Wool, yarn, plastic