I decided to learn to knit. The idea seemed simple enough so I trudged off to the craft store to find a knitting book. I flipped through the pages of the first book I found and laughed at the dated photos of the models. Big hair, big bangs, and dark make-up clearly indicated a 1980's flashback. I chose to buy a very generic "How to Knit" book that looked like it would teach me the basics. You're probably familiar with the type: It's the dusty neglected book lingering on the bottom shelf at the back of the craft store.
I tried to figure out the knitting instructions and diagrams. Swearing and knitting don't normally coexist, but in my house at those frustrating moments, they certainly did. I don't know if the instructions were poorly written or if I was too tired to start a new project, but some vital piece of information was definitely not making it to my brain. The knitting keystone was clearly missing.
My husband took the book away from me. I wasn't sure if he wanted me to stop polluting the air with my words or if he wanted to keep me from damaging myself with the needles. He flipped open the book to see what I fussed over and took the yarn and needles away from me. To my dismay, he figured out how to knit. I have a degree in physics, but apparently, the physics of knitting was beyond me.
My husband tried the perilous task of trying to show a frustrated woman how to begin knitting. Needles flew across the living room and nearly missed the dog a few times. I assure you that no animals were harmed during the process.
I cast on numerous times. I also took all the yarn off the needle, unraveled everything, and started over numerous times. The first row of knitting was difficult. I soon wondered why I didn't understand the diagrams before. Eventually we amassed a small collection of squares knitted from the cheapest white practice yarn the craft store had to offer.
Soon enough, I had knitter's muscle memory and could get into my knitting meditation stance. I often didn't remember knitting a row. I had finally learned the basics.

Since I'm ambitious and known to be somewhat crazy, I decided that my first project would be a sweater for my over-stuffed, long-haired Chihuahua, Panda. I bought a skein of a variegated purple yarn that would hopefully turn into a little wrap to make our princess happy in wet weather. Panda turns into a Chihuahua sidewalk statue when the grass is moist. No amount of coaxing will get her onto the lawn.
I looked at sweater patterns for ideas and created my own dog sweater plan of attack. After measuring Panda, I determined that I would need to make a ten inch square for her back and sides, a six inch by ten inch rectangle for her neck that would fold down into a turtleneck, and a tummy cover that would certainly be a task for a beginner. The tummy piece would be my last task and would involve increasing stitches. The chest area needed a triangular piece that became a narrow strip between her front legs and then widened after her chest to cover her belly.
Poor Panda. When I started the project, she acquired the nickname of "Floppy" Panda. I was unsure of myself, so I'd repeatedly approach her with the measuring tape. She'd turn into an amorphous lump of fur when she saw me.
Trying to accurately measure her was a difficult task. If I wanted to measure the length of her back, she'd roll over and give me her tummy. I'd try to stand her up and she'd flop over like a stuffed animal that had lost all its stuffing. The measuring tape wrapped around us. She flopped around some more, and I'd wonder if small beads were coming out of her beanbag-like body.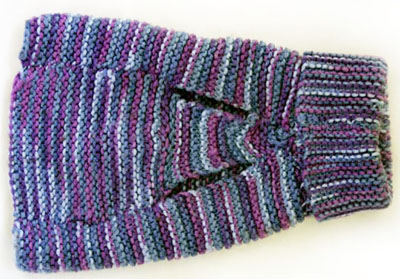 Since I perfected the art of knitting squares, the neck and body of the sweater went well. When I had free time, I knitted a few rows. Then, I'd go after Panda with the section I knitted, still attached to the needle. I'd hold the section up to her back to make sure I had measured correctly and wasn't fooling myself. Panda eventually figured out the routine. When she saw me, she'd hide under the coffee table. If I could reach her, she turned into a beanbag Chihuahua again.
The stomach and chest pieces were a challenge for me. I started over several times. Each time I increased my stitching, I'd have a sloppy mess of uneven knitting that stood out between the neat rows of knitting I'd already done. I wasn't sure what I was doing wrong. I decided to knit the piece backwards and decrease. This worked out for me. I knitted the wide stomach piece. As I approached her chest, I decreased stitches and wasn't fighting with the yarn and needles anymore.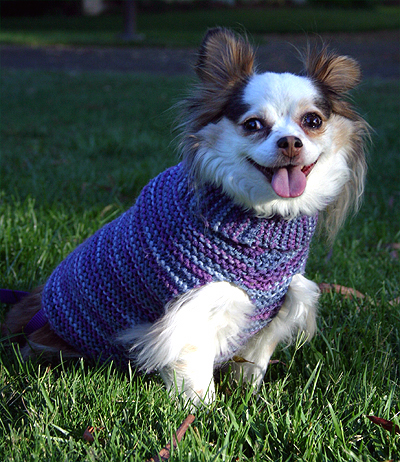 I hurriedly sewed all three pieces together, leaving two unstitched areas for her front legs to fit through. I was excited to give Panda her new sweater. When I called her, she actually came running over without a tortured look on her face. I slipped her new sweater over her head, slipped her paws through the armholes, and adjusted the sweater around her waist. Panda ran around the room showing off her new purple sweater. Of course, her proud mama followed her around and shot photographs.
I finished my first project without injuring my husband, my dog, or myself. I'm cringing thinking about putting the sweater in the washing machine for the first time. If all that comes out of the washer is one very long purple string, Panda and I agree that we'll purchase a dog sweater instead.
And, if you are a beginner, make a scarf first. Don't try to dress your dog or make your own pattern when you are still delirious over the fact that you've finally figured out how to knit a bunch of coasters.