6. Decrease and Close
Complete the Decrease Pattern as calculated above, using the following for the Decrease Round.
Decrease Round:
Needle 1: Knit 1, ssk, work to last 3 stitches, k2tog, k1.
Needle 2: Knit 1, ssk, work to end
Needle 3: Work to last 3 stitches, k2tog, k1.
Creating interchangeable mitts:
Use the same decrease pattern, but distribute the four decrease stitches evenly around the round. The shaping isn't quite as elegant, but you'll end up with "ambidextrous" mitts. Are you making mitts for someone who's good at losing things? Make three of these.
Two ways to finish:
Graft these stitches together OR cast off the remaining stitches and seam top.
7. Thumb
Remove the scrap yarn used to mark the thumb, and pick up the "open" stitches on either side. Use one needle to pick up the lower stitches, and a second to pick up the upper stitches. Each needle will have the number of thumb stitches on it.
Starting with the needle closest to the ribbing, knit the thumb stitches. With that same needle, pick up 2 in the "corner" between the lower and upper needles.
Knit the stitches on the upper needle. Using a new needle, pick up 2 stitches in the opposite "corner".
You have established a round, of 2 times the thumb stitches plus 4. If you've got 4 thumb stitches, your round will be 2x4+4=12; if you've got 5 thumb stitches that's 2x5+4=14.
Rearrange the stitches so that they're relatively evenly distributed on the needles.
Knit 1 round, twisting picked up stitches.
Knit even until thumb measures the required length, measured from the picked up stitches.

Decrease on next round: *k2tog, k2*, repeated across round.
Final round: *k2tog*, repeated across round. For woman's size only: Knit last stitch.

Cut yarn and pull through stitches. Turn the thumb inside out, pull the yarn tail through to the wrong side and secure. If there are holes at the base of the thumb, use the yarn tail there to tighten it up.
Notes on Yarns
You're aiming for warmth, so choose appropriately. Natural fibres only, from animals that live in cold climates: wool, mohair, angora, cashmere, alpaca, and so forth, and blends. When making mittens for kids, I'll use washable wool; acrylic mitts are simply ineffective.
A Warm Lining

My hands get spectacularly cold in the winter; I like to line my mittens for extra warm and wind-proofing.
To create a lining, work the body and thumb with two strands of yarn, alternating strands for alternate stitches. That is, use strand one for stitches 1, 3, 5... and so forth; use strand two for stitches 2, 4, 6, 8... The unused yarn looping behind each stitch forms the lining.
I typically do this with a single color of yarn, but let your creativity be your guide.
Do check your tension, as working with two strands can be tighter than with a single strand.
Ribbing Alternatives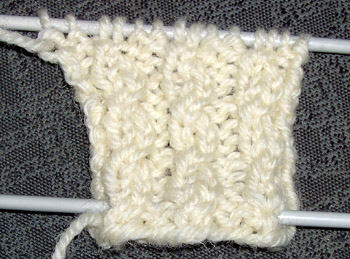 Other ribbing patterns work nicely: 2x2, 3x3, or odd combinations like 3x1. Even combinations of ribs (e.g. 2x2) do have more stretch. Just make sure that you have the appropriate number of stitches. That is, for a 2x2 rib, your number of stitches will need to be divisible by 4.
The mock cable rib looks very sophisticated [see right], and is easy to do. It's a 4 round repeat, on a multiple of 4 stitches.
Round 1, RS: *P2, skip 1 stitch and knit into 2nd stitch, then knit into first stitch and slip both off the needle; repeat from *, end p2
Rounds 2-4: P2 k2 rib across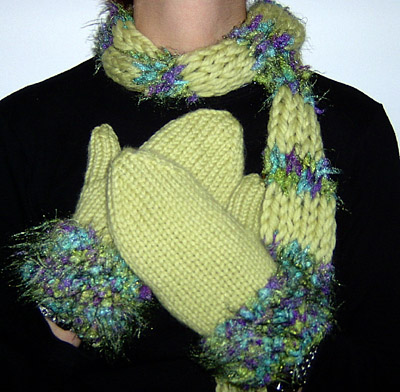 Fancy Cuff
Don't like the look of ribbing? Desperate to use that novelty yarn that matches your coat exactly? Create a fancy overlay for the cuff.
Work the mitt as normal, with a 1x1 ribbed cuff. Pick up the stitches of the first round of the body of the mitt with a different yarn. Ensure that you're working so that the right side is to the outside, and the knitting grows up over the cuff.
Knit this tube until it's about 2cm longer than the ribbed cuff, and cast off loosely. Whip stitch the cast-off edge to the inside of the ribbed cuff.
This fancy cuff can be made out of any yarn you please -- if that furry novelty yarn matches your coat perfectly, use it for the cuffs and make the actual mitts in a nice warm wool.
For the set in the picture, the body of the mitts is in Rowan Big Wool, and the cuff is Filatura di Crosa Hopla.
Pattern stitches
Combinations of knit and purl stitches on a stockinette stitch background create textural interest. Rounds in reverse stockinette stitch (that is, purl) provide a striping effect against a stockinette stitch background. Try a single round of purl every 5 or 10 knit rounds for stripes.
Cable patterns can be very effective, although they're best used sparingly or in simple repeats. Check your favourite knitting stitch book for ideas. Be inspired by other knitted garments. As with socks, I particularly recommend traditional gansey patterns -- they're designed specifically for knitting in the round.
Color work
Horizontal stripes are easy -- make them as wide or as narrow as you'd like. Try irregular stripe widths for a bit of visual variety, or to use up yarn leftovers.
Vertical stripes are just about as simple, and provide the wonderful side effect of lining the mittens with an extra layer of yarn for thickness and warmth. To create vertical stripes in stockinette stitch, simply work with two different colored yarns and alternate the yarns for every other stitch.
To create vertical stripes in ribbing, cast on using two different yarns at the same time, alternating yarns. Then work k1 p1 ribbing, alternating the yarns in same order as the cast on. You'll get the "up" ribs in one color, and the "down" ribs in the other.
Fair Isle -- Mitts lend themselves very well to this type of color work; that is, using two or more colors at the same time across the entire row. Fair Isle typically features small, repeating motifs or patterns across the row. Vertical stripes are the simplest possible form of Fair-Isle color work. All Fair Isle knitting has an extra layer of yarn on the wrong side (the strands), creating a warmer mitt.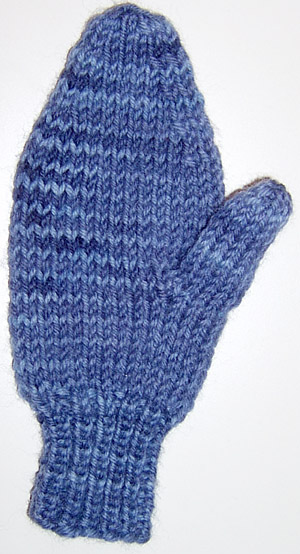 Self-patterning Yarns
Although most of these are sock weight (which will produce elegant but not particularly warm mittens) some manufacturers are making heavier self-patterning yarns. This is the easiest kind of colour work.
Good old variegated yarns are the simplest form of a self-patterning yarn, and these can add some nice visual texture, as shown in the photo at right.
More Resources
Books
Lots exist -- here are a few of my favourites.
Knit Mittens!, Robin Hansen, Storey Publishing, 2002
Folk Mittens, Marcia Lewandowski, Interweave Press, 1997
Vogue Knitting, Pantheon Books
Vogue Knitting Accessorize: Scarves, Hats, Ponchos, Socks & Mittens, Trisha Malcolm, Sixth&Spring 2004
Vogue Knitting On the Go! Mittens and Gloves, Sterling Publishing, 2000
Online
Mitten knitting inspires less fervour than sock knitting, but there are still great resources available online.
Knitty has a few:
Manly Mitts
Broad street
Flappers
Woolworks has a variety of patterns for cold-weather wear, including some great variations on the mitten theme
Many yarn manufacturers have free mitten patterns on their sites. Check out your favorite and see what they've got.