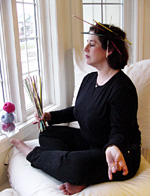 photo:
Lisanne & Bryce Thomas


A hard season
This has been a hard season. Our baby girl [if you can call an 11-year-old rabbit a baby, and we did] died in August. Those of you who love your pets as children will understand how empty our home feels now.
The world is a mess. Between wars and what seems like a chain of endless natural disasters, I'm scared to turn on the news. So I don't. Besides, we're all quite well connected on this here Internet, and -- thank heaven -- people at the grassroots level seem to be working pretty hard to take care of those who need it.
So something to do with your hands, then. We've got some knitting for you.

This issue, to celebrate our third anniversary, we introduce a little spinning in with your regularly scheduled fiber fix. We're calling this part of our magazine Knittyspin™, and we plan to expand it over the coming issues. More and more of our readers spin and many more want to. I'm one of them.
If spinning doesn't turn your wheel, however, never fear. The rest of Knitty as you know it will continue. We just like adding new stuff.
We're very pleased, starting this issue, to welcome a new columnist -- David Demchuk. David is a Toronto knitter with a way cool day job, and we're honored that he's agreed to write for us. We hope you enjoy his unique perspective.
In more local news, I've been a fan of Toronto illlustrator Tania Howells' charming work for a long time. We're very proud to welcome her as our first guest designer at the Knitty store. Her design, available exclusively at our shop, is characteristic of her whimsical style and we hope you'll like it as much as we do.
The header graphic for this issue was shot on location at Brooklyn General, in Brooklyn, NY. This is one amazing store full of everything I love -- yarn, vintage fabric and amazing vintage everything else. Stop by and bring your wallet.

Okay, so you want to know who won the contests? Visit our contests page for the scoop.
If you haven't already, sign up for the Knitty reader list, and we'll drop you a note when it's time to announce the winners! The list is never shared with anyone and we only send out a few messages a year.
Take care of each other and be safe, everyone.