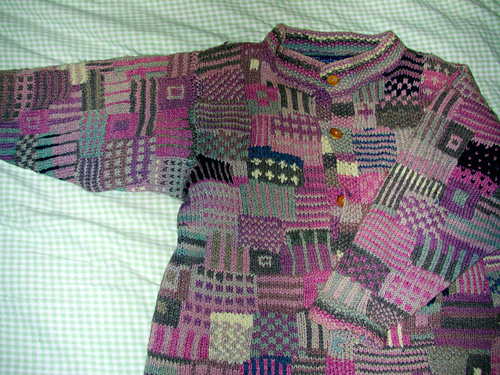 The definition of a before picture.
In the early 1990s, I was a knitting teenager. I chose to express my youthful rebellion by creating bold sweaters without following a pattern.
These were heady times for fashion in general: shoulder pads and bat-wing sleeves had only recently left the runway, and fluorescent pink was the new black.
My pattern-free habit may in part have been due to hard-headedness, but I suspect it was also due to the influence of the works of Elizabeth Zimmermann (who was essentially saying "just do it") and Kaffe Fassett (saying "yes, just do it, but do it with about 32 different colors while you're at it.")
And so it was that I found myself creating a one-of-a-kind cardigan made of more than a dozen shades of blue, purple and grey from Woolly Harvest (who are still producing beautiful yarns today, from their home base in Evansville on Manitoulin Island, Ontario). I placed all the colors in a big basket in front of me and went nuts, randomly cutting lengths of yarn to be used in intarsia-bound patches of all shapes and sizes.
The finished sweater had vivid colors, and gave me that je ne sais quoi that comes from sporting handmade work.
It also had dreadfully ill-shapen sleeves and shoulders, poorly matched buttons, and was large enough to wear a knapsack underneath (front or back) without impacting the silhouette. The trend back then was baggy, but this was more bag-lady.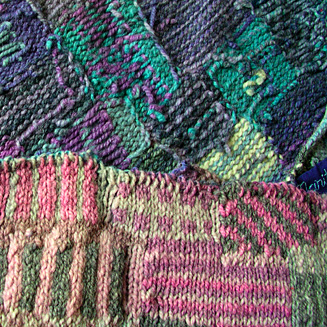 Although I did wear it once in a while, some time in the mid 1990s, my best friend Jenny asked to borrow it, and I didn't really argue when it didn't come back for a long, long time.
The next time I saw the sweater, things had gone from bad to worse. Jenny, who is always freezing cold, had been wearing it daily while training racehorses in Florida. The sun had faded the colors dramatically, and farm life had left it badly soiled and with a couple broken buttons.
And now after 15 years and many miles, it had come back to me like the prodigal son.
In the meantime, I had learned to weave, spin, crochet and felt, and I had designed many sweaters and other garments which actually fit. I couldn't wear this sweater in public and deal with the "Did you make that?" comments anymore. Yet leaving all those thousands of neatly tacked down ends to fester in the closet hoping for a moth infestation didn't seem right either.
And so I did what any reasonable textile creator would do: I took it apart, felted it, tailored the pieces, and put it back together.
Some disassembly required
To take apart a well-worn wool sweater, some care and thinking is required. The sweater was made of two front panels, a back and two sleeves. These parts were whip-stitched together and then the collar was knit up. To undo effectively, I had to undo it in reverse order. Here are the steps I took.
Unravel collar. The cast off edge was worn away so I had to find the first stitch where the yarn had integrity and gently undo from there.
Set aside collar yarn. I changed color 5 times over the collar, so I had several short lengths of different colors, and the yarns were so faded that they looked like they were space-dyed at 1/2" intervals (the faded part being where the stitch was exposed, the original color persisting where the yarn stayed between stitches or at the back of the work). I made mini-skeins tied with loose figure-8 chokes and put them aside for washing separately by hand.
Unstitch all seams. This took some serious focus to make sure I was unpicking the seam yarn and not part of the sweater itself, since it was before I learned how to sew seams with a crochet hook, making that nice one-tug-removes-all situation. Again, I skeined and set aside the seam yarns.
Remove buttons. I put them aside and hoped never to need them again.
Felt sweater pieces. For this stage I washed all the sweater pieces (not the mini-skeins -- too likely to felt into tangled balls) in a hot, full-agitation cycle in the washing machine with plenty of soap (I used dish soap -- it's just so handy and lathers well). I turned the machine back to the agitating part of the cycle 6 times, occasionally spinning it out and refilling with more hot water and adding more soap.
Check often during felting. My goal was to felt the pieces so completely that I could cut them up and not worry about the edges coming undone. Possibly because the wool was quite tired, it took a lot of heat, soap and agitation, but finally the felting process progressed. Occasionally I pulled the pieces out of the wash and rinsed them under hot water to assess. When I saw a real blurring of the pattern and stitch definition, I decided they were felted enough.
Throw in dryer. I wanted to put the pieces through their paces before reassembly, so there wouldn't be any remaining sections that could protest later by doing something annoying like shrinking. I threw all the pieces in the dryer till they were nearly dry (the remaining moisture is handy for the ironing process: built-in steam).
Tidy up. All this agitation created two effects that needed to be dealt with before proceeding: there were huge chunks of lint clinging to the pieces, that were very easy to remove in handfuls; and several of the intarsia joins in the pattern came apart and left holes. I repaired these holes using a darning needle and the yarn that had worked itself loose. The pattern is so busy that no one will ever know where those repaired spots are, and as I mended I counted my luck stars that there weren't more weak spots, given how my knitting naivite at the time of original construction.
Iron. I pressed all pieces with warm iron directly on the wool fabric; I leaned the iron very firmly into the fabric, similar to a process in weaving referred to as wet-finishing, where the heat and pressure help to create a more finished fabric. (Note: this ironing technique will not work with all knitted fabrics -- test a small section first.)
Putting humpty together again
The pieces had shrunk on the whole about 15%, which served to tighten up the fabric, re-intensify the colors, and make a firmer, cushy feeling material. Since the refurbished piece was intended for me, I referenced several other garments that fit me well, including a suit jacket and another cardigan. I then trimmed the sweater pieces accordingly.
Most of the trimming occurred in the upper half of the sleeves, both in width (about 4" came off, 2" per sleeve edge) and in shaping (I cut them to curve into a set-in sleeve style). I also trimmed the body pieces to create a more flared shape, measuring 21" across the bust and 24" across the waist band.
The reassembly and finishing steps are as follows:
Re-stitch. Using a sewing machine set at medium stitch length and using grey thread, I machine-stitched the pieces back together.
Re-knit neckline. After vigorously hand-washing the mini-skeins to match the felted look of the main sweater parts, I re-picked up the neck stitches and re-created the seed-stitch collar.
Re-inforce sleeve cuffs. Both sleeve cuffs were worn to the point where the cast-on edge was mostly gone, and live stitches were just drifting sadly along the edge. Using yarn from the mini-skeins, I crocheted a re-inforcing single crochet edge.
Make new buttons. I tried out several other button ideas, but I finally settled on ones that appear to be of the sweater as opposed to adding more noise to the busy pattern. I had just enough yarn in the mini-skeins (since I machine stitched the pieces back together, the original seam yarns remained) to crochet six buttons.
Re-press. Again with a warm iron and light steam I re-pressed the sweater firmly to set the seams in place and give the garment an extra smooth finish.
The insurmountable splooch
After all this hard work, there was still one stain on the front that didn't disappear in all the suds and which really was apparent, even to the non-knitting eye (based on several rounds of informal polling). This stain came to be known as the "splooch", and I feared that although I had eliminated most of the reasons to spare the sweater from a mothy death, there was still one insurmountable issue that kept the piece from public viewing.
And then I remembered needle-felting.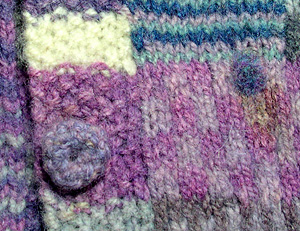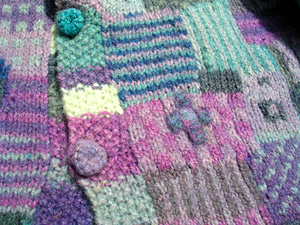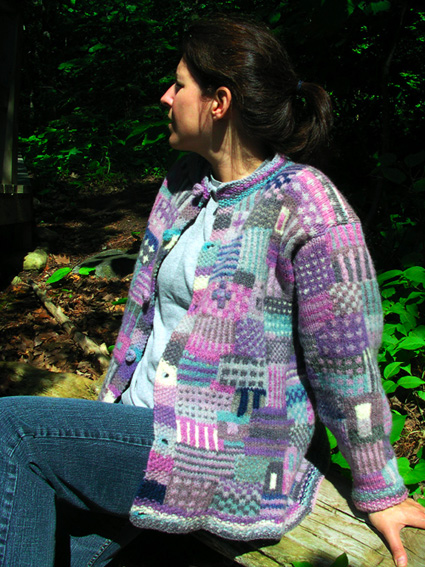 Using my hand-cards, I blended primary colors of Corriedale wool roving to create a color that complemented the patch where the splooch lived. I needlefelted small bits of this colored fleece over top of the stain in a way that matched the little section. While this place now has a slight 3-D texture that the rest of the sweater doesn't, at a glance it fits in with the mess of motifs and my informal polling confirms that no one is the wiser.
More lives to live?
I still haven't told my best friend Jenny that the sweater has been rebuilt. She's now studying tree rings in old growth forests and I fear what her lumberjack lifestyle might mean for the refurbished garment.
Then again, maybe in its next life the sweater will be refurbished into a foot-stool cover. And then perhaps into matching pin cushions.