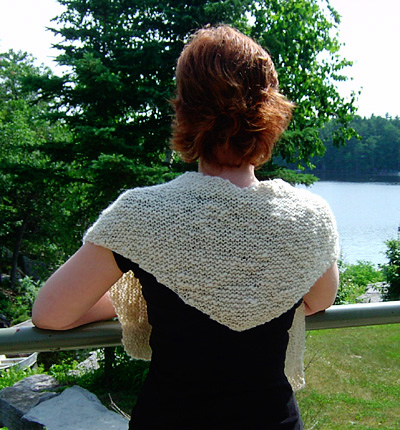 Lower Point
CO 3 sts.
Row 1: Kfb, k1, kfb. 5 sts.
Row 2: Kfb, k to last st, kfb. 2 sts increased.
Repeat Row 2, 73 times more. 153 sts.
Next Row: Kfb, k74, k2tog, k to last st, kfb. 154 sts.
Next Row: K75, k2tog; place rem 77 sts on hold on spare needle. 76 sts on working needle.
First Wing
Row 1: BO 1 st, k to end.
Row 2: K to last 2 sts, k2tog.
Repeat these 2 rows 36 times more, then work Row 1 once more. 1 st rem.
Break yarn, draw through rem st and pull tight.
Second Wing
Replace held sts on working needle and rejoin yarn at center of work (dividing point between wings).
Work as for First Wing.