I'm not a new knitter, by any stretch of the imagination, and I'm not uninformed about fibers -- I know superwash merino from hand-dyed cashmere. And I do understand that wool comes from sheep (and other assorted farm animals). But it's amazing how much more there is to it all.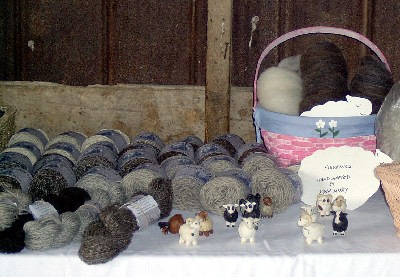 At Toronto's Downtown Knit Collective Spring Fling this year, I discovered the Real Shetland line of wool products. I fell in love straight away: they offer a selection of yarns in two weights -- a light worsted/DK, and a fingering weight -- all in natural sheep colors. Undyed, only lightly processed, soft and really beautiful.
For me, the most remarkable thing was the colors -- not just creams and blacks, but warm browns and soft greys and a delicious shade of chocolate.
Real Shetland comes from John and Lynn McKay's Woolly Acres farm, north of Kingston, in eastern Ontario. They raise two flocks of sheep -- Dorpers for meat and Shetlands for wool. This is their very first year selling their wool products. Their line includes products from Michelle and Gil Minty's Hopeful Shetlands farm in western Ontario.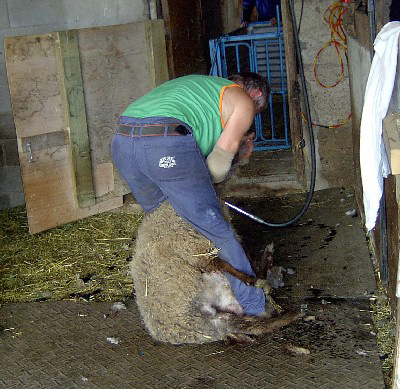 I went out to Woolly Acres in May to attend their Sheep Shearing Party. A local chapter of 4-H had set up a barbeque, and were selling hot dogs, cold drinks and home-made butter tarts to raise funds for a trip to visit another farm a few hours away. More than a hundred people came by over the course of the morning -- to watch the shearing, to visit the family, to buy fleeces and wool, and just to be sociable.
When we arrived, the sheep for shearing were lined up in a pen in a barn, waiting. A group of spinners were lined up in the open area of the barn, waiting perhaps a little less patiently.
It doesn't take long to shear a sheep. Once secured by the shearer, the sheep becomes completely docile. From the lay perspective, it's a big hairy lump submitting to a rather extreme haircut.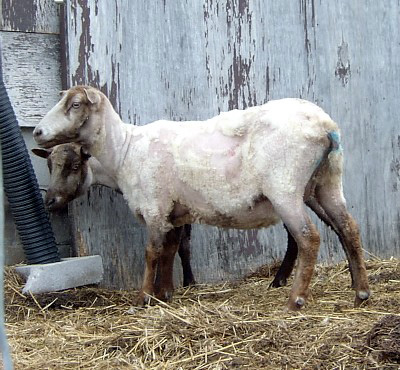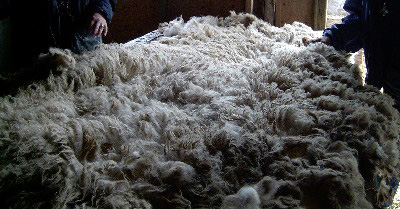 The result of that haircut is magical, though.
The poor sheep wanders off, looking rather dazed and chilly.
The fleece itself is laid out in a single piece.
The spinners fall upon it, examining it closely. Lock structure is important -- that is, the shape and texture of the "curls". Like a hairstylist, you want even and well-defined curls.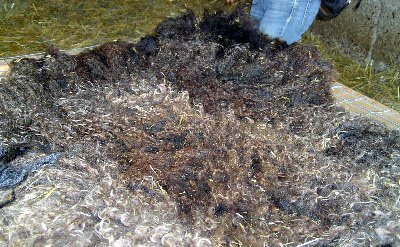 I met Molly Wolf, editor of the KnitLit series, as she was examining a fleece. Spinners like Molly attend these events with great pleasure. Absolutely, you can buy roving at your local yarn store, but the purest spinning experience is to buy a whole fleece and take it through the entire process yourself, from washing to spinning to knitting to wearing.
Just to get to a roving from a fleece requires a multitude of steps, and as with any group of experts gathered together, tips were exchanged. ("In the washing machine?" "Well, of course, on the delicate cycle.") First step is to pick off all the vegetable matter -- that is, bits of grass and hay. Next, the fleece much be carefully washed. From there, the fleece is carded -- that is, carefully brushed to align and even out the fibers. The carded fibers are then ready for spinning.
Fleeces were available for sale, each marked with key information like the type, age and color of the sheep -- and also its name. There aren't many sheep producers in Ontario, and those in the business do it for love.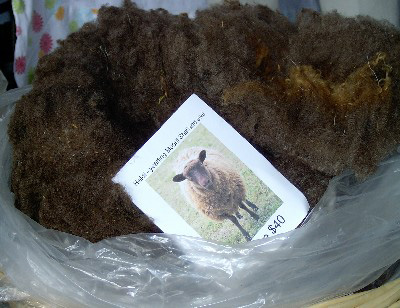 Fleeces not sold to spinners are sent off to a depot to be processed into rovings and yarns, which are sold under the name Real Shetland.
The farm also has two llamas and an alpaca, as guard animals. They live peaceably with their flock, becoming aggressive and territorial only when strange animals stray too close. The llama and alpaca fibers are sold, too, as fleeces and in rovings, blended with Shetland.
Real Shetland products were a revelation to me. Not only are they beautiful, but they're an absolute pleasure to work with. The colors are rich and complex. They have much more lanolin still intact than the majority of commercially produced yarns, which keeps the fibers soft and moisturizes your hands as you handle it. Even the scent is subtle and somehow soothing.
As a knitter, it's easy to forget about where fibers come from. Even a dedicated spinner may never work with anything other than a bag of prepared roving from her local yarn store.
Not everyone is up to the challenge of preparing a fleece. For the rest of us, Real Shetland yarns and rovings are a tremendous way to get closer to the source.
For more information on the farm, and to buy wool products, visit www.woollyacresfarm.com.

Denny's tips for working with Shetland fleeces
Shetland fleeces are small. Keep that in mind when picking a project. Their modest size makes them a terrific place to start if you want to tackle the full DIY fleece prep experience.
In Denny's words: "Better to deal with just a few pounds of farm smell, than... oh, let's say 10 POUNDS OF FARM STINK. Don't ask me how I know; I live in denial."
Some Shetlands sport a double coat -- that is, there are long hairy bits as well as shorter downy bits. This can be handled one of two ways. You can comb out the fiber on wool combs. Slowly. Carefully. Or just send the thing off to a wool mill and get them to deal with the hairy bits. (This is what the farmers do.) After all, you only want to work with the nice soft downy bits. Of course, if you aren't bothered with the hairy bits, leave them in. It will make for a rougher yarn, but really terrific felt.
Much like Denny herself, Shetland fleeces may be small, but that doesn't mean they're easy.