Good help is hard to find.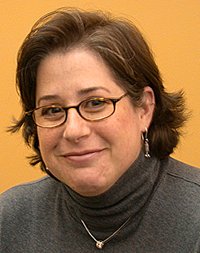 Not for Knitty, though. Thankfully, we've been fortunate, right from the start, to work with the best, the nicest and the most talented.
Since before we were born, Kristi Porter was our technical editor. And it was good. But then we started taking advertising last issue, and when it went well -- very well, in fact -- and I knew it was time to put someone in charge of filling our ad space. Kristi is that someone. As anyone who has dealt with her knows, she's organized, professional and personable. The perfect combination for Knitty's Advertising Manager.
However, that left us with a little problem...we needed a new Technical Editor! This is not an easy position to fill, but turns out I had the perfect candidate right down the street [literally]. Kate Watson -- designer of such Knitty favorites as Top Secret, Cheesylove and Anticipation -- has a natural skill for visualizing every aspect of a pattern and making sure it all works.
And the final, happy piece of this puzzle is that all our staff are now being paid. The designers, too. All thanks to the revenue generated by our advertisers. Your patronage of Knitty advertisers makes their investment worthwhile.
So shop with Knitty's advertisers, and feel good knowing you're helping us to continue to compensate our designers, writers and staff for their Knitty best.

Last issue, I mentioned some happy news. I seem to have written a knitting book! Me and 23 fabulous designers, 2 great technical editors and a kickass illustrator.
The book is called Knit Wit and it will be published by HarperCollins this October.
As you'd expect with that title, the book is full of patterns with a little fun in them. A twist where possible. Some of the patterns were pulled from Knitty's pages, and updated with new styling or sizing if possible. The rest are brand new, some from Knitty designers and some from designers you've not yet met. You'll love them.

One of the best features of the book, aside from the illustrations by Erica Mulherin and the great, knittable patterns, is the format. This is a spiral-bound book, easel-style. So you can leave it sitting open in front of you as you work. I love that.

There's an instructional section at the beginning of the book for those who've forgotten how to knit or need to learn, but that's not really the focus of the book. It's all about the patterns. And get this...they've already listed the book on Amazon.com for pre-ordering.
Life, she is good.

[KER$ Exp++ SPM++ Den+++ Cas+ Bam+ !Boye Cot+++ Hemp+ Nov+ !Wool Stash(-+) Scale++ Fin(+) !Ent !FI !Int !Felt Flat++ Circ+ DPN5 Swatch++ KIP+++ Blog++ SNB++ EZ+ FO10+ WIP3 GaugeW++ ALTQ]