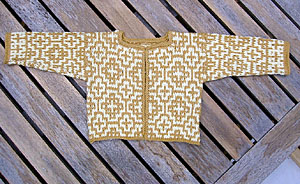 If you've stuck to knitting in single colors, or maybe just ventured into stripes, here's some good news: You can achieve what appear to be complicated color patterns while using only one yarn at a time! Many knitters suffer from fear of Fair Isle because they are loathe to carry two colors at once. It seems complicated and unwieldy. If you're ready for a little more adventurous use of color and pattern, why not try mosaic knitting? Using a simple slip-stitch technique, you can create bands and borders in pattern, or even a whole sweater, and you won't ever have to carry a second yarn along!
Color slip-stitch knitting has been around for a long time, but it was brought into the spotlight for a time by Barbara Walker who dubbed the style "mosaic knitting" in the late '60s. Hundreds of mosaic patterns appear in Walker's books. More recently, Roxana Bartlett has taken a new look at this approach to color patterning. If you become smitten with this technique after trying it, you can find more information and patterns in their books. [See "Recommended Reading" below.]
The technique of two-color slip-stitch knitting is really quite simple: If you can knit simple stripes and slip a stitch, you have all the skills you need. Mosaic knitting simply involves slipping the stitches in a row that should be the "other" color. If you are knitting the dark color, you slip the light; if you are knitting the light color, you slip the dark.
Aside from the allure of color patterning using just one yarn at a time, slip-stitching has other advantages over other multicolor techniques: Mosaic knitting works well either flat or in the round which gives it more flexibility than intarsia or Fair Isle techniques. It also doesn't leave as many floats as Fair Isle knitting, so the fabric is not as heavy and not as much yarn is used.
There are a few limitations to the technique. Because stitches are slipped, there's a limit to how many stitches of the "wrong" color you can work consecutively -- two or three, depending on who you talk to. This tends to give the patterns created a geometric look, which may have reminded Barbara Walker of tile mosaics. Also, the slipped stitches make the fabric a little less than smooth, but blocking will usually take care of this. For this reason, yarns with a little more "give" tend to work better, though the toddler sweater above is knit in pure cotton. If you knit very tightly, you may want to go up a needle size so that your stitches can be slipped two rows without puckering.
I find slip-stitch knitting to be a great introduction to color patterning. There are bits of "Pay attention; read the chart!" combined with the auto-pilot knitting of every other row. And once you get the feel of a certain motif, you will be able to see it in your knitting without the chart.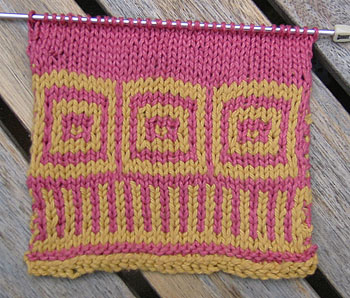 READING the chart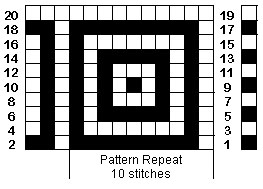 Usually mosaic patterns are charted; most are not very large [maybe 20 stitches wide], but there is really no limit. The charts usually have a color bar on the right side indicating which color is being worked for each row. The chart has the rows numbered, odd numbered rows on the right, even numbered rows on the left. The second row worked in a color is always worked exactly the same as the first: if a stitch was knitted in the odd row, it is worked in the even row; if a stitch was slipped in the odd row, it is slipped again.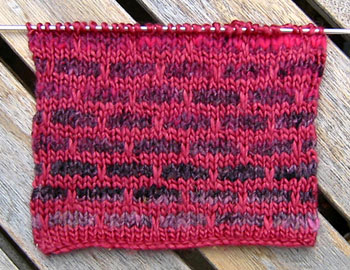 Sometimes, particularly for simpler motifs such as the brick pattern at right, directions are written out like standard knitting patterns.
MC: CO a multiple of 6 sts -1.
Row 1: Knit.
Row 2: Purl.
Row 3: CC: *K5, sl1* end k5.
Row 4: *P5, sl1* end p5
Repeat these 4 rows as until desired length is reached.

Getting started
After choosing a mosaic pattern [or patterns] you like, you can easily map it on to any garment. While you want to repeat the entire motif to see the whole pattern, you need not necessarily have a number of stitches that is an exact mulitple of the number of stitches in the motif. You may cut a motif off in the middle without making a mess. With any project, you will want to work the selvedge stitches in the row's color. Never slip the selvedge stitch. This will keep your pieces smooth and easy to join together.
After casting on, work two rows in the first color [say, the lighter color], then attach the second color, leaving the first hanging. With the darker yarn, the light-colored stitches shown on the chart are slipped and the darker stitches are worked. Always slip stitches as if to purl; that is, insert the needle from right to left, and carry the yarn on the wrong side of the work. After you have knit your second row with the darker color, switch back to the light. You will always work two rows in each color and the two rows are the same: a stitch never changes its color in the second row. Continue working your way up the chart until you complete the motif.
After you have finished with one motif, you may repeat it again, either the same way, or by trading light and dark colors; switch to a second motif, or carry on with plain knitting. A mosaic border on cuffs and hem will add punch to an otherwise plain sweater, or try working a stripe of a larger motif across the chest of a sweater. And though I have described these techniques as two-color, that is certainly not the limit of this technique. You can keep one color constant and alternate the second. Or try one plain yarn and one variegated yarn. Using a plain colored yarn and one space-dyed yarn can yield very impressive multicolor results - all just one strand at a time.
Bartlett, Roxana. Slip-Stitch Knitting. Interweave Press, 1998.
Walker, Barbara. Charted Knitting Designs. Charles Scribner & Sons, 1972.
Walker, Barbara. Mosaic Knitting. Encore Editions, 1976.
Walker, Barbara. A Second Treasury of Knitting Patterns. Charles Scribner & Sons, 1970.