Sweaters from Camp:
38 Color-Patterned Designs from Meg Swansen's Knitting Campers
[book production team: Amy Detjen, Meg Swansen, Joyce Williams]
226 pages, hc, 158 photographs, 126 charts, $39.00 US.
Sometimes the hardest part of trying something new is knowing where to start. Last year, I decided to knit my first traditional Fair Isle (a teddy-bear sweater), so I armed myself with a considerable arsenal of books, magazines, and web-links to help me understand how these garments are constructed. It seemed to me a daunting prospect: those tiny stitches, those steeks, the two-color, two-handed knitting.


The books on Fair Isle knitting that I'd acquired, Alice Starmore's Fair Isle Knitting and Ann Feitelson's The Art of Fair Isle Knitting, gave a detailed history of the Shetland Islands and the traditional knitting techniques that evolved there, along with instructions for knitting and designing Fair Isles and some patterns to try. I found websites that provided good tips that experienced knitters were generous enough to share. "Wouldn't it be great, though," I thought, "if there were a book that provided clear-cut directions AND tips by experienced knitters AND a large and varied selection of patterns?" Sweaters from Camp, published last year by Meg Swansen's Schoolhouse Press, fits the bill perfectly.
Past and present attendees at Swansen's annual "knitting camp" were challenged to a contest: Design an all-over patterned garment using Shetland Jumper-Weight Wool, never using more than two colors per row.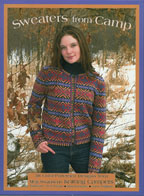 Sweaters from Camp is the result of that contest. The book includes the patterns for the winning entries, as well as a comprehensive techniques section that tells you everything you need to know to successfully knit a Fair Isle garment. The detailed guidelines that were given for the contest are also included, and these garment construction outlines provide a perfect starting point for anyone wishing to design their own Fair Isle garment.
The instructions in the techniques section are based on experience, rather than solely on tradition. For instance, when addressing the common question of which hands to use for foreground and background colors in two-handed knitting, Swansen advises that there is not, in fact, one correct way to do it; results can vary depending on the knitter's tension in each hand, etc. The techniques section also includes previously unpublished practical knitting tips that the campers contributed.
Wisely, Swansen has not devoted chapters to the history of Fair Isle knitting - as that has already been covered comprehensively in both Starmore's and Feitelson's books, among others. Instead, the bulk of the book is comprised of the 38 winning patterns (13 vests, 9 pullovers, 9 cardigans including a twin set, 6 small things).
The garments vary in style, size and color choices, and refreshingly, real people model them. There are some lovely traditional sweaters, and there are others that are brilliantly innovative in both construction and design, where the designers went beyond the guidelines to use top-down or side-to-side construction, or short-row shaping. As amazingly complex as some of these patterns look, they all adhere to the Fair Isle rule of no more than two colors per row.
The charts were also a collaborative effort. Different methods of charting were combined into a system used in the book that clearly depicts the motifs in black and white, while listing the colors used beside each row.
I found that the book's only weakness is its production. The photographs, while quite lovely, sometimes did not print well. Some of them are muddied, with colors bleeding together and obscuring the details of the patterning on the garment. However, whatever glossy perfection may be lacking is more than made up for by the quality and quantity of the contents.
I am still a novice at traditional Fair Isle knitting, and to me this book is manna from heaven. But my friends who are old hands at Fair Isles tell me that this book has become a favorite of theirs as well. Meg Swansen's mother, the late Elizabeth Zimmermann, is famous for showing knitters that nothing is beyond their reach - including designing one's own garments. Sweaters From Camp exemplifies that philosophy, and it's a great addition to any knitter's library.