Sizing
Babies grow very fast. In fact, their mission in life for the first four to six months is to double their weight. If you want to make a sweater that will be worn for more than a few weeks, knit the 6 to 12 month size. Babies can wear the sweater when they are smaller with the sleeves rolled up.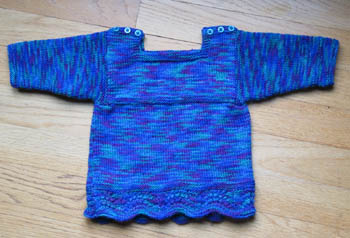 In determining what size sweater to make, take into account when the baby will be born. Knitting a sweater in a 6 to 12 month size for a baby born in spring or summer works well. If the baby is born in late fall or winter, consider making a larger size (12 to 18 months) so that she/he has something beautiful to wear the following year. Usually parents get bombarded with newborn clothes at baby showers and immediately after the birth. It is nice to have something to look forward to after those first garments are outgrown.
A baby's proportions are very different from that of an adult and an older child. They have large heads. Also, they often do not like being changed. So use a design that allows for easy on and off. Cardigans are an obvious choice. Or look for pullover designs that have a button closure along one or both of the shoulder seams. An example of this type of sweater can be seen above.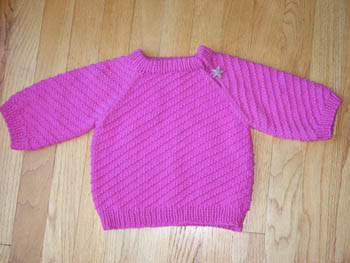 Another option is to create a button closure along a raglan seam so that there's large opening for baby's head. On the right, see an example of this style.
Color of yarn
Many parents/parents-to-be know the sex of their baby before the birth. This makes color selection easier. But it doesn't mean that your colors should be limited to pastel blue or pink. There are many wonderful colors available. Babies look especially beautiful in deep jewel tones. If the parents don't know the sex of their baby, consider using a deep red or teal green colored yarn. There are shades of blue that work just as well for both sexes.

Alternatives to sweaters
There are many items other than sweaters to knit for babies. If you want a larger scale project, consider making a blanket. It is helpful to have multiple blankets: one for the car, another for a stroller, or a back-up when one is in the wash.
Another item I enjoy making is booties. It's a great way to use up leftover sock yarn. Babies can have very wiggly feet, so look for designs with a ribbed cuff or an i-cord (or similar) closure so they stay put. Keep in mind that booties and socks for babies are best made for pre-walkers. An infant in booties who is pulling up to a stand, cruising (moving while holding on to hands or furniture) and walking could slip.
Hats are another fun item to make. Many knitters have made the fruit caps but there are many others to try. Make sure the yarn is soft. Baby foreheads can be especially sensitive to wool. Newborns tend not to have much in the way of necks, so I usually avoid designs with a below-the-chin closure. On the other hand, with older infants (9-12 months), having a below-the-chin strap will ensure that the hat stays on.

Knitting for a baby who has a parent who knits
Some knitters, especially new ones, fret about knitting for a baby of a parent who knits. Don't let this hold you back. A parent who knits will understand and appreciate the work that you put into making a gift. Don't worry about making something to wow the parents. There are many beautiful, simple, and practical designs available today. You will be giving a gift that will be used again and again and treasured.