Change is good.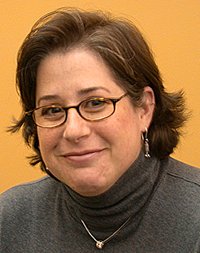 Knitty might look a little different to you this time around.
There have been a lot of changes this issue, but the biggest one is that we now are welcoming advertisers to our pages. We love these people, because they sell the things we crave. And now you can find Knitty-friendly retailers with a simple click.
Our advertisers are making good things happen for Knitty: stability, growth and -- the most important reason we made this change -- the ability to pay our contributors for their insanely good work. They deserve it. This issue is the first step towards making that happen.
So please, support our advertisers. Many of them are personally known to Knitty staff, and all of them value you and welcome your business.
There have been a few other changes around here, too. We're very proud to welcome two new columnists beginning this issue: Jenna Wilson and Amy Swenson.
You know Amy very well from her fabulous designs in previous issues, but you might not know that she's rather the expert on travelling with her knitting. And she's going to share what she's learned with all of us.
Jenna Wilson is a skilled designer with a terrifying grasp of the technical side of pattern construction. She's also a fine writer. We're very lucky to have her here to teach us some of what she knows.
We've had to say goodbye to the gallery [we're sorry, but we just couldn't keep up with all your photos!], but we have added a very new message board and the world's smallest shopping mall. Have fun and explore it all!
Knitty has grown so much since we started out on a whim and a prayer, and we have to thank everyone in the grey box up there, and as always, especially Kristi Porter. She's been there since the beginning, and she keeps it all straight for me. Three snaps for Kristi!
And a CWSABT salute to Jillian Moreno who constantly challenges me to think bigger. She knows how much I love her.
When this issue goes live, we will celebrate our 5 millionth page view. Word of mouth is a powerful thing. Spread the word. Tell your friends, your guild, your LYS about Knitty.
And thank you.