Make a Swatch
I keep hearing about knitters who, anxious to get started, immediately cast on for their garment and then start measuring about 3 inches into it to see if they've achieved gauge. Horror of horrors! If you're going to spend the time it takes knitting a sweater, you should hold off on the instant gratification and spend a day or two making a gauge swatch.
That's right, I said a day or two. It's little enough time to spend if you really want your end product to come out right. And you do get to work with that new, fabulous yarn right away, even if you're itching to begin the first piece. So let's get started at the real beginning of any knitted garment.
First off, always buy an extra ball for swatching. It's worth the investment and if you run out of yarn for whatever reason, it's insurance. You can certainly knit up a swatch and then rip it out if you need the yarn but doesn't it make more sense to spend a few dollars more and have a swatch you can keep for reference?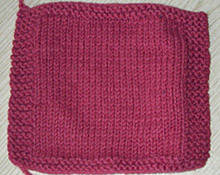 There are a number of ways to make a swatch. This is my tried-and-true method and I pass it on happily. My flat-knit swatch consists of 4 rows of garter stitch, the stitch pattern called for, keeping the first and last 4 stitches in garter stitch, and then ending with 4 rows of garter stitch. This will frame the area to be measured and eliminate any curling, if curling edges are a possibility. The number of cast-on stitches depends upon a couple of key factors: the weight of the yarn and if the stitch pattern draws in the fabric either vertically or horizontally - cables or slip stitches, for example. You should add at least 10% more stitches or rows to your swatch if the stitch pattern pulls in either direction. See the table below for yarn weight and suggested minimum number of stitches to cast on and rows to work.
| | | | | |
| --- | --- | --- | --- | --- |
| Yarn Weight | Min. Number of Pattern Stitches | Garter Stitches for edge borders | Total Number for Cast On | Min. Number of Rows incl. 4 rows garter at beg and end |
| Fingering | 28 | 4+4 | 36 | 48 |
| DK | 24 | 4+4 | 32 | 44 |
| Sport | 20 | 4+4 | 28 | 40 |
| Worsted | 16 | 4+4 | 24 | 36 |
| Bulky | 12 | 4+4 | 20 | 32 |
| Super Bulky | 10 | 2+2 | 14 | 24 |
As you can see, the figures for the cast-on and the number of rows to knit are based roughly on what the yarn weight in question generally yields for a standard gauge and really represent the bare minimum numbers you will need for an accurate measurement. Remember, the bigger the swatch, the more accurate your gauge will be, so don't hesitate to make it as large as you can. Of course, if you are working a flat swatch in a stitch pattern, you'll want to make sure you include at least 3 patterns repeats AND any additional stitches included at the end of the row.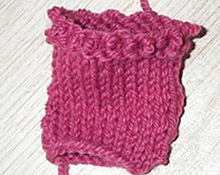 Now you're asking, "What if I'm knitting in the round? How do I handle the swatch?" You can adapt the flat-knit swatch numbers above for a circular swatch by eliminating the garter stitch edges and knitting the bottom and top edges in garter stitch (that's knit one round, purl one round). OR in the case of Fair Isle, you may want to knit a flat swatch across, eliminate the entire garter border, and then begin the next pattern row and all subsequent rows with the right side facing you, either cutting all colors at the end of the rows or making long strands in the back of the swatch. [Sweaters From Camp, by Meg Swansen, Amy Detjen and Joyce Williams, has the best explanation of Fair Isle swatching that I have ever read.] Whatever method you use, make sure that you do a gauge swatch when you knit circularly - don't presume that the gauge you get when you knit flat normally will be identical to your gauge when you knit in the round, because you'll be wrong.
Wash and Block The Swatch
Yes, you heard me right! You're going to wash and block the swatch BEFORE you measure it, according to the fiber and stitch pattern requirements (see the last issue of Knitty for a great article on blocking). I feel your pain! But unless you know everything there is to know about how your fabric will behave, you're treading on thin ice. Some wools absolutely blossom once washed and blocked. A swatch of cotton, that notoriously stretchy fiber, should be washed and dried in the way the finished garment will be; you will get a more accurate gauge this way.
If you're using a yarn and/or a stitch pattern that may cause the finished garment to grow downwards, you may want to try this little trick to see how much the finished garment may lengthen. Once you've washed and blocked your swatch, measure its length and make a note of it (I'm sure everyone keeps detailed records of all their gauge swatches in a notebook or PDA or on their computer, right?). Then carefully pin it to a wire hanger and let it hang for two days. I often thread a double-pointed needle through the bottom of the swatch for a bit of weight. Then re-measure. This will give you an idea of what to expect after wearing your sweater/coat/what-have-you and you can adjust your pattern's directions for length to compensate for el droop-o grande.
Measure the Swatch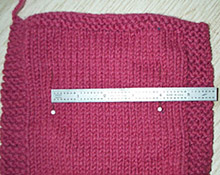 With a ruler (not a tape measure - tape measures stretch and do not give accurate measurements) and some straight pins, measure a width of either one inch or four inches, depending upon the directions you are using, making sure that you pick an area of the swatch away from the borders to avoid distortion. Insert the pins as shown in the photo at right. Write down your stitch gauge. And be brutally honest when measuring - no stretching, no finagling to try to get the gauge. Then measure again in two other places on the swatch. Average your three measurements for your final gauge. Note: If you prefer, you can run a piece of yarn in a contrasting color on the side of each end stitch - it's up to you. I find that there's less chance of distorting the knitting if I use pins. And you don't want to distort the knitting in any way if you wish to be accurate.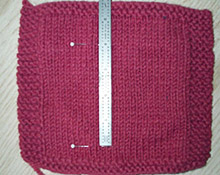 Repeat for the row gauge as shown in the photo at left.
Stitch gauge is almost always a mandatory measurement, with the exception of those knitted items that will not be shaped to fit, such as afghans, scarves, washcloths and so on. Row gauge is absolutely critical if you are knitting any raglan garment or a fully-fashioned sleeve, if the pattern is Fair Isle, other colorwork, or certain Aran designs, where the charted design constitutes the entire garment piece and dictates the finished length. Always analyze your pattern to see if row gauge is critical to the finished garment or not. Most of the time row gauge will not matter too much but make sure you know when it does.
My Gauge is OFF!
What can you do? If your swatch measures too few stitches, you'll need to go down a needle size or so to get more stitches - and you'll need to reswatch and reblock. Yes, you will! Otherwise, how will you know if changing needles sizes will work? And this is exactly why you want to buy an extra ball/skein, for these moments of total exasperation. Of course, conversely, if your swatch measures too many stitches, you'll need to go up a needle size or two. After 35 years of serious knitting, I now know instinctively what needles I will need to use for a particular weight of yarn and stitch pattern. Nonetheless, I still swatch. Experience only allows me the ability to select the right size needles the first time, most of the time. But it doesn't excuse me from checking my gauge.
Don't rely on blocking to remedy your gauge problems. Blocking is not a universal panacea for gauge inaccuracy, especially if you are working with acrylics or an acrylic blend. While it's true that you can somewhat enlarge a small garment knit in natural fibers by blocking it out, often the blocking will not hold once the garment is washed again. Your only true guarantee is to knit to gauge to begin with.
Swatching When Designing
If you are interested in learning to design your own knitwear, you'll find that swatching becomes the most important part of the design process - not only must you determine the gauge to calculate your garment pieces but you'll need to experiment with your yarns and stitch patterns first. You may have a brilliant design concept in your head but only your swatch will tell you if your design will work in the yarn[s] and stitch patterns you have chosen. Most designers do a lot of swatching before they begin to knit up their designs.
Here's a prime example. When I started designing the Koigu Crusoe Socks for this issue of Knitty, I knew that I wanted to do a particular slip stitch pattern that had 2-stitch stranding and that I wanted to use a particular Koigu colorway. As I swatched, it was immediately obvious to me that the colorway I had chosen was wrong. The stranding simply didn't show up. However, I completed an entire swatch so that I could be totally sure. As a result of this swatch, I ended up choosing a much brighter colorway and the stranding stood out as I had intended.
Anything Else?
Don't forget to check your gauge after you've knit about 2-3 inches of your first garment piece and again about halfway through. It's not uncommon for knitting tension to change for a variety of reasons...you're tense, stressed out, tired, etc. If your gauge is off, switch needle size, frogging if needed back to where your gauge was correct. And relax! Knitting is fun!
As Mr. Seeger says, read the fine print. Most good knitting reference books have sections on gauge and swatching. Above all, commit yourself to taking the time needed to swatch, wash, block and measure. If you do, you will rarely be disappointed with your finished knitting.