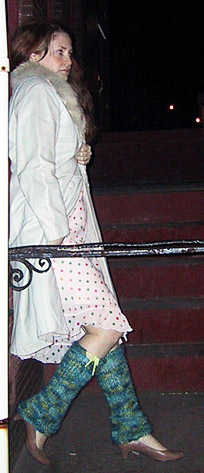 by Stefanie Japel



It's spring. It should be getting warmer any day now, right? Right.
While you are outside shivering in chiffon, waiting for that first butterfly to de-cocoon, you need to keep warm. The perfect solution is these legwarmers! Carry them with you - stick a pair in your backpack, or in your bottom desk drawer at the office. You will no longer have to let sudden temperature changes or gale-force winds get you down!
This pattern is a basic design that can be altered in a multitude of ways. Use smaller needles and a finer yarn, and work 2 or 3 inches of ribbing at the top if the yarn you choose is elastic enough - just keep the finished dimensions the same. Substitute elastic for the I-cord. Hem the bottoms or not. Add a pattern stitch, like cables or a lace panel, up the sides. Decorate with intarsia or a Fair Isle band. Make them thigh-high or ankle-length.
Experiment!

model: Stefanie Japel

photo: Nathan Japel
SIZE
adult S[M, L]
FINISHED MEASUREMENTS
Circumference: 10[12, 14] inches [stretchy]
Length: variable
MATERIALS

Cinnamon's Dye Pot [Brushed Mohair; ~250 yd per 4 oz skein] ; color: Enchanted Forest; 1 skein [all sizes]; or any glamorous yarn of the same weight. Use a finer yarn if a more open fabric is desired.

One skein sock yarn for I-cord


1 set US #15/10 mm straight needles


1 set US #11/8 mm straight needles


1 set US #2/2.75 mm double-point needles for I-cord drawstrings


darning needle
GAUGE
11 sts/12 rows = 4" in stockinette stitch
DIRECTIONS
Legwarmer [Make two]
Using #11 needles, CO 23[25, 27] sts.
Work 4 rows in St st.
Purl 5th row [RS] to make a purl ridge on right side of fabric.
Change to larger needles.
Work in St st for 7 rows, keeping knit side as RS.
Inc 1 st each side of 8th row -- 25[27, 29] sts total.
Continue straight for 7[9, 9] inches, ending with a WS row.
Next row [RS]: inc 7 sts evenly across. 32[34, 36] sts total.
Work 7 rows.
Next row [RS]: Inc 7 sts evenly across. 39[41, 43] stitches total.
Work straight to desired length ending with WS row.
Newt row [RS]: P across.
Work 4 rows in St st, keeping the knit side as the right side.
FINISHING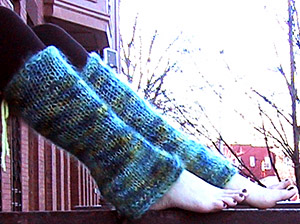 Steam pieces flat.
Using right side purl rows as a guide, turn and press both top and bottom 4 rows.
Sew seams together, being careful not to pull tightly so the seam will be invisible when finished.
Be sure to leave 2 inches open at top for I-cord casing.
Sew casing in place [sew as if hemming the top, but leave the edges open so that the I-cord can be inserted.]
Hem bottoms if desired.
Knit 2 feet of I-cord for each legwarmer.
Attach a big safety pin to one end of each I-cord length and thread into casing.
Tie into bows and get fabulous!
ABOUT THE DESIGNER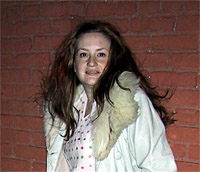 Stefanie is a compulsive knitter, currently living in Baltimore, Maryland with her husband, Nathan, and two cats.
She also spins and dyes her own yarns and is a budding jewelry designer. Visit her website at http://www.glampyre.com.
Pattern & images © 2003 Stefanie Japel. Contact Stefanie.